When Army Captain Jack Ludwig (Jake Epstein) first speaks his full name early on in playwright Ken Ludwig's new dramedy Dear Jack, Dear Louise, audiences probably realize that this World War II romance is going to end with wedding bells. But the play, based on the correspondence of Ludwig's parents-to-be, crackles with humor and real feeling on its way to its happy ending. That's because Ludwig, known for Crazy for You, Lend Me a Tenor and other heartfelt works, knows how to write emotional, enlivening dialogue without dipping into Hallmark Channel schmaltz.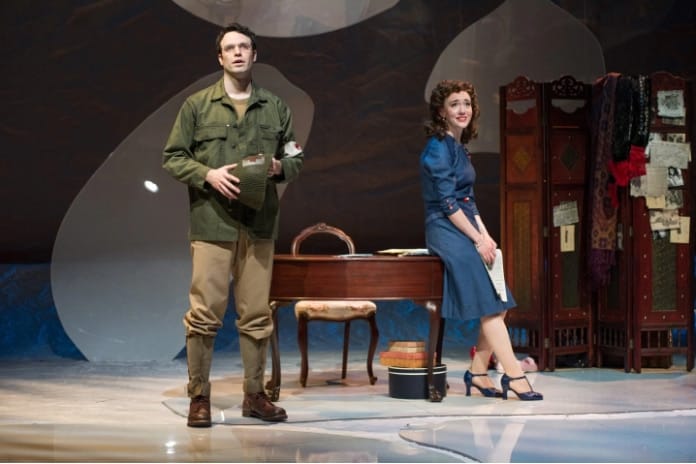 The two-person play revolves around what amounts to a multiyear blind date. Captain Ludwig, an Army doctor stationed in Oregon in the early 1940s, is set up by his parents with a vivacious aspiring showgirl, Louise Rabiner (Amelia Pedlow). The twist? She lives across the country in Brooklyn. And the demands of the war, their respective careers and, maybe, the lack of cheap, frequent flights, mean the two get to know each other the really old-fashioned way: by writing hundreds of letters back and forth.
---

Dear Jack, Dear Louise closes December 29, 2019. Details and tickets
---
Director Jackie Maxwell has the two leads positioned like stars on an old movie split screen, with the actors directly addressing the audience and reading their own letters. The simple but clever set is backed by a scrim with amorphous shapes (maybe representing continents or the distance between the would-be lovers?). It sets off Jack's very green army office, flanked by Louise's costume- and photo-filled lair.
Things start off slowly and a bit awkwardly—this is a pair of strangers getting to know each other slowly, and Pedlow and Epstein use body language and inflections to show the pair gradually opening up to each other. At first, the affable, slightly awkward Jack discloses very little about himself, while the lively Louise details her slog through Broadway casting calls and catty roommates. The pair trade jokes and eventually fall into a rhythm; he's the solid but charming rock, she's dramatic and funny, and keeps teasing him about his aversion to dancing. A bit about her meeting his family in Pennsylvania emphasis Pedlow's comedic timing, and also reveals that Louise's wise-cracking dame persona hides a deep, sweet nature.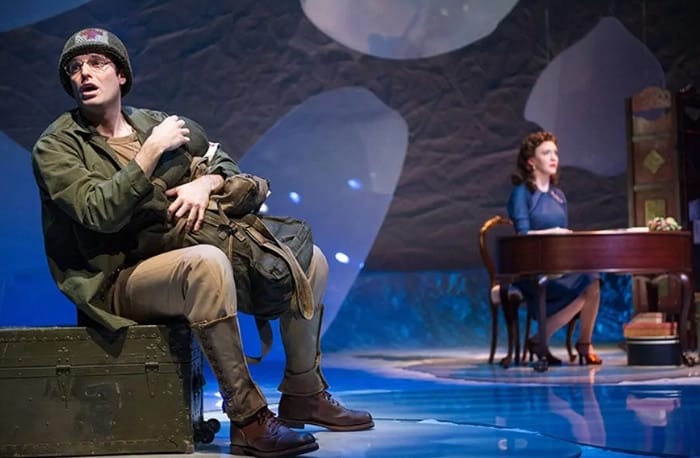 But eventually, as both Jack and Louise head out on the road (inventively staged with a bit of suitcase lugging), the tone darkens significantly. Louise experiences triumph and tiredness as the star of a touring show, and Jack finds himself experiencing the cruel realities of war in Europe. All the while, the letters are becoming more poignant and romantic: sign offs start including the "L" word, slowdowns in the mail make both of the lovebirds nervous. Jack eventually goes missing in action, which threatens to turn the comedy into a tragedy.
[adsanity_rotating align="aligncenter" time="10″ group_id="1455″ /]
But that dropping of the name Ludwig at the start of the play (and a skim of the program notes) assures audiences that this true story will eventually work out. Jack and Louise eventually do get their happy ending, in a closing scene so moving and cinematic you'll remember why you love theater to begin with.
---
Dear Jack, Dear Louise by Ken Ludwig. Directed by Jackie Maxwell. Starring Jake Epstein and Amelia Pedlow. Set design by Beowulf Boritt. Costumes by Linda Cho. Lighting design by Jason Lyons. Original music and sound design by Lindsay Jones. Produced by Arena Stage . Reviewed by Jennifer Barger.