Nix the candy canes, the carols, and the seasonal folderol. This year, get into the holiday spirit with a juicy murder.
We need a little Christie, right this very minute.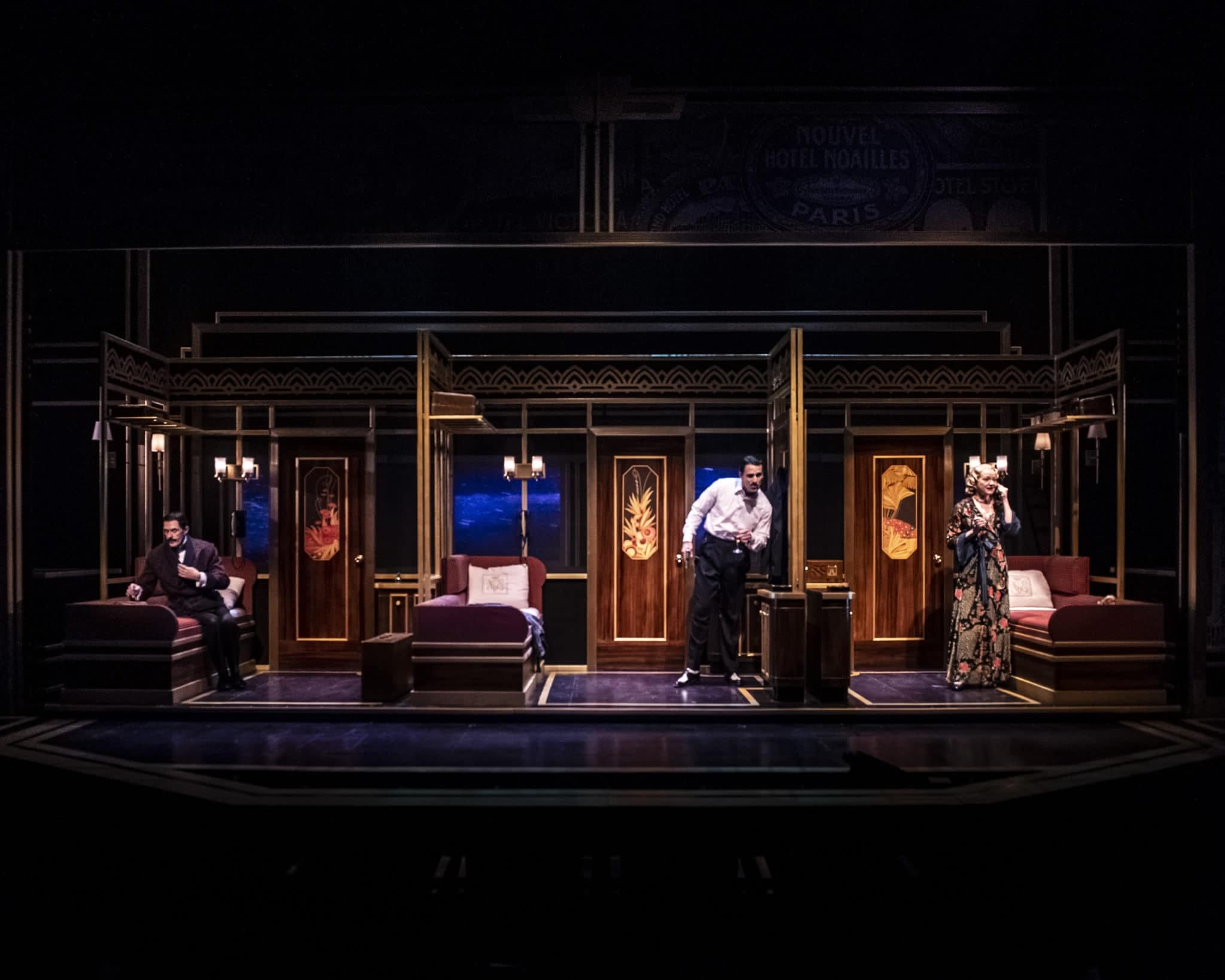 Everyman Theatre fulfills these sinister holiday wishes with a bang-up, très chic production of Agatha Christie's Murder on the Orient Express, adapted by Washington favorite Ken Ludwig with panache and wit and directed with Japanese bullet train velocity by artistic director Vincent M. Lancisi.
From Daniel Ettinger's gilded art deco set—all sleekly moving parts and opulent décor—and Harold F. Burgess II's golden age of Hollywood-style lighting, to David Burdick's gasp-worthy 1930s costumes, Anne Nesmith's clever wigs and Rasean Davonte Johnson's atmospheric projection design, Orient Express opens up before you like a Cartier jewelry box lined in velvet and filled with luxe surprises.
Even though Christie's 1934 novel, "Murder on the Orient Express," has been adapted countless times in radio, stage and film (most recently in 2017 with a cast led by Kenneth Branagh), this critic was a bit spotty at first on whodunit. A 12-year-old seatmate refreshed my memory, noting that he just finished reading the book in school and confiding that no one aboard that train was 100 percent innocent.
No one in the matinee audience appeared in the dark about the culprit, and that didn't detract one whit from the pleasure derived watching this stylish murder mystery unfold its observations about humankind's darker impulses and hidden agendas.
Orient Express features one of Christie's finest inventions, the Belgian detective Hercule Poirot, played with continental insouciance by Bruce Randolph Nelson. Poirot is supposed to be on holiday in Istanbul, but is called back to London by Scotland Yard.
He secures a berth on the famed Orient Express and looks forward to the luxury and fine dining promised by his friend, Monsieur Bouc (Jefferson A. Russell), a director of the railway. Poirot barely gets comfortable in the splendid first-class cabin before calamity strikes. The train is stick in a snowdrift and one of his fellow passengers, a toughie gangster type by the name of Samuel Ratchett (Danny Gavigan), who is Not Who He Seems, is found in bed stabbed to death multiple times.
Bouc insists that Poirot solve the crime before they get to London. Poirot uses his classic methodical questioning of the passengers and crew, and Nelson's indelible combination of dash and diligence brings a de trop drop of humor to the harrowing interrogations.
The rest of the cast, too, is at the top of their game, getting into the '30s spirit with elegance and a touch of screwball. Beth Hylton is hilarious as the high-strung, prim and proper missionary Greta Ohlsson, the companion to Princess Dragomiroff, played with delectable snoot by Helen Hedman.
---

Murder on the Orient Express closes January 11, 2020. Details and tickets
---
Deborah Hazlett taps her inner Rosalind Russell to play the brassy, Midwestern country club wife Helen Hubbard, while Lilian Oben is coolly capable and as slinky as a Ziegfeld chanteuse portraying Countess Andrenyi. Danny Gavigan handles the tough-guy gangster role with smooth aplomb and is equally assured as the upstanding Colonel Arbuthnot, and another area favorite, Jefferson A. Russell, brings an august dignity to the role of a captain of industry, Monsieur Bouc.
You couldn't ask for a more fun and festive, all-ages way to spend some quality time than with this chestnut, cooked to perfection by the Everyman company and crew.
---
Agatha Christie's Murder on the Orient Express Adapted by Ken Ludwig . Director: Vincent M. Lancisi. Featuring: Danny Gavigan, Deborah Hazlett, Helen Hedman, Beth Hylton, Hannah Kelly, M. Scott McLean, Tony Nam, Bruce Randolph Nelson, Lilian Oben, Jefferson A. Russell.Set Design: Daniel Ettinger. Lighting Design: Harold F. Burgess II. Costume Design: David Burdick. Sound Design and Original Music: Pornchanok Kanchanabanca. Projection Design: Rasean Davonte Johnson. Wig Design: Anne Nesmith. Dialects: Gary Logan. Fights/Intimacy/FX: Lewis Shaw. Props Master: Michael Rasinski. Stage Managers: Cat Wallis, Amanda M. Hall. Produced by Everyman Theatre . Reviewed by Jayne Blanchard.