The Magical Piñata at Keegan Theatre is a fun-filled romp that fits the holiday season with lessons for all to treasure and enjoy.  Karen Zacarías presents an incredibly rich story with text and lyrics set to playful music by Deborah Wicks LaPuma.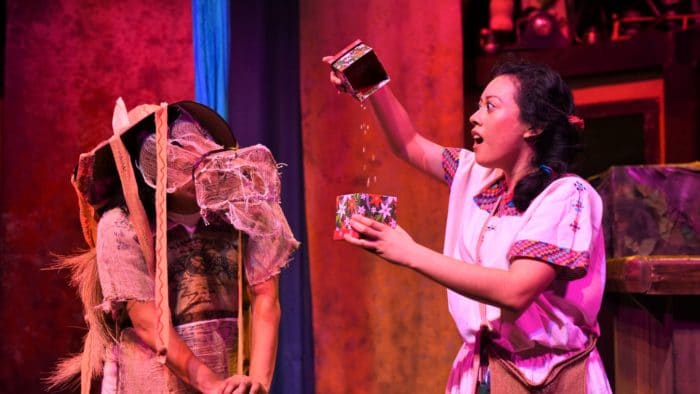 When Danie Rodgriguez as a kid in the opening sequence complains about not getting what he wants, his Abuela tells the story of Cucha, a selfish and demanding little girl in her hometown of Zapotoco, Mexico, determined to get only huge, spectacular gifts for her birthday.  When a mysterious stranger Señor Compleanos  suggests she could trade her load of presents for the most magnificent gift in the world, she ends up with what she thinks is an ugly, plain old clay pot.  But then she's transported to a mysterious jungle full of magical creatures and learns valuable lessons about the precious value of the moment and the power of sharing and caring, all from the old pot that ends up being a beautiful magical piñata.
Ruth Elizabeth Diaz lights up the room as Cucha, her energy cascading through all of the emotions of her journey.  Her crying fits and temper tampers are a hoot and she scowls with displeasure when she doesn't get what she wants – Now!   Watching her transformation towards the end of the show (because it takes that long), is a delight.
The ensemble players are just as energetic. Danie Rodriguez goes from the aged Señor to bring life to the various magical creatures including  El Burro, and the well named Parrot Rivera – with a nod to the artist Diego Rivera. Talented Andres Alejandro as the Monkey King and zany Sidekick, played to the hilt by Leigh Corbett, are a fantastical duo who scamper across the stage playing tricks, tumbling, rumbling and scheming to grab the pot.  Both are seasoned acrobats; they climb the ropes and tumble with fabulous circus skills.  Plus, their punchline spirited exit to "Vamoose" brings down the house every time.
In a sly maneuver, the Monkey King even tries to convince Cucha to secure their friendship by grabbing the various magical items from the other characters, even if she has to steal them.  When Cucha falls for the enticement to betray her own conscience to be part of the group, she depicts what youngsters face every day. Watching her dilemma and the resolution when she makes better choices is a satisfying relief.  It's also neat watching the Sidekick decide that she's had enough and thinks for herself in full glorious self-realization, joining Cucha now as a real friend in a heartwarming moment.
---

The Magical Piñata closes December 30, 2019. DCTS details and tickets
---
While Cucha is learning lessons to see with her mind and feel with her heart to capture the beauty of today, she also learns to appreciate her Mexican roots and cultural ancestry.  The show slips in cultural messages with ease and insight, starting off with the celebratory fiesta, and deep-dives again with honest reflections on the awful fate of the Aztec and other early Mexican cultures at the hands of the Spanish and other invaders.  The references to early Mexican traditions and cultural messages are perfectly presented with keen and honest awareness.
Projections, script, music and directing all work together for a captivating and entertaining blend of storytelling,  history, and play.
Set design (Matthew J. Keenan) uses satiny blue flowing streams of fabric to decorate the stage and get pulled up into hefty knots to support the chimp moves.  Versatile costume and puppet designer Nitya Rmiogan covers the gamut with colorful dresses, scarves, ponchos as well as burro head, a jumping grasshopper and comfy monkey attire for all their shenanigans.
The audience is encouraged to participate from the beginning as the actors demonstrate samples of the various emotions and count in Spanish on cue.  The show is comfortably bilingual with portions of the text flowing from Spanish to English to assure full understanding for all.
The Magical Piñata is a delightful family show from Keegan's PLAY-RAH-KA company, filled with powerful messages, marvelous characters, charming music, and dance – a perfect fit for the holidays, and beyond.
---
The Magical Piñata . Book and Lyrics by Karen Zacarías; Music by Deborah Wicks La Puma . Director / Choreographer— Elena Velasco; Cast:  Ruth Elizabeth Dias (as Cucha); Andres Alejandro (Monkey King); Leigh Corbett (Abuela and Side-kick); Danie Rodriguez (Señor) . Co-Music Directors –Walter "Bobby" McCoy and Marika Countouris;  Set Designer –Matthew J. Keenan; Lighting Designer –Dan Martin; Projections Designer –Tewodross "Teo" Melchishua Williams;  Sound Designer –Twi McCallum;  Costume / Puppet Designer – Nitya Ramlogan;  Properties / Set Dressing Designer — Cindy Landrum Jacobs;   Co-Stage Managers –Ilyana Rose-Davila and Leah Glicker;  Assistant Stage Manager –Delayna Antwine . Produced by Keegan Theatre's PLAY-RAH-KA . Reviewed by Debbie Minter Jackson.