What matters most, when all the theatrical offerings for 2019 have been made, is what lingers in the minds and hearts of the audience. We asked our writers and the Gary Maker Audience Award recipients to think back over the year, and tell us their most unforgettable shows.  Here they are in alphabetical order.
Ain't Misbehavin', Signature Theatre
In February, Signature Theatre chased away audiences' polar-vortex blues with a two-hour extended-release burst of high-wattage, endorphin-pumping rhythm, courtesy of one Fats Waller and friends in a rompin' stompin' Ain't Misbehavin'.  The singers confidently blasted through rousing mainstays like the title song, "'T Ain't Nobody's Bizness If I Do," and "I Can't Give You Anything but Love." They clowned through the arch silliness of "When the Nylons Bloom Again" and "Lounging at the Waldorf," and the low-brow disheveled disses of "Fat and Greasy" and "Your Feet's Too Big." They put the us in lust in the bawdy bosom-burrowing banter of "Honeysuckle Rose" and "Squeeze Me." And they imbued numbers like "Black and Blue" and "Mean to Me" with deep mournful soul. – Alexander C. Kafka
American Moor, Anacostia Playhouse
I'll never be able to see Othello the same way again after seeing Keith Hamilton Cobb in American Moor. A major focus of this magnetic, show is the tremendous amount of baggage that comes with playing the titular role, and Cobb walks the audience through the challenges and contradictions. American Moor is a one-man show, and Cobb was definitely the right man for the job: I'm still thinking about his provocative and powerful performance nearly a year later. This was one of several trips I made to the Anacostia Playhouse this year, and I'm glad I got to spend more time seeing what this venue has to offer. – Missy Frederick
Assassins, Signature Theatre
There were so many weirdly gleeful moments stuffed in Signature Theatre's production of Assassins. Composer-lyricist Stephen Sondheim and book writer John Weidman's darkly comic and brilliant musical vaudeville was a surprisingly funny and incisive social commentary about the motivations behind acts of political violence.
The musical's driving theme—blind faith in the optimism of the country as a "shining city upon a hill" is dangerous—was conveyed through a fluidly directed series of semi-satirical vignettes and performed by a terrific cast who in most cases found the right notes of anger, humor and pathos. Crossing the barriers of time and space, the dispossessed assassins sang as a chorus, shared incongruous duets and taunted one another in a dark corner of the national psyche. – Roy Maurer
Chester Bailey, Contemporary American Theater Festival
The best show I saw in 2019 was a play no one ever saw before — the East Coast debut of Chester Bailey, at the Contemporary American Theater Festival. Joseph Dougherty's tender, heartbreaking play about a man who lost his hands and eyes and was certain he could touch and see expanded our view of human possibility while cementing our concept of the human condition. Reed Birney — late of House of Cards, where he served as Frank Underwood's V-P — played a hangdog, compassionate psychiatrist who must bring Chester, played by his son Ephraim, to the awful truth. If you are capable of compassion in the face of the awful truth — or wish you were — this is the play for you.
Day of Absence, Theater Alliance
Colin Hovde giving the reins of Theater Alliance to Raymond O. Caldwell, allowed him to bring us the first professional production of Douglas Turner Ward's Day of Absence in the Washington, DC area. In this reverse minstrel show in which Black people impersonate white people through the use of white face, the Black people of the play find they are able to experience a day free from self-policing of their bodies and thoughts for the benefit of the white gaze, thus freeing up the necessary energy, creativity and spontaneity to allow them to simply live fully as and for themselves. Experiencing the exhilaration of that freedom was unforgettable. – Gregory Ford
Doubt, Studio Theatre
As you doubtlessly know, this is the story of a charismatic priest who is battling the stick-in-the-mud, pre-Vatican-II nun who is the principal of the school. You know whose side you're on — until you realize that the priest may be a pedophile. John Patrick Shanley's drama has usually been played as though Sister Aloysius were a human tank, certain not only of Father Flynn's guilt but of all other conceivable verities. But, in Studio Theatre's rethought Doubt, director Matt Torney, and the remarkable Sarah Marshall, make Sister Aloysius human and vulnerable, so that though you might believe her you're not sure that she will succeed — which makes the ending all the more powerful. – Tim Treanor
Enron, 4615 Theatre Company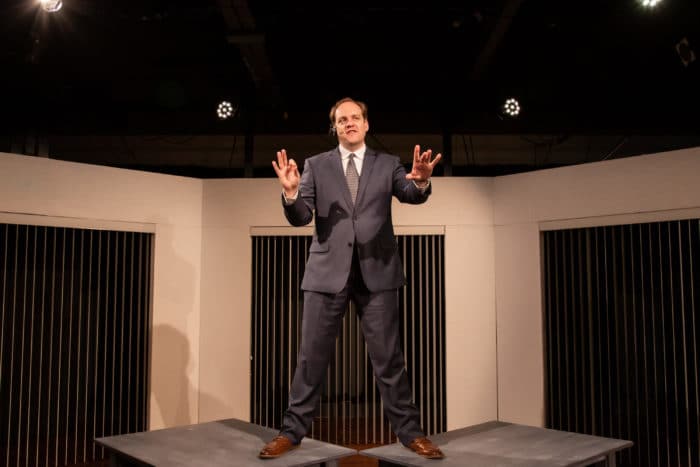 4615's production of Enron was one of the most impressive productions by a small company that I've seen in recent memory. So many moving parts: a large ensemble, multi-media, lots of theatrical elements, but everyone from designers to directors to actors were all on the same page, a well-oiled machine brimming with energy, passion, and love of theatre. – John Geoffrion
Fairview, Woolly Mammoth Theatre Company
Fairview was an unforgettable piece in its bravura mastery of theater craft and also in its acknowledgement of the painfulness of the idea that there should even be a need for people of African heritage to plead to have space in which to simply exist free of the white gaze. At the conclusion of this production, the white members of the audience were asked by a character in the play – an adolescent girl – to come up on the stage, and change places with her, while the non-white people took over the seats in the audience and watched the white people in their lives.  There was nothing that could be said about that moment.  It could only be experienced, shared and acknowledged. – Gregory Ford
---
If someone were to ask me to describe the Pulitzer Prize-winning play Fairview by Jackie Sibblies Drury,  I would start the long list with Shattering. I would add Visceral, Iconoclastic, and Stinging.
The playwright has fashioned a story that reflects feelings and words that have gone unspoken. At least not in public and rarely on stage. Now they are. And they are sometimes shocking, muscular, and raw. I am pretty sure Fairview does not answer as many questions as it poses. And that is fine with me. As long as I am now questioning my white gaze, my preconceptions, and my own prejudices. As long as I am giving others the space to think, and to be. And listen to those who have been trying to talk to me the whole time. – Jeff Walker
Jitney, Arena Stage
Jitney, set within an unlicensed cab station in Pittsburgh's predominantly black Hill District, has much that's familiar to those who have seen the better-known masterworks from August Wilson's magisterial 10-part Century Cycle. Jitney predates the series—it was written in the 1970s by a young man shaping his voice—and although it was thoroughly rehabbed in 1996 by a mature man near the end of his career, it serves as a kind of incubator for what was to come, from the playwright's specific assortment of characters and the rhythms of male ensemble interaction to the themes of generational conflict and societal change.
The lesser-known Jitney is an imperfect work but Ruben Santiago-Hudson's restaging of his 2017 Broadway production at Arena Stage was a jubilant and moving revival previewing the street-aria language and bruising truths that define Wilson's celebrated decalogue. – Roy Maurer
---
Arena Stage mounted this production as the re-staging of a 2017 Broadway revival. Jitney, as is true of Wilson's work generally, features language that is both beautiful and credible in depicting the many obstacles facing the black working class characters.  A central focus of the plot is a son's struggle to live up to the legacy of his father —  a parallel to Shakespeare's Henry IV.
The production was a virtually flawless presentation.  The direction, by Ruben Santiago-Hudson, was spot-on.  The script is challenging, with many exits and entrances, but the direction constantly kept the eyes of the audience where they needed to be, allowing the individuals to come alive in their inter-relationships as well as their differing personalities and moods. The ensemble acting, bringing the clearly-drawn characters to life, was outstanding.  The design elements also were excellent.  The extremely detailed set engaged my full attention even before the play began. – Alison Drucker, Gary Maker Audience Award recipient
Keep., Studio Theatre
Until I sat down to write my review, I couldn't fathom why this piece worked. It was after all a one-man play about a guy reading a list of catalogued objects in his house and garden. What I saw: "The list becomes suspect. He throws a handful of cards in the air, and they flutter down. At another point, he follows a conspiracy theory. The music of the work is like listening to Glenn Gould play Bach. You're almost waiting for him to go off the rails, but nonetheless you're entranced.  Daniel Kitson throws it in our faces, reminding us that this is not bad coming from someone who stammers. Yes, and the stammering is also part of the music, a note repeated and executed so fast it's titillating, as we wait for the resolution…Kitson resolves the whole evening in a way that made many in the audience gasp in astonishment.  The chap has retooled stand-up comedy, bending the genre into a one-man theatrical tour de force. This is like a Samuel Beckett Krapp's Last Tape for the 21st century: lonely, vicious and wailingly funny…Make no mistake about it, this is a brilliant piece. Kitson just might be a bloody genius." – Susan Galbraith
LadyM, The Welders
The collaborative production, LadyM, highlighted one of the strengths of the The Welders: to present a work of theatre that doesn't fit into a predictable mold. The production danced, chanted, and toyed with the audience in a narrative that needed no story, but instead aimed to teach and inspire people to think outside of the norms of the expected. – Julian Oquendo
Port Authority, Quotidian Theatre
One of my favorite stages revived Conor McPherson's sublime Port Authority. Actor Matthew Vaky was terrifyingly good in a complex portrayal of a man out of control in McPherson's intimate elegy to shackled inner lives and stifled longing. From the get-go, Vaky energetically exuded the boffo comic figure and lovable idiot, sadly relatable as the man past his prime who realizes that he's come up short. In the final moments of his monologue, while revealing the nature of his relationship with his neglected wife, he turned it up yet another notch, touching a crushing pathos worthy of a character from O'Neill.  – Roy Maurer
Stormy Weather, In Series
Accepting the leadership of The IN Series from Carla Hubner, Timothy Nelson begins to lean into the extent that the Black presence is at the root of what it means to be an American and, especially, what that means for approaching exploration and performance of the western canon. The company pointedly brought that idea forth in Stormy Weather.  But in L'Enfance du Christ they went farther and enveloped the audience in shared ritual while simultaneously holding out the idea that the Divinity that you may be called to recognize may not be white.  It was an entire transformative evening of glorious music and color that I will remember. – Gregory Ford
The Band's Visit, National Tour
The Band's Visit grabs your heart with the most unlikely thing in the world of showbiz musicals: economy of means. Plot line, staging, set, costumes, even most of the singing are all intentionally spare and underpowered. Most of the story takes place in a kind of desert way station, on a single night, where strangers begin to talk and listen to one another. Humanity is revealed, and it feels magical.
High credit is due Director David Cromer that he allows the whole show to come across as raw and messy. From Dina singing "You Think You Know the Story" while attacking a watermelon with a knife to Adam Gabay and Sara Kapner awkwardly skating around the stage as the luckless Papi and his reluctant date, he creates moments of human exchange and revelation. Cromer also allows a master craftsman like the older Gabay to sit in stillness and fill long pauses with compressed emotion, indicating nothing but showing so much about a life frozen in regret. – Susan Galbraith
[adsanity_rotating align="aligncenter" time="10″ group_id="1455″ /]
The Heiress, Arena Stage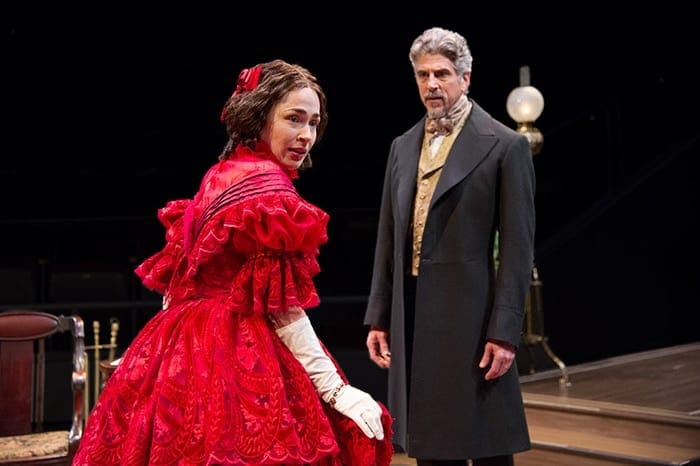 This is, of course, a classic bit of theater, based on Henry James' "Washington Square" and full of profound insight. At the center of it is basically a moral dilemma: a plain woman, without wit or grace and prone to fits of social terror, is nonetheless heir to a great fortune. When a man appears to be in love with her, is it right to assume that he is in love with her fortune? And if he will be faithful to her, does it matter? Of course, that raises all sorts of questions about women in society, in their time and ours.
Arena resolves these questions satisfactorily, due in large part to Seema Sueko's savvy, insightful direction but also to Laura Harris' stone brilliant performance as Catherine Sloper, the afflicted object of a young man's avaricious affections. Sueko and Harris make Sloper suffer from Social Anxiety Disorder, which makes both the central dilemma and the resolution make sense. – Tim Treanor
The Peculiar Patriot, Woolly Mammoth Theatre Company
Actress, playwright, and advocate Liza Jessie Peterson's rousing solo show, The Peculiar Patriot, catalogues the ruinous effects of mass incarceration on communities across America. Peterson blends infectious humor, stunning statistics, eye-grabbing projections, and grating sound cues from prison life to deliver a fierce polemic against a broken criminal justice system. The spellbinding, ninety minute journey slides by far too quickly and offers no easy solutions. But Peterson's talent is undeniable, her moral clarity unshakable, and her call to action clear. It's a play with a distinct purpose – to arm the audience with facts and tools to pursue needed reform in their communities. The play is made all the more meaningful by Peterson's commitment to performing in women's prisons around the country. Peterson is doing her part. Now it's the audience's turn. – Ben Demers
Our 2019 wrapups of DC area theatre: stats, favorite performances, surprise hit, and more, coming soon
The Smuggler, Solas Nua
This was a solo piece mounted by Solas Nua, spotlighting Rex Daugherty, the group's artistic director.  The piece is a monologue delivered by an Irish would-be writer working in the U.S. as a bartender.  Like the company's The Frederick Douglass Project, which deservedly earned kudos last season, it offered site-specific staging, being set in an actual bar — where Mr. Daugherty smoothly poured cocktails for customers while holding them spellbound for 75 minutes.  The poetic script by Ronan Noone apparently was based on his own experiences and dwells on the struggle by immigrants to the U.S. for survival and dignity.  The timely topic, beautiful language, and mesmerizing performance combined to make a lasting impression. – Alison Drucker, Gary Maker Audience Award recipient
Three Sistahs, MetroStage
Composer William Hubbard, homegrown in Metropolitan Washington, was given a hero's welcome when his Three Sistahs was reprised this year at MetroStage ( for the fourth time.) From my review of MetroStage's extraordinary production: "A chief reason is Roz White, recast in this version as the oldest sister Olive. If Hubbard is King, she may be rightfully called "Queen" – as in she's got that singing thing coming from down in her toes — like the Queen of Soul, Aretha herself.  White anchors this work not only with a voice that has matured into magnificence, but she has the emotional depth to deliver a journey of transformation and reconciliation. White also demonstrates here she is a comedian of fine instincts and timing and doesn't shy away from getting down, and I'm saying way down. Let's just say she set the house roaring with laughter in a song stuffed with physical clowning about adolescent exploration at a sixteenth birthday party  ("Basement Kind of Love") followed by a true exhibition of female libido getting unleashed with peak sexual initiation and liberation ("Barely Breathing.")
I include this production on my "memorable list" for one more reason. For 35 years, long before many other companies felt the need to diversify, MetroStage has been putting on shows by Black writers, about Black people . MetroStage is now taking a hiatus while its home is bulldozed and a new one is built. It is great that it celebrated Hubbard, a remarkable talent. – Susan Galbraith
Veils, Restoration Stage
Restoration Stage, a local Black theater company began to come into its own with Veils, which pays attention to the contribution of women to the Civil Rights struggle of the 1960s. That a theater company managed by two men, undertook the telling of the story of women is positively notable.  I will not soon forget the hilarious and penetrating performances of Suli Myrie as Angela Davis and Jeremy Keith Hunter as journalist Tony Brown and Dr. Davis's observation "… you can't make more powerful white men without submissive white women." – Gregory Ford
What the Constitution Means to Me, Kennedy Center
This is a work concerning the failure of the U.S. Constitution to specifically address women and their issues.  It ran only briefly at the Kennedy Center, written by Heidi Schreck, who also played herself.  Many have properly praised her for the intriguing structure of the play, the amazing naturalness of her delivery, and her ability to quickly initiate (and maintain throughout) a strong bond with her audience.
However, I personally find this play memorable for its topic and the specific prism Ms. Schreck adopted in examining it. The play unequivocally brought home the disadvantaged state of women in the U.S.  For example, it convincingly stated that when factors such as access to health care, family planning services, child care, and protection from harm are examined, the U.S. scores lower than most of the other so-called "developed" countries.  The focus on physical protection was especially disturbing; my take-away from this show is that women are no better protected from violence — and in particular domestic violence — than people of color are protected from the use of excessive force by the police.  While the script candidly states that improvement requires not only better laws but also better interpreters of the law, it is a very effective advertisement for the passage of the Equal Rights Amendment. – Alison Drucker, Gary Maker Audience Award recipient
We hope you will share your most unforgettable shows of 2019 in the comments below.