One last standing ovation for these performers whose work quite simply blew us away this year.
Ian Merill Peakes, Amadeus, Folger Theatre
In Amadeus, Ian Merill Peakes brought Peter Shaffer's Salieri to brilliant, anguished life. He was a childishly sweet-scarfing confidant explaining to future generations the way his young court-rival genius, Mozart, curdled Salieri's heart and activated his Machiavellian soul. As the elderly Salieri, Peakes coerced us into a sympathetic intimacy, painfully recalling the passive-aggressive evils of his court politics. As the younger Salieri, in his prime, Peakes brimmed with an Iago-like Janus-faced vitality, tripping up the naive, infantile, course-tongued new kid in town. A staunch Catholic turned cynic, Salieri realized, watching the celestially gifted young knave from Salzburg, that "goodness is nothing in the furnace of art."  – Alexander C. Kafka
Sarah Marshall, Doubt, Studio Theatre
Sarah Marshall has spent her glorious years on our stages doing mostly comic roles. Hers was an interestingly fraught and certain Sister Aloysius, though with a familiar break in her voice or a sharpened glance, she drew more laughs from John Patrick Shanley's text than I'd seen before. I worried how she would build to that famous last line "I have doubts." I needn't have. Completely closeted in her nun's habit up to that moment, as she said the line, her hands fell onto her lap. A moment of naked vulnerability that caused me, and others, to gasp. I was grateful the house lights took an extra few beats to come to full. – Lorraine Treanor
The cast of Enron, 4615 Theatre Company
Torn from 2001 headlines, this fascinating tragicomedy was produced by the  4615 Theatre Company, helmed by Jordan Friend.   It showcased the ruthlessness and arrogance that first fueled the meteoric rise of the Enron corporation and then inevitably led to its collapse.  The subject matter required exposition of the methods used by Enron's top management to artificially inflate the value of its stock, thereby defrauding its shareholders, its customers and even its own employees, who were encouraged to purchase shares.  This inflation of value involved the formation of shell companies which were brought into existence solely to hide Enron debt.  The managers referred to the shell companies as "raptors."  In this production, the raptors are given physical form.  A dinosaur fan since age four,  I was captivated by the appearance of a trio of actors (Jon Jon Johnson, Ezra Tozian, Danielle Gallo and Rachel Manteuffel) wearing velociraptor masks composed of spreadsheets. – Alison Drucker
The cast of Everybody, Shakespeare Theatre Company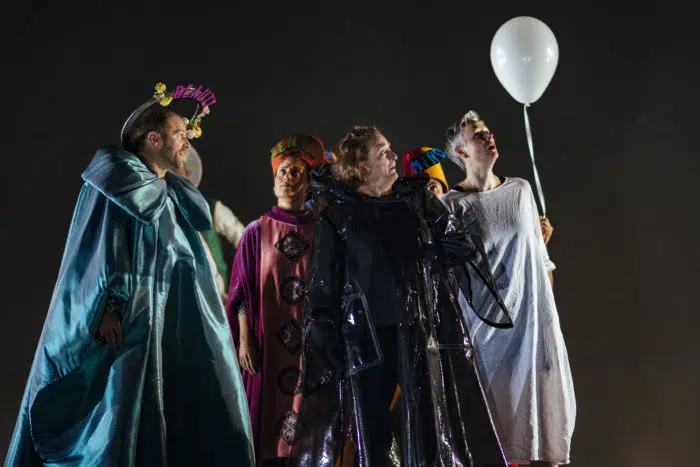 The gorgeous gimmick of Branden Jacob-Jenkins' riff on the medieval Everyman plays (directed with Italian New Wave cinematic style by Will Davis for the Shakespeare Theatre) is that the cast of nine doesn't know which part they will play that performance until the onstage lottery early in the first act. So, in keeping with the medieval mantra of the unknowable randomness of life and death, Everybody is a different show every time. The cast–Yonatan Gebeyehu, Nancy Robinette, Alina Collins Maldonado, Avi Roque, Kelli Simpkins, Ayana Workman, Elan Zafir, Clare Carys O'Connell, and Ahmad Kamal–were luminous, inventive and deeply human the two times I saw this odd, funny and endearing production.  In this medieval spirit, but with a bright, contemporary twist, playwright Jacobs-Jenkins and the Shakespeare Theatre cast and creative team playfully pay homage to the morality play while tackling such for-the-now issues as identity, representation and ever-shifting concepts of self. Who knew that morality and mortality could be so much fun? – Jayne Blanchard
The cast of Fun Home, Baltimore Center Stage
This musical is make-yourself-think theater at its best: I'd been wanting to see a production, any production, of this show the moment I heard 'Ring Of Keys' on the Tony Awards. Moving, thoughtful, funny and downright beautiful, Baltimore Center Stage's production featured some outstanding performances of this groundbreaking work. Am I sorry I missed the much-touted original Broadway production? No- you'd be hard pressed to best this cast. A superb production in every aspect. – Jill Kyle-Keith
Ed Gero, Henry IV 1, Folger Theatre
In an otherwise unremarkable production, marred by a generalized whoop-up direction, Ed Gero remained a kind of north star of focus and truthful acting. How he was able to hang on mystifies me, and I was thankful I hadn't been assigned the task of excoriating either the director or the formidable talent assembled in the production. The moment that was sublime and indeed brought tears to my eyes was Gero's speech as Falstaff  "Banish poor Jack…," he made us laugh and weep with him at the same time. It was a paean for all our human frailties. Gero is someone who, without fanfare, stands exposed on stage and hands you his heart. It doesn't get any better than this. – Susan Galbraith
Alison Luff, Nell Gwynne, Folger Theatre

There's so much that's frankly irresistible about Nell Gwynn, written by Jessica Swale and directed with impudence by Robert Richmond—the catnip quality of backstage comedy, the air of female-driven sexuality that is not only allowed to occur without dire consequences, but triumphs (Nell sleeps around and bags the freakin' king of England!), and a period piece with anachronisms that take the stuffing out of any starch or stiffness. And then there's Nell herself (Alison Luff, fresh, fun and a radiant energy source)—whom many may remember as the orange seller and daughter of a bordello owner in Cheapside who became long-standing mistress to Charles II (R.J. Foster, roguish, but also displaying leonine majesty). Plucked from the theater galley by romantic leading man Charles Hart (Quinn Franzen, playing dashing and decent to the hilt), Nell proves a quick study in the art of acting. Luff, like Gwynn is a natural—seducing audiences with her personal charisma, ready quips and forthright relationship with the audience. – Jayne Blanchard
John Cameron Mitchell's Origin of Love Tour and Taylor Mac's Holiday Sauce
They say you should never meet your heroes, but being able to get up close and personal with a couple of my queer idols this year made for some standout memories. While I'm generally not a huge fan of audience of participation, crowd-surfing Hedwig himself during his Origin of Love Tour and singing "Fairytale of New York" and taking a shot of whiskey on stage at Holiday Sauce with Taylor Mac in the Opera House at the Kennedy Center are moments I won't soon forget. They also say experiences make the best gifts, and I was very grateful to receive this pair of perfect presents in 2019. – John Bavoso
The cast of Ripcord, Keegan Theatre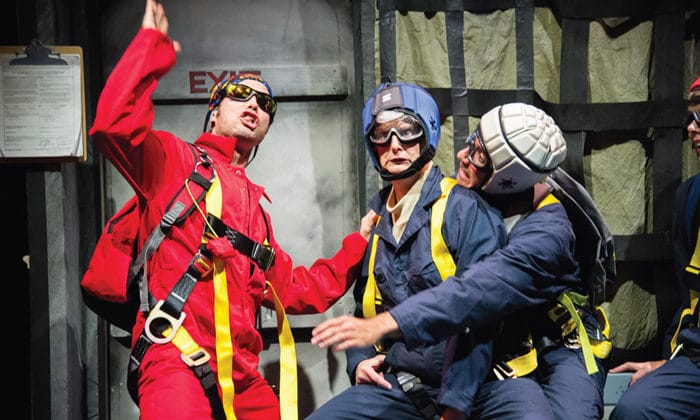 I found Ripcord, at the Keegan Theatre, highly amusing. Its premise is a bet between two female roommates in a senior living facility.  Abby (Deb Gottesman) is a grump who has monopolized a double room by making life unpleasant for the series of those assigned to share with her; she also claims she cannot be frightened.  Marilyn (Claire Schoonover) is Little Miss Sunshine, who not only wants to stay in the room, but wants Abby's bed by the window.  The bet is that, if Abby can make Marilyn angry, Marilyn will depart; if Marilyn can scare Abby, Marilyn will get the bed she covets.  Pranks ensue and gradually escalate.   At one memorable point, Marilyn's confederates (Robert Bowen Smith, Oscar Ceville) bamboozle Abby, who is determined to win the bet at all costs, into believing that she is on a plane and either will have to jump out the door wearing her parachute or lose the bet.  Priceless! – Alison Drucker, co-recipient of the Gary Maker Audience Award
Peelee Clark and the cast of Saucy Jack and the Space Vixens, Capital Fringe
Though produced on a shoestring by Up In Your Face at Capital Fringe 2019, this 20+ year old musical, which originated at the Edinburgh Fringe Festival, is one of the most enjoyable shows I've seen this year. Part of it is the kitschy rock music, part of it is the Rocky-Horroresque audience participation, part of it is the sheer goofiness of the characters and completely stupid plot. You can produce this show with a karaoke machine and two gerbils and it would still be a blast. But the standouts in this cast –  Lorna Ryan, Emily 'EJ' Jonas, Jonathon Barger, Tony Lemus and especially Peelee Clark – put it way over the top.  – Jill Kyle-Keith
Erica Chamblee, Sooner/Later, Mosaic Theater Company of DC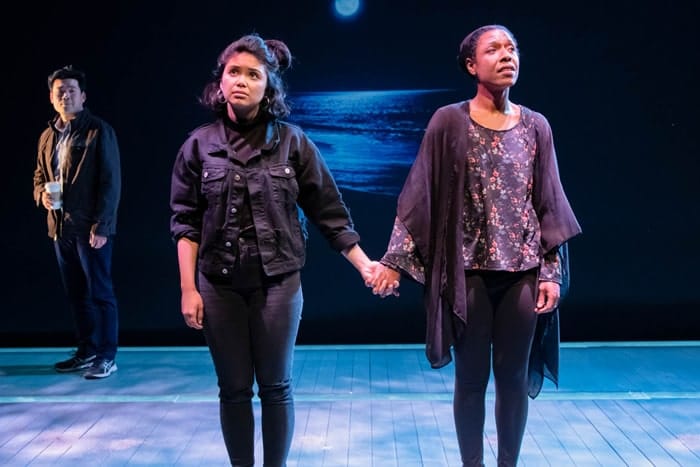 Playwright Allyson Currin's poignant family drama Sooner/Later pulls on your heartstrings while messing with your head. At first, you think you're watching a simple story about a dysfunctional but loving family, headed by hard working mom Nora (Erica Chamblee). But then a pivotal scene drops a bomb: Nothing is really as it seems. Nora has been lying to herself – and to the audience – the entire time. What before seemed like quirky mannerisms and innocent conversation are revealed only as haunting self-delusion. Driven by Chamblee's mesmerizing, unraveling performance, the play's Sixth Sense-worthy twist pulls the rug from under the audience and forces you to rethink every scene before it. – Ben Demers
Grace Bauer and Alan Naylor, Souvenir, Rep Stage
Stephen Temperley's Souvenir discreetly explores the relationship between New York socialite and opera doyenne Florence Foster Jenkins (Grace Bauer) and her pianist-accompanist Cosmé McMoon (Alan Naylor). It is everything you'd want in an unlikely friendship. The tenderness, the tact and discretion they bestow on one another is a breath of fresh air in this current climate of incivility and intolerance.In their case, kindness is more than a civilizing force. It uplifts them and transforms them into the best versions of themselves they can conjure. The performances of Bauer and Naylor display a lost chivalry, patience, and exquisite care that is so ephemeral you wonder if it could even exist today. The actors, like their real-life characters, are careful with each other, as if knowing on some level how precious their bond is. There is humor in their performance, especially when Bauer is bivouacked in Julie Potter's increasingly rococo costumes for Jenkins' performance, which range from the Statue of Liberty and a maracas-shaking Mexican senorita to an angel whose voice is anything but celestial. But there is tenderness too, and gallantry and decorum, as Bauer and Naylor make you wistful for old-school kindness. – Jayne Blanchard
Christopher Herring, The Explorer's Club, Prologue Theatre
Prologue Theatre (Founding Artistic Director Jason Tamborini) included this hilarious yet thought-provoking production in its inaugural season.  The play is a comedy set in a Victorian London gentlemen's club.  The playwright skillfully uses that setting to comment on our own times by lambasting past conventions of social hierarchy.   Much of the plot concerns a plucky woman who claims eligibility to join the club, in part based on the discovery of a lost tribe.  She has brought back one of the tribal warriors (Christopher Herring), a non-English-speaking bare-chested and blue-painted man whom she has nicknamed Luigi.  As the club needs a new bartender, Luigi is assigned and embraces his new duties with enthusiasm.  In a memorable sequence, he propels drinks down the bar and through the air, requiring the usually stuffy club members to scurry about the stage barely managing to catch them. – Alison Drucker
The cast of The Few, Unexpected Stage
The DMV is full of theater, great and small. When I watch a terrific show at the Kennedy Center, Arena, Studio, Shakespeare or any of the other large and prosperous houses, am I shocked? Of course not. That's what we pay $75 (or more) to see. But when I go to a theater I've barely heard of, to see actors perform a play I've seen only in development (where it was not great) and it is brilliant — well, that's a cause for celebration. So it was when I saw The Few at Unexpected Stage this summer. To sum up: in the middle of July, in the common room of a Church (seating maybe forty), three little known actors performed a play about a failed newspaper meant to banish loneliness for long-distance truckers in the windswept Western United States. And it was fabulous. Discovering stuff like that — isn't that why we go to theater? – Tim Treanor
Baakari Wilder, The Few, Unexpected Stage
How did Baakari Wilder, who rarely gets significant stage time (I last saw his outstanding performance in "MASTER HAROLD" … and the Boys at Bay Theatre in 2012) keep his craft to such a level as to give a performance worthy of an Ed Gero or Justin Weaks? He played Bryan, the catalyst in Samuel D. Hunter's The Few, who abandoned his lover, QZ, and the trucker's newsletter he founded and suddenly returns four years later. He hates the reforms QZ has made – the paper is now supported by classified ads from truckers looking for love.  Wilder delivers an explosive scene, standing face to face, just inches away from Dawn Thomas Reidy (QZ), and some of us seated in close proximity. You can't cheat out that close.  He showed us anger and desperation driven by loneliness and it hung palpably over the small space.
I am sure you, like me, have actors whose performances you will want to see, regardless of the production. Wilder is now one of those for me. – Lorraine Treanor
Director and the cast of The Havel Project, Alliance for New Music-Theatre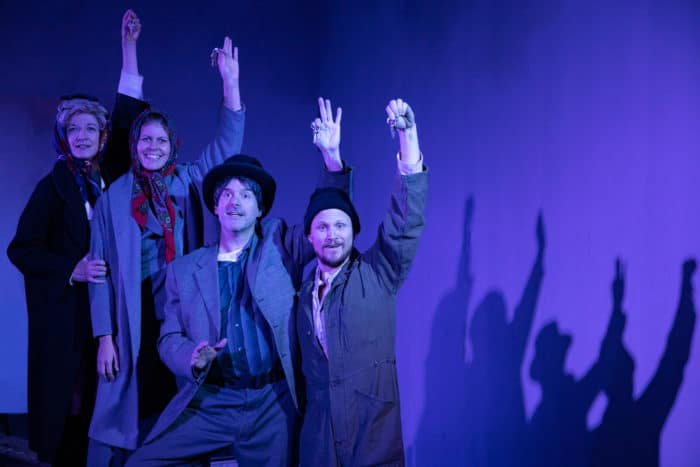 The Havel Project by Alliance for New Music-Theatre, and director Susan Galbraith's savvy use of acoustics in the cavernous Dupont Underground. Many times the cast let the sound of the last syllable, or the slam of a chair on the floor, echo down the hall and back again. Kudos to them for not overusing that trick as well. – John Geoffrion
Laura Harris, The Heiress, Arena Stage
If you watch theater in the DMV for a long time, you will get a special thrill from seeing a familiar actor somehow move into high gear. The move is almost always permanent, as if the actor had discovered something about the craft which made the work more urgent, authentic and truthful. I saw it with Tom Story when he did Twelfth Night, and with Michael Russotto when he did A Bright New Boise. Even Rick Foucheux, a fine actor as long as I've watched him, stepped up his game with R. Buckminster Fuller: the History (and Mystery) of the Universe, and with every production he was in thereafter. This year, I saw Laura Harris render a performance of extraordinary sensitivity in The Heiress, transforming the somewhat enigmatic character of Catherine Sloper into a creature twisted by her own fears and desperate for some humanizing touch. It was a bravura performance, and now, one of the factors which will help me decide whether to see a play is whether Harris is in it. – Tim Treanor
Nancy Anderson in The Willard Suitcases, American Shakespeare Center
Julianne Wick Davis, after seeing photos of the 400 suitcases left behind by patients at the Willard Asylum, wrote a new musical inspired by the contents of 19 of them. The show, a pastiche of songs, most poignant, some funny, flowed by easily enough, until a manic Agnes (Nancy Anderson), grabbed a white straw campaign hat and delivered the appeal for her release to the President in "Dear President Mr. Herbert Hoover"
"GET ME OUT OF HERE, HERBERT I CAN'T BE HERE ONE MORE HOUR I KNOW YOU MAY BE FEELING USELESS THESE DAYS I'VE GOT THE CURE FOR YOUR COMMANDER MALAISE YOU CAN GET ME OUT OF HERE, HERBERT GET ME OUT OF HERE, HERBERT GET ME OUT OF HERE, PRESIDENT MISTER HERBERT HOOVER"
Suddenly, we were in the world of a Broadway-style show stopper, that, if the cast playing instruments hadn't urged us on, would have earned Anderson her standing ovation.  The Willard Suitcases will undeniably go on from its debut at American Shakespeare Center with future casts who don't have the challenge of playing it in rep with Shaw and Shakespeare. But Nancy Anderson, no stranger to Broadway, has set a high bar for any future Agnes. – Lorraine Treanor
Louis E. Davis, Jeremy Hunter, Top Dog/Underdog, Avant Bard
This Old Testament-type fable starred Louis E. Davis as Booth and Jeremy Hunter as Lincoln.  It is the tale of two African-American brothers (Cain and Abel?), both of whom are down and out, as they try to pick up the pieces of their deprived lives and go on living.  Both actors are superb in playing the complex roles Lori-Parks gives them as they interact in ways that are by turns positive or damaging.  The actors both turn in virtuosic performances showing both love and hate in their relationship and all the emotions in between. Davis was exceptional in his role.  Their story does not end well, as might be expected. After more than two hours, we were totally wrung out. – Tom Holzman, co-recipient, Gary Maker Audience Award
Scott Sedar and Amanda Forstrom, Trying, 1st Stage
This production featured Scott Sedar playing Francis Biddle and Amanda Forstrom playing his secretary/helper and is based on Glass's experience working for Judge Biddle.  We had seen the original show with Fritz Weaver playing Judge Biddle, and I was very impressed with this production.  Both actors nailed their parts.  Scott Sedar was particularly effective in portraying Judge Biddle's difficulties, both physical and emotional, during the last year of his significant life as Biddle realized that time was running out on him and tried to prepare himself for the end while at the same time continuing to live his life as he always had including taking care of most day-to-day aspects of normal life.  Sedar captured both Biddle's curmudgeon aspect as well as his humanity in learning to interact effectively with Forstrom's character.  Forstrom was a virtuouso in dealing effectively with Biddle's foibles as she gradually learned on the job how to handle him.  All-in-all a masterful performance by both actors. – Tom Holzman, co-recipient, Gary Maker Audience Award
BMX riders, Volta, Cirque du Soleil
Cirque du Soleil has been visiting the District for years. It is almost predictable that audiences will be inspired and surprised by the physical and artistic feats one sees on the stage. However, the inclusion of BMX performers in the Canadian company's production of Volta speaks to a vision of continued growth. As riders fly up ramps and flip under the circus tent, there's a sense that you're seeing how companies are embracing new arts and physical talents into their performances, and making sure to keep audiences engaged and inspired. – Julian Oquendo
Now it's your turn, dear reader. We hope you will share your most unforgettable performances of 2019 in the comments below.