In 1981, the once enfant terrible of stage and screen, Peter Brook, then seasoned into arguably the most formidable theatre director in the world, took the opera world by storm with his radical production of Georges Bizet's Carmen. In Series Artistic Director Timothy Nelson is going for the same – re-visioning a Carmen for our times.
Like Brook, Nelson has thrown out the choruses and reduced the full ensemble to 6 singer-actors. He has also cut the opera of four acts and compressed the work into a ripping-fast 85 minutes. Inspired further by Brook, he has borrowed the score prepared for the '81 production then handed it over to Music Director Emily Baltzer to transform the work into a "tango" cabaret with the means of a "mere" trio of musicians.
These choices have not been made for purely economic reasons, but rather the better to re-examine some of the assumptions and expectations many bring to one of the world's most beloved operas.   Let's begin by stating we're not in [sunny] Sevilla anymore.
I assure devoted Carmen fans, you still get the "greatest hits," but even these are turned on their heads and staged in a way to titillate and shock.  It's hard these days to shock in theatre, but Nelson and this tight ensemble have created a show rated for adults only.
[adsanity_rotating align="aligncenter" time="10″ group_id="1455″ /]
With the help of Set Designer Jonathan Dahm Robertson and Lighting Designer Marianne Meadows, Nelson has turned the tiny, once grotty Source theatre space into seeming even tinier and created a dark, even grottier cabaret venue.  With a few cabaret tables and an implacable red back wall, everyone is so on top of one another, there is literally no where to hide, for either the characters or the audience. That red wall provides a surface for opera's now ubiquitous super titles (and yes, the opera is sung in the original French,) but more importantly it's that hard surface against which bodies cower or get slammed.
The pre-show and prologue introduces the delicious sound-world of this Carmen – cello, piano, and bandaneon – through musicians Baltzer on piano with Maxfield Wollam-Fisher on cello and Heyni Solera on the enthralling bandaneon. To see the  "squeeze box" instrument turned into a percussive orchestra all on its own (by resting it on the musician's lap then jounced through foot stamps, claps, bangs,and inner thigh muscles opening and closing like butterflies) is to watch something between an advanced Pilates workout and a sexual tease.
As spellbinding as the music is, I'm not sure the pre-show adequately prepares us for the unique take on the story. A woman with bangles dripping on both arms wanders around the edges of the stage. We learn later this is the character of Madame Pastia, the proprietor in this case of a less than family-friendly establishment. Lydia Gladstone has no actions adequately specific to make herself or the audience at ease. Equally ambiguous is the slumped figure of Kyle Dunn, who seems at first to be a skinny adolescent who might be O.D-ing on something. When he revives, we learn he is "the Host" for the cabaret.
"Willkommen. Bienvenue." Madame and The Host chit-chat back and forth in both French and English, and it seems we might be back in Berlin on familiarly-covered musical ground. The costumes by Donna Breslin captured that world, and Dunn did look the perfectly-kinky MC, with his fishnet stockings, pencil-tight pants which later get stripped down to swim-trunk "shorts," and suspenders. But no, it's not that "Cabaret."  The accents were com çi com ça. The script was com çi com ça. Perhaps it was First Night jitters; the crowd must have presented so horribly up close and personal. Things seemed shaky.
(Can I just say also, without knowing too much about this world, Dunn's vocabulary of gesture seemed so full of clichés (tongue licking lips, grabbing the crotch, etc.) Is anyone else weary of "Cabaret" wanabees? Might the DC theatre world hire some gay strippers and sex-club workers to reinvent the on-stage language of "presenting" specifically such a world?)
As, one by one, the main singer roles from the opera are introduced, I felt a shift and found myself immersed in the unfolding of something truly fresh and exciting.
---

Le Cabaret de Carmen closes January 19, 2020. DCTS details and tickets
---
This Carmen (Cara Schaefer) is something of an indentured performer in a very seedy establishment, more outright sex club than cabaret. Madame Pastia comes into sharp focus as a "madame" of grasping and cynical character with Carmen her meal ticket.  Carmen enters in a tight fitting red-sequined dress with an intentionally hideous, bad-fitting platinum wig.  (She will change wigs and costumes throughout the evening.) She sings Bizet's famous "Habanera," – "Love is like a bird that will never be tamed." But this bird is caged, a sex worker who is fighting desperately to stay alive. In the added spoken text her secret is revealed: the sad drag queen  is called a "freak" and "faggot."
With her sometimes swagger and aggressive athleticism and a voice that plunges down to the basement in her low notes, Schaefer convinces us as a transgender outsider, marginalized and always at risk of being abused. The singer-actor holds nothing back in her singing or in her physicality and succeeds in creating an emotional arc that is truly harrowing.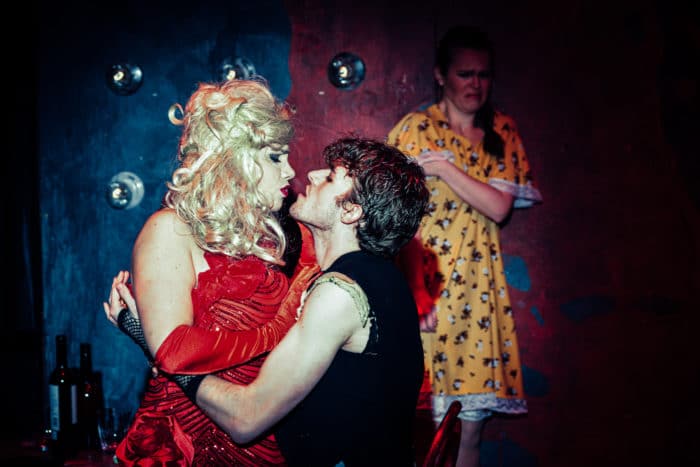 Brian Arreola is similarly affecting. As Don José, the soldier who becomes smitten with Carmen, he throws away everything important in his life to pursue this bewitching creature. The premise for this production makes sense of his character for me as never before and answers the questions about why he has abandoned his mother, "fiancée" and their small town, why he might have sought out the military, and why he gets into serious trouble there also.
The encounter he later has with Carmen, and the seduction, which we understand is a command performance, is delivered most persuasively. The arousal of this closeted man was uncomfortable, even painful to watch. Arreola plays the character's vulnerability with immense emotional courage. We then watch him grow increasingly obsessed and possessive in a convincing portrait of a misogynistic abuser of women.
The other two singer-actors also create memorable characters. The role of Micaela is conceived the closest to the original intention in Bizet's opera. She is the innocent girlfriend, who risks much to find her soldier boy and bring him back home. Kelly Curtin is lovely and sweetly captivating, and she possesses a sure, expressive soprano (only occasionally straining when going for power in the high notes.) She made me believe both her character's naiveté and her deep love, which compels her to seek and face such a dangerous rival.
Alex Alburqueque is the comedic tonic we need in this darkly visioned Carmen, and he is wildly funny, playing Escamillo as a really, really bad Lounge Lizard, who slinks, wiggles, and grins like a maniac. The Peruvian singer showcases a rich baritone voice, but he wins over the audience hands down more for his inventive stand-up comedy and shameless interplay with the audience. He brings it right back to us, including "improvised" jokes about "the wall" (you-know-who's wall.)  Alburqueque even gets a little audience participation (Nelson has used this device before,) by roping them into joining him in the People's Choice "Toreador" aria.
Nelson steered his concept through (not even something Peter Sellars always manages,) weaving together a most convincing interpretation, but he also paid attention to small detailed moments. I liked the irony in the use of the microphones, which turned the tables on musicals that use technology and try to convince us we're listening to the human voice, here using a cabaret microphone for opera singers.  When Micaela sings the famous third act aria, "Je dis que rien ne m'épouvante," Nelson places her sitting quietly in the dark as if in prayer. Her supplication is lit by a collection of votive candles, not in church but gathered from the tables on a tray as if the bar's just cleaning up at the end of the day. The pure beauty of the song and Curtin herself is caught in the flickering light like in a Georges De la Tour painting.
The last scene helps us rediscover Bizet's powerful climax. I watched the brutality of a man, suppressing perhaps fears of his own sexual identity, lose all boundaries and destroy "the other." I watched a human being who's had to accept being marginalized and scorned, "Carmen," quivering in agonizing fear, knowing she/he/they will be the victim of a hate crime.
More than any "sensitivity training" or any piece or journalism or media segment, Nelson's Le Cabaret de Carmen cuts through to the heart of the very current LBGTQ conversation. This story has helped me better understand what is at stake.
Isn't this what theatre and perhaps most especially music-theatre at its highest level must aim to do? A Carmen for our time, the production performs only through January 19, and it must be seen.
---
Le Cabaret de Carmen. Inspired by the Opera by Georges Bizet. Stage Director and Concept by Timothy Nelson. Based on the Score prepared for Peter Brook's production. Music-Director and Pianist Emily Baltzer. Set Design by Jonathan Dahm Robertson. Lighting Design by Marianne Meadows. Costume Design by Donna Breslin.  With Alex Alburqueque, Brian Arreola, Kelly Curtin, Kyle Dunn, Lydia Gladstone, Cara Schaefer and Musicians Heyni Solera and Maxfield Wollam-Fisher. Stage Managed by Joe Gladstone. Produced by the In Series. Reviewed by Susan Galbraith.