It was a rare pleasure to share the stage at the Smithsonian Institution's S. Dillon Ripley Center less than a week ago with colleagues who are also in the business of reviewing the performing arts. I have always thought Washington would be better served and advance an even more robust and renowned theatre scene if reviewers/critics could be more encouraged to be in conversation with each other and area artists.
Nonetheless, there are still misconceptions and prejudices and not only in the general population but among those who are makers and those who write about the performance forms and the "silos" wherein they live.  We are so infrequently lured to "crossover," but I was still slightly stunned when our otherwise very capable moderator, the wonderful actress Felicia Curry, did one of those "la de da" hand gestures and lifted vocal tricks when she introduced, "And now we're going to hear about "OPERA!" Had I just been helicoptered in from the House of Lords?
I try to persuade, in my writing and presentations, that opera is theater. In the last several decades, major makers of music-theatre have been trying to break the boundaries between opera and musicals or opera and theatre/performance art. Even the renowned Stephen Sondheim will state unequivocally, "When one of my works is performed in an opera house, it's opera, and when it's performed by a theater-producing organization it's called a musical."
I will unapologetically state that I cover opera as theater, not as music. This is why I do not write reviews of albeit fine organizations such as Washington Concert Opera, which it tells you flat out, "It's all about the music."
There is much to learn by the "regular" theatre world from what is being composed and produced in contemporary opera by those who are further pushing the envelope. The old "rules" of an opera work being through composed, demonstrating a certain vocal style, and even the old standard line that opera showcases the large, unamplified voice are, rightly or wrongly, being challenged.
So, for our audience at the Smithsonian and to the general DCTheatreScene reader who might be less comfortable walking into the world of opera, let me say that the industry is seeing conversations not unlike what's going on in other theater styles and disciplines. I'll point out three key areas or trends:
Power-house Women –
Opera, a long-time bastion of male impresarios is now moving women into chief artistic roles and in admin leadership. 
Look no further than our city's flagship opera company, Washington National Opera, which was proud, earlier this month, to gather an all-female mentor team in leadership roles for the American Opera Initiative 2020, comprised of celebrated composer Laura Kaminsky, gifted librettist Kelley Rourke, and international conductor Anne Manson. This spring as part of WNO's main stage season, we will see the work of composer Jeanine Tesori who was commissioned to compose a contemporary opera work, and the staging of Don Giovanni was bestowed on young female stage director E. Loren Meeker. 
Race –
The opera world, no longer satisfied with its self-congratulatory status quo of "blind" casting, has moved the issue up front, and producers are willing to confront the legacies of racism and prejudice.
More Inclusive Depiction of Sexual Identities and Transgender Representation –
Nothing new for opera, "Trans" and "Fluid" have been for centuries part of opera's appeal and exploration — from pants roles for women to castrati, those "engineered" soprano roles for persons born male. The last has transitioned in contemporary societies to non-surgical specialization, and the singers – some, like Anthony Roth Costanzo and John Holiday among the most exciting on the world stages today — are called counter-tenors.
Six local opera events illustrate these themes. Sadly, two of these just closed since the presentation.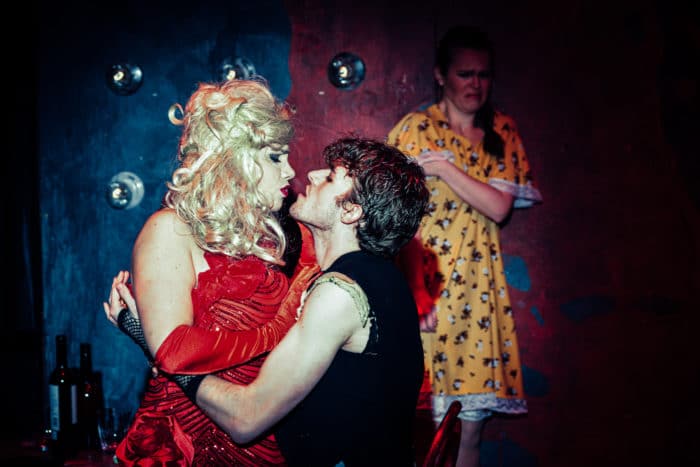 In Series, Le Cabaret de Carmen
In Series Artistic Director Timothy Nelson has re-visioned a Carmen for our times. With a reduced cast of six and a trio of musicians featuring the enthralling bandaneon, Nelson transformed the setting from sunny Sevilla to a dark cramped cabaret/sex club. More risky still, he stripped the story of any illusion that this was indeed a romantic opera but revealed a sadistic culture that breeds aggression and physical violence especially to women and even more especially to trans-women. In this production, Carmen was an outsider, not because of being of Roma heritage but as a sex worker who is also trans.
DCTS review
UrbanArias, Glory Denied 
"Short-form opera appears to be the wave of operatic future," The Washington Post wrote. UrbanArias is Washington's opera company that will cheekily tell you "If you're looking for a quickie, we're the opera company for you." The company also promises to make the evening contemporary and punchy, and Artistic Director Robert Wood delivers. With music and libretto by Tom Cipullo, UrbanArias took on for the second time in its history the war story based on Tom Phillipott's gripping story of Col. Floyd James Thompson, who was shot down in Vietnam in 1964 and spent the next 9 years as a prisoner of war. Returning home to his wife, who had given him up for dead and moved on, the couple must face ongoing struggles.
Conductor Robert Wood founded the company in 2009 and conducts all their shows. Musically, he has sure instincts in navigating contemporary work, and it was never more clear than his commandeering Cipullo's tricky, dense score. The company's commitment to delivering productions in smaller venues gives audience up close and personal experiences with the opera genre, and the quartet of singer-actors Wood assembled were terrific.
DCTS review 
In Series, Women Composers Festival
If your taste is suitably adventurous, I might urge you to go back to In Series in March when the company will feature, for one weekend only, a Women in Opera New Works Festival. Featured will be an opera by Gabriela Ortiz, who has been touted as one of the great composers in the world today. There will also be a piece by creator-performer Kate Soper, who has been described as "exquisitely quirky" and her performance style likened to "Lucille Ball as performed by Linda Blair."
In Series, GALA Hispanic Theatre. MArch 6-8. Women Composers Festival.
Washington National Opera, Blue
More and more opera companies are giving us opportunities to encounter the works of living composers. The commissioned opera, Blue, features the work of Francesca Zambello's two long-time collaborators, Librettist Tazewell Thompson (who will also direct) and Composer Jeanine Tesori. This production will showcase American theater industry powerhouse creative forces.
The work explores race and violence in our country but holds out hope for reconciliation.
The production was a shared endeavor with Glimmerglass Festival, where it performed last summer. As I wrote of the Glimmerglass production, Kevin Kellogg as the central character "is not just a singer of paramount technique and vocal power but a man who embodies emotional qualities of strength, tenderness, and great dignity in equal measure." As an African-American living in Harlem, he presents a man who must live in two worlds, in his home trying to raise a Black teenager and then as a policeman.
Washington National Opera, Eisenhower Theatre, March, 2020.  Blue
Alliance for New Music-Theatre with Local Composer Steven M. Allen and The Paul Laurence Dunbar Project
This year marks the 150th anniversary of Dunbar High School, originally established in 1870, America's first school for African Americans, in honor of the poet Paul Laurence Dunbar. Alliance for New Music-Theatre is proud to be partnering with Dunbar High School and members of the Dunbar Society to present local composer Steven M. Allen's opera and to further The Paul Laurence Dunbar Opera Project. Paul Laurence Dunbar's work represents a triumph of the human spirit over racism, poverty, and adversity.
American Composer Steven M. Allen has uniquely captured the life of Paul Laurence Dunbar in an ongoing array of operatic works based on the life and love of the poet. Allen's music has been featured on stage, in concert, and in the PBS special about the poet. The megawatt singer-actor Greg Watkins, who originated the role of Paul Laurence Dunbar in the original opera, will return in the central role. Music Director Tom Pedersen will join the creative team.
The yearlong festival will commence April 16-17, when my company will present performances of a new iteration of Paul Laurence Dunbar's story-in-opera at Dunbar High School.
Alliance for New Music-Theatre, Dunbar High School, The Paul Laurence Dunbar Opera Project.
 Washington National Opera, Porgy and Bess
If your tastes in musical theater tend to run to popular fare, this spring you need look no further than Francesca Zambello's adaptation of Ira Gershwin's Porgy and Bess that has been hailed across the opera world. Composer Gershwin created something that has defied categorization. Sometimes called America's first great American opera, it's also been identified as a "folk opera," and even " the great American musical." It melds jazz, gospel and folk tunes and remains one of the most popular and entertaining of shows. Today, however, it's time to focus fully on the themes of a Black community's resilience, the struggles of one handicapped, violence done to women, and the unraveling of a relationships and community in the presence of addiction.
Directed by Zambello, it will feature some of Washington's favorite opera singers including Alyson Cambridge, Jacqueline Echols, Norman Garrett and Denyce Graves.  South-African Bass-baritone Musa Ngqungwana will lead the cast as Porgy and his powerful voice will be riveting.
Washington National Opera, Opera House, May 9-23, Porgy and Bess