Playwright Dominique Morisseau has had a whirlwind last few years since her play Pipeline premiered in 2017. In that span of time, she's managed to begin her tenure as a Residency 5 playwright at Signature Theatre in New York City, earn a MacArthur "Genius" Grant, and pick up a Tony nomination for writing the book of smash hit jukebox musical Ain't Too Proud: The Life and Times of the Temptations.
Morisseau's work returns to the DC area with Awoye Timpo's production of Pipeline at Studio Theatre. The play's title refers to the school to prison pipeline that disproportionately affects students of color. In an effort to maintain order in the classroom, some schools overpolice student behavior, suspending and expelling students for minor infractions or even referring them to the legal system. Pipeline tells the story of a family trying to avoid this fate while the odds are stacked against them.

Extended! Pipeline closes February 23, 2020. DCTS details and tickets
Andrea Harris Smith leads a top-notch ensemble of actors with her portrayal of Nya, a public school teacher whose son Omari (Justin Weaks) faces expulsion from his private school after an altercation during class. Smith balances the exasperation of mothering a teenage boy with Nya's dimension to love her son and his father Xavier (Bjorn DuPaty) despite their disregard for the emotional anguish they cause her. The supporting roles around Nya are just as nuanced, as with Ro Boddie's characterization of the school security officer Dun. Once in Omari's shoes, Dun has fought to come out the other side and built a life of his own. Pilar Witherspoon brings a similar lived-in performance as Laurie, Nya's fellow teacher. She's tough, but at the end of her rope; tired, but willing to show up for her students anyway.
[adsanity_rotating align="aligncenter" time="10″ group_id="1455″ /]
The mostly black and white projection design by Alexandra Kelly Colburn serves as an additional character in the play, wrapping text around the walls of the theater and splaying viral videos over the institutional scenic design by Arnulfo Maldonado. The cinder block walls and linoleum floor of the school setting give off an austere, overbearing whiteness that threatens to swallow the characters and set pieces whole. This feeling of a white void echoes the larger themes of oppression and loss in the play, magnified by Jesse Belsky's lighting design. Cycling between subtlety, as in the growing harshness of the overhead classroom lights, and conspicuousness, like when the lights flicker to mirror Nya's mental state, Belsky's design grounds the nebulous worlds of the play. The costumes by Sarita Fellows also capture these dualities of public and private, have and have-not. The stuffy private school uniforms worn by Omari and his girlfriend Jasmine (Monica Rae Summers Gonzalez) beg to be torn off like restraints while the similarly regal business suit worn by Xavier aligns with his put-together yet closed-off persona.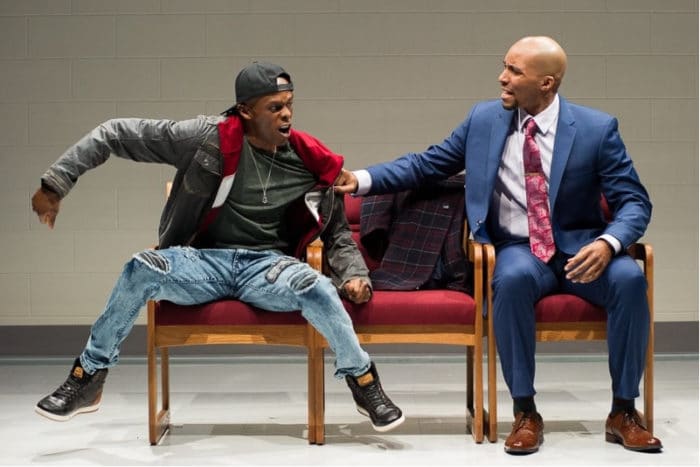 The performances and technical elements of the show combined with Morisseau's writing make for the grand trifecta of theatre, a lightning bolt production that shocks new life into the possibilities of the stage. Though best known for The Detroit Projects, a trilogy of plays set in her native city (Detroit '67, Paradise Blue, and Skeleton Crew), Morisseau keeps the setting of Pipeline more ambiguous to show the issues in the play are not unique. The pipeline and all the students caught inside it exist in every city. If we continue to close our eyes and refuse to extend our humanity, we risk the chance of forever trapping them inside.
---
Pipeline by Dominique Morisseau. Directed by Awoye Timpo. Assistant Directors: Marielle Burt. Featuring Andrea Harris Smith, Justin Weaks, Monica Rae Summers Gonzalez, Bjorn DuPaty, Pilar Witherspoon, and Ro Boddie. Sound Designer: Fan Zhang. Costume Designer: Sarita Fellows. Lighting Designer: Jesse Belsky. Set Designer: Arnulfo Maldonado. Properties Designer: Patti Kalil. Projections Designer: Alexandra Kelly Colburn. Stage Manager: Sarah Elizabeth Ford. Dramaturg: Lauren Halvorsen. Reviewed by Mercedes Hesselroth.