Carey Perloff's opening scene of the staged adaptation of Khaled Hosseini's shattering novel, A Thousand Splendid Suns, moves with breathtaking beauty. Two women in one direction and a man in another pull two rug runners slowly passing across the stage in opposite directions; on these rugs are placed their few chief belongings, cultural artifacts recognizably Afghan.  Others slowly join this curious caravan, moving as refugees in a bleak landscape.
Behind them is an exquisite vista created by set designer Ken MacDonald and lighting designer Robert Wierzel. With the use of cut out layers upstage – a simple floral design cut into a stiff curtain, a ground row of purple mountains defined in wood, and down stage of that a curious series of reflective surfaces that sometimes read as clouds or snow, at others as barbed wire fencing – there leaves room for a neutral plain of action. Wierzel's lighting brings this static world to life using deep hues and contrasting colors coming through in the cutouts.  Dominating this painterly backdrop is a symbolic sun made up of copper metal coils, which moves independently on a track across the stage sky to indicate the inexorable passage of time in a world too long at war. 
Hosseini's novel starts with the arresting sentence; "Mariam was five years-old the first time she heard the word harami."  I think this suggests that the author's intentional focus was on the character of Mariam, and how her status as an unwanted, "bastard" child, not only sealed her life's prescribed role and limitations but deeply reflected the traditional patriarchal society.
Playwright Ursula Rani Sarma has chosen to rearrange the book's order and introduce instead the family of Laila, the other main female character, and especially her relationship with her father, a scholar and lover of poetry.  We get bogged down immediately into lots of exposition and pin our hopes on following this family through their forced evacuation, hopes which are immediately dashed when a shell explodes and Laila is left an orphan.
It takes us, the audience, time to recover. Laila wakes up wounded and is nursed back to health by the rather resentful wife of a neighbor, the cobbler Rasheed, who has rescued her and offers her protection. It turns out the wife is the now much older Mariam who had been abandoned by her father and married off to Rasheed. It also turns out Rasheed's generosity has a price, and soon he expects to wed and bed Laila as wife number two. Curiously, Laila all too readily agrees. (We only later learn why.) Of course there are resentments and growing hostility between the two women. But little by little, they find themselves unlikely allies as Rasheed grows ever more desperate and reactive and takes it all out on the women, abusing particularly Mariam, but even threatening the daughter that Laila bears.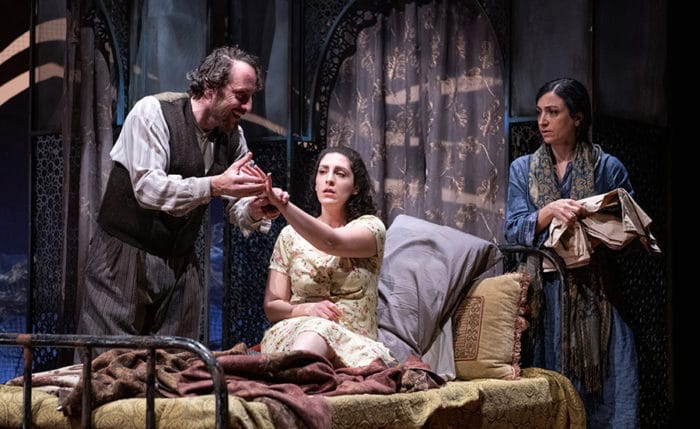 The script is marred in several ways. The story that director Perloff wanted to tell is one of friendship between two women.  Unfortunately, the scenes of spousal abuse and violation are so frequent that the fireworks dominate everything else, and the violence becomes mind-numbing.

A Thousand Splendid Suns closes March 1, 2020. DCTS details and tickets
I was so wishing for more of the rich language and love of poetry that Afghans value and although introduced by the character of Laila's father Babi, with his untimely removal, the language devolved too often into cliché and pedestrian expression. Laila's true love, Tariq, at one point has to mouth, "You know, I only have eyes for you" it made me think we were going to jump into a juke-box musical.
Other things seemed clunky, having leaped out of some melodrama, such as "Always a man's accusing finger will find a woman." It works on the page but not on stage. Repeatedly, a woman is encouraged to "endure" (tahamul.) I began to wonder whether the Ambassador from Afghanistan, who is an outspoken women's advocate and activist, might not squirm at what the production seemed to emphasize: seeing all Afghan women as victims.
There are red herrings dropped as annoying as the dangling participles which the script also contains. One of these is the mention of a knife full of drawers. The little kitchen cabinet with drawers is dragged on and off stage building suspense, and one of those knives is shown. Suspense is built. But the knife is never used. That's just careless dramatic structure.
Despite the script's shortcomings, the acting is most compelling. Hend Ayoub (Mariam) and Mirian Katrib (Laila) are particularly powerful in their portrayals of girls growing into women and whose dreams get crushed in the harsh patriarchal system. They find small ways they to resist and comfort in each other.
[adsanity_rotating align="aligncenter" time="10″ group_id="1455″ /]
One of the most touching scenes was when actress Ayoub, playing a woman who had lost 5-6 babies of her own, reluctantly agrees to hold her rival's infant. Katrib has (also reluctantly) placed her precious baby in Mariam's arms to exit to serve husband's demand for sex (a "service" everyone sees she does so only to protect Mariam from another beating.) Ayoub first holds the baby awkwardly far out in front of her body. Slowly, she draws the girl infant to her, then making eye contact, she starts making sounds and in a matter of minutes the two are deeply in communion. Throughout the show, actress Ayoub moves masterfully between portraying stony silence then radiant mother-love, between abject fear and finally ultimate courage.
Special mention must be given to several others in the fine ensemble. Joseph Kamal as Laila's father Babi cuts a strong figure as an Afghan gentle intellectual whose heart is broken when the civilized society he knew comes crashing to an end. Nikita Tewani is a poised and lovely Aziza, daughter to Laila. Ravi Mampara, as the son who follows, is an unusually prescient young actor, able to portray the complexity of a careless boy growing up in a house and culture where women are not valued, but who still somehow grapples with the knowledge that he is loved by the women who surround him.
Antoine Yared as Tariq, the love interest, makes a strong impression as the insuppressible lame neighbor boy who is clearly born to be Laila's soul mate. His disappearance early on in the show is abrupt and his presence missed. Sadly, his reappearance, while it relieves the audience greatly, is not given enough substantive time for us to benefit from the lovers' complicated renegotiation. I sense the director, who has returned to re-direct the show, has tried to rectify this and inserted a tryst between the two but it is only held on the side of the stage in stage whispers.
"His version of love is distorted." Haysam Kadri talks with DCTS about playing Rasheed.
Haysam Kadri bears the responsibility of carrying the most difficult role of the evening as the wife batterer Rasheed. Kadri portrays well a man whose traditional status as head of the house goes unquestioned. As the world order around him crumbles and he and his family face deprivation and constant danger from the outside, he hardens and grows emotionally too-tightly coiled. Kadri's is a fascinating portrait of a man unraveling, but, alas, with the repeated scenes of domestic violence, his character is reduced to ranting and never quite achieves our sympathy.
The ensemble and director have worked hard to portray this harrowing drama. David Coulter has written a super contemporary score that included eerie touches of saw-playing and other other-worldly sounds. There is much dramatic tension built, but I so longed for relief and more insertions of the beauty such as Afghan music or other notes of resilience in the culture. As it was, it was left to the designers to put all this into their poetic landscape and lighting.
---
A Thousand Splendid Suns by Ursula Rai Sarma. Based on the Book by Khaled Hosseini. Directed by Carey Perloff.  Cast: Hend Ayoub, Sarah Corey, Lanna Joffrey, Haysam Kadri, Joseph Kamal, Jason Kapoor, Mirian Katrib, Ravi Mampara, Yousof Sultani, Nikita Tewani, and Antoine Yared.  Choreographed by Stephen Buescher, Original Music  Written and Performed by David Coulter. Set Designed by Ken MacDonald. Lighting Designed by Robert Wierzel. Costumes Designed by Linda Cho.  Sound Designed by Jake Rodriguez. Produced by Arena Stage. Reviewed by Susan Galbraith.