On the positive side, there's nothing "scaled down" about the Kennedy Center's latest Broadway Center Stage series presentation of Brian Yorkey and Tom Kitt's 2008 steamrolling tearjerker Next to Normal.
If you were thinking that the productions in the series, billed as semi-staged concert readings, were skimpy in any way, you'd be wrong. The original three-tiered set design by Mark Wendland has been adapted by the very talented Paul Tate dePoo III, to closely replicate the original staging, Cory Pattak's lighting electrifies the show's changing emotional currents, and the six performers give you their all.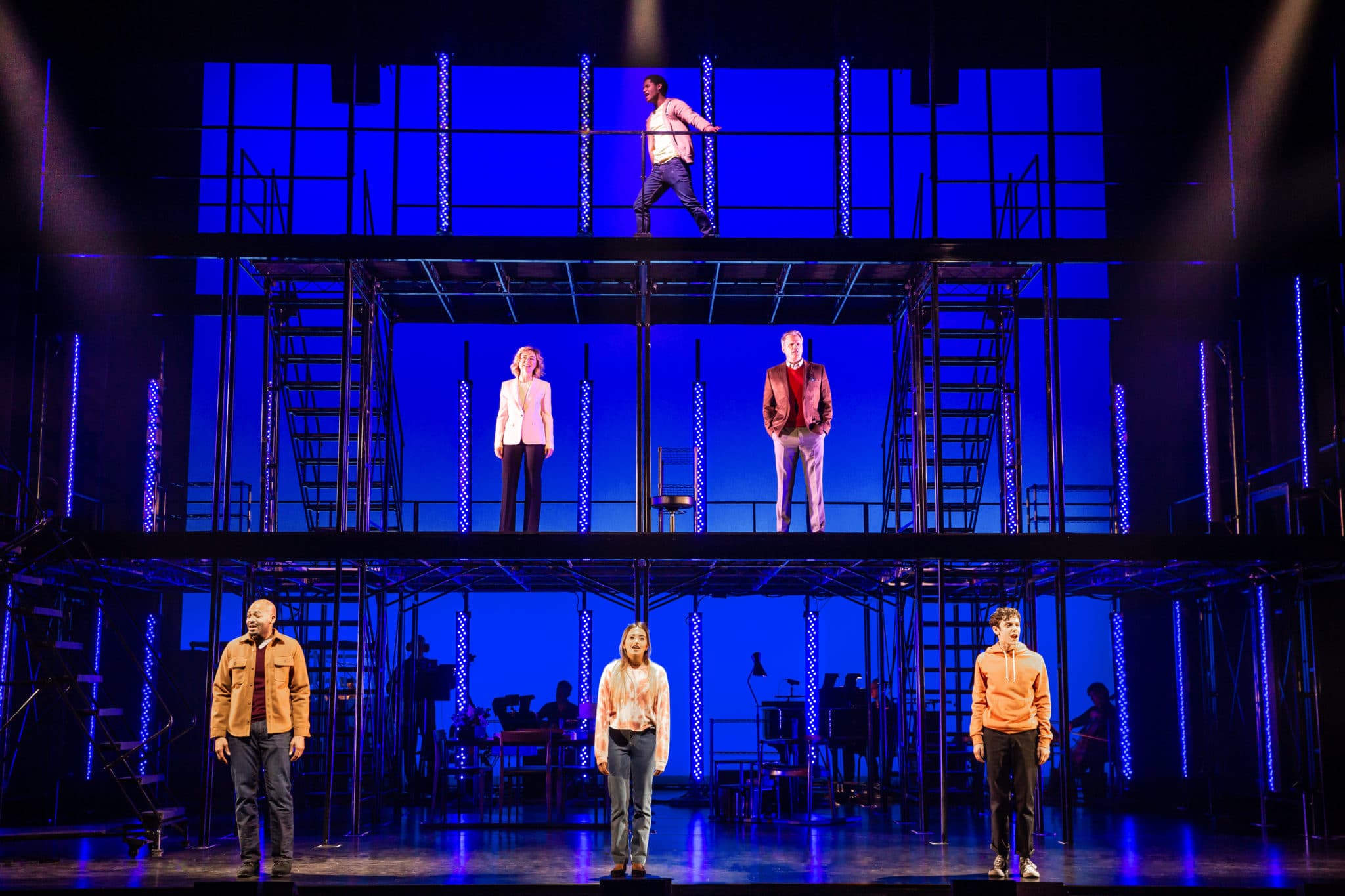 Rachel Bay Jones is phenomenal in the lead role as Diana, a woman, wife and mother navigating the aftermath of tragedy, the disorienting highs and lows of bipolar disorder, and the often-crippling treatments involved in supervising it.
The boldly defiant rock musical about mental illness and its corrosive rings of inflicted trauma deservedly earned praise for expanding the subject matter for musicals and for bravely presenting sensitive issues without easy fixes. It won a slew of awards including three Tony's, three Helen Hayes Awards during its pre-Broadway run at Arena Stage and even a Pulitzer in 2010.
But the show's Tony-winning score is a sore personal reminder of the general dullness and lack of distinction of the "pop-rock" musical genre. There are a few appreciated attempts at variance, but the majority of the songs lack character, much less any interpretive layering, a troubling prevalence in contemporary musicals.
The show itself is heavy, but heartfelt, and while there are attempts at levity and a hopeful resolution, the subject matter mostly casts a pall. You can't help but be affected by Diana's anguish, the pain her condition causes in those close to her and even in yourself, if any connections to your own experience resonate. Sadly, it seems like everyone knows someone who's been touched by these issues, and palpable cathartic reaction and relief was felt in the Eisenhower Theater.
Set in suburban America, Next to Normal tracks Diana's journey through grief and depression, as well as the exhausting coping and care practiced by her restrained husband Dan (Brandon Victor Dixon) and neglected, overachieving daughter Natalie (Maia Reficco). The show also fairly presents the well-meaning but blindly groping medical profession which attempts to treat mental illness with a dizzying array of drugs and therapies.
The first act is well-paced, beginning with the bouncy opening number "Just Another Day," revealing the family dynamic—husband and daughter walk on eggshells around mom, who is introduced as quirky and upbeat, a superwoman to the family's needs, before the sandwiches on the floor give away that she's riding out another manic episode.

Next to Normal closes February 2, 2020. DCTS details and tickets
Diana next goes through a variety of medications and side effects during a funny medley of visits to her psychiatrist's office in the sly tango-infused "My Psychopharmacologist and I," before deciding to flush her meds to the understanding ballad "I Miss the Mountains," a provocative rejection of the numbness brought on by the drugs and a longing for the mood swings of her illness, which while making her unstable, are organic to her and not artificially induced. Another affecting number is when she lashes out at Dan who makes the mistake of telling her that he understands the pain she is going through ("You Don't Know").
The story's key revelations are brought to light in Act I, which ends on a momentous decision. Act II's rehashing of those disclosures becomes repetitive and idle, stalling the show's momentum in a frustrating holding pattern until the narrative is closed out—but not resolved—in a doubtful, yet forward-looking finale ("Light.")
There's a side plot which isn't as interesting—a common complaint of mine, as if an entire show can't be built to focus on one dramatic throughline—in which Natalie inches into a relationship with another student (Ben Levi Ross, fresh from his stint as the title character in the national tour of the Broadway smash Dear Evan Hansen). The scenes between the two vacillate between sweetly goofy and illustrative of the distress Natalie feels in her situation, but there's not enough there to really support the sidebar. Towards the end of the show, she finally articulates her very real fear of turning into her mother, an area that would've been highly charged for examination. Much more could have been done with Natalie and her relationship with Diana.
Jones, a Tony winner for her portrayal of another weary mom in Dear Evan Hansen, is triumphant here—she captures Diana's cheekiness and brightness, winking at the audience in early scenes; exposes her vulnerability with a raw candor; and sings both the harder-edged rock numbers and wistful ballads with a fierce clarity and passion.
The rest of the characters don't come through for me as well. Dixon is almost not there as the subdued spouse Dan, understandably holding his emotions in check to counterbalance the fraught and fragile accord he shares with his wife. Natalie is pretty thin too; Reficco sings beautifully (providing the title of the show in the poignant "Maybe,") but the character is essentially one-note—peeved. Khamary Rose, a critical piece of the plot as Gabe, brings a boundless intensity to the role, and scores one of the most memorable melodies with "I'm Alive."
The Kennedy Center's short-run production of Next to Normal is certainly an emotionally affecting musical with an impressive lead performance and splendid singing by all. But the generic vanilla score makes me long for the next Sondheim revival.
---
Next to Normal. Book and lyrics by Brian Yorkey and music by Tom Kitt. Directed by Michael Greif. Featuring Rachel Bay Jones, Brandon Victor Dixon, Maia Reficco, Khamary Grant, Ben Levi Ross and Michael Park. Original scenic design by Mark Wendland and adapted by Paul Tate dePoo III. Costume design by Jeff Mahshie. Lighting design by Cory Pattak. Sound design by Kai Harada. Musical direction by Charlie Alterman. Choreography by Sergio Trujillo. Production stage manager: Nancy Pittelman. Produced by The John F. Kennedy Center for the Performing Arts. Reviewed by Roy Maurer.