"He was her only child: her baby boy..maybe an A-1 student running, hiding, taking cover.  The women gather crying tears that fill a million oceans. It doesn't matter where you're living.  It doesn't matter." – Sweet Honey in the Rock, "The Women Gather"
"Whenever you did one of these things to someone overlooked or ignored, that was me – you did it to me." – Matthew 25:40, The Bible
One thing that is clear when you go to see Pipeline is that you are watching people fighting for their lives. They are fighting against an enemy that is intangible and invisible, but is nevertheless lethal. Something – a "system" – that no one seems to want to take responsibility for.  Something – a system – about which everyone wants to claim innocence, ignorance and/or the inability to fix. The actors and production team for this show earn every bit of applause they get for allowing us to see the people in this story, rather than the performers' personae or the politician's sound byte.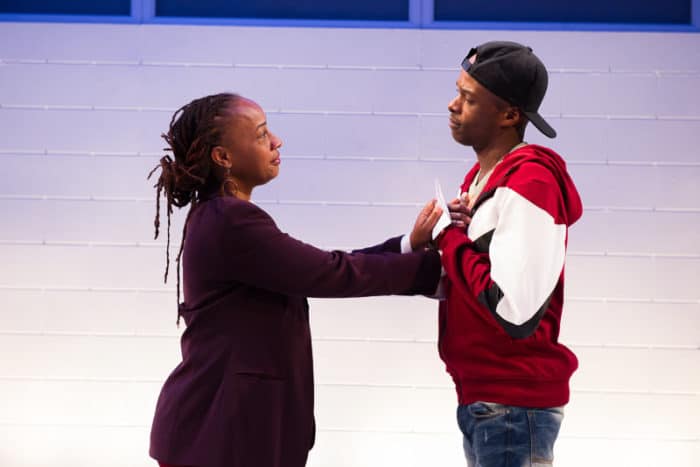 The main character, Omari, a promising student at an elite private school has pushed – some say slammed – his instructor into a Smartboard.  This is his "third strike" with this institution and it's possible that he will be expelled and have legal charges pressed against him. It is clear that the instructor provoked him – within the context of learning during a discussion of Richard Wright's "Native Son" – on a racial issue about which the student, as the only Black student in the class, was uncomfortable.  The student requested to be excused from being further exposed.  The instructor insisted. After not being allowed to leave the room, the student responded by pushing the instructor. The incident was recorded on another student's cell phone and subsequently posted online. Meanwhile at the public school where Omari's mother teaches, an instructor witnesses two students in her class fighting, with one slamming the other's head against the floor.  The instructor calls security and after waiting, decides to hit one of the boys with a broom in order to prevent the other student from being severely injured. This teacher may now be subject to being fired.
What are the parameters of this pipeline that this play is exploring? We hear talk in various media about the school-to-prison pipeline.  But this play suggests to me that while school – the educational system – is a vital part of the system of control over Black people's bodies, and it does indeed operate in conjunction with the prison system, it is also only part of that system of control.
[adsanity_rotating align="aligncenter" time="10″ group_id="1455″ /]
This reflection is about Pipeline. But I was struck by how much Pipeline and The Curious Incident of the Dog in the Night Time had in common.  They are both about the way we as a global society treat "children" or other folks we see as powerless or valueless.  They are also about the ways we lie about the way we treat these othered people. In both plays, schools are weaponized as part of the process of controlling others. Both young men are victimized by the manipulation of their intellect. Both men are subject to having their personal sensitivity, integrity – their ways of being human –  curtailed by this educational system. In Incident the 'disabled' man becomes an invisible man when it comes to his mathematical ability.
In Pipeline, the young Black man is literally envisioned as the subject of the books his class is reading about his invisibility, and he is invited to respond as though he is a spokesperson for the life of the fictional character in one of those books.  He is, by definition in this country, invisible when it comes to his humanity and divinity. (as a Black person in general and male in particular, he is thought of as an animal.)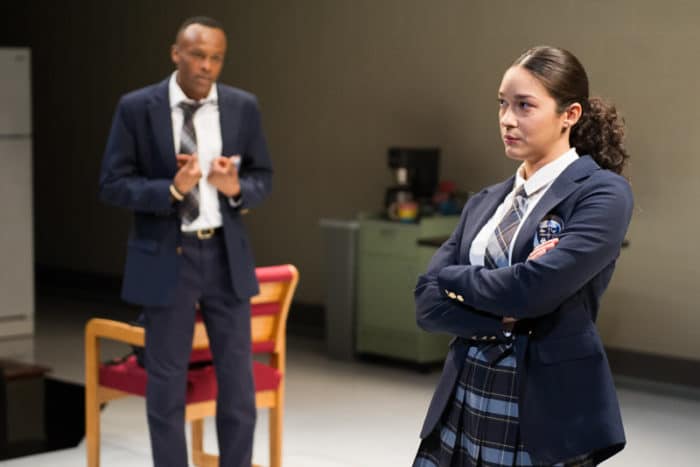 Both young men are surrounded by adults who live sordid, soap opera-like lives as a kind of self-medicating activity and distraction from the stressors in their lives. And the social contract that would support the adults as humans, as citizens, as parents is completely shredded.  In Incident, the young man finds comfort and support in a special education teacher.  In Pipeline, the young man finds comfort and support in his Latinx girlfriend. And the relationships each young man has with their father is challenging for everyone involved.
Still, the schools have always been weaponized paths to enhanced privilege. And a marker for the distinction that whiteness wants to maintain.  Which is why Brown v. the Board of Education, which stated that the principle of 'separate but equal' was not Constitutional (because separate was inherently unequal), was such a turning point.  The public schools could no longer be used as a fortress around white society.  After Brown passed the Supreme Court, one narrative would have it that white people (state, local and federal governments) began restructuring tax systems so as to shift funding from the public schools and make that funding available for private schools.  Then white people began restructuring the public school to be warehouses and holding pens. Another narrative will tell you that the public schools went downhill after Brown because of the inherent intellectual inferiority and lack of discipline of the Black people.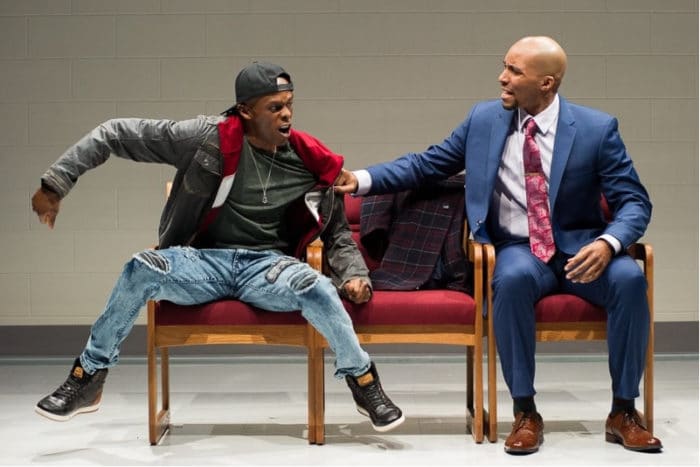 The play does suggest that as part of that system to control Black bodies – part of the structure of that pipeline – is the undermining of the lives of the adults in charge of caring for these children – so that these parents are less able to care for those children. The teachers are underpaid.  The security officers are underpaid. And since money has a direct correspondence to respect, these people are clearly not respected.
"In public schools, we often see infrastructural failures. In private schools, we see cultural failures – a lack of understanding about barriers related to a student's background. Cultural bias is hard to solidify and pin down.  I want to give voice to that issue." – Dominique Morisseau as quoted in the Pipeline program.
Theaters and schools have some functions in common: they can both be places for programming, indoctrination, education or community building.
Theater:  a place that a group of strangers go and sit in the dark while they are shown, watch and process images.  The dark facilitates them taking these images into their bodies and psyches.
School: a place that a group of strangers go and, with the exception of physical education, sit in rigid arrangements while they explore images.  The rigid repetition facilitates them taking these images into their bodies and psyches.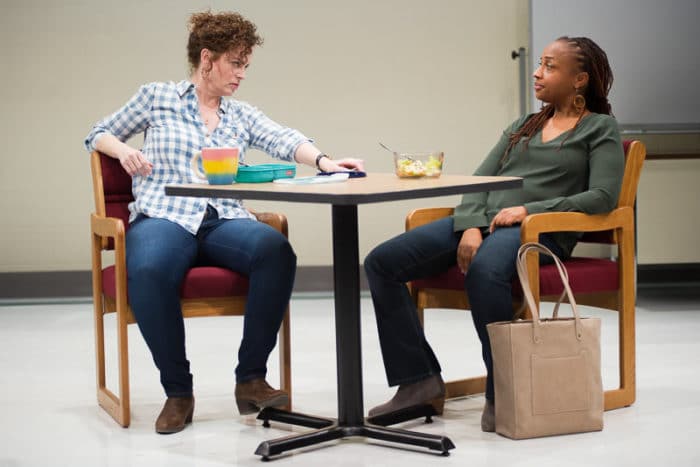 The function that public schools now perform is reflected in Pipeline's set design. It has been noted that the set in this production of Pipeline is relentlessly white and symbolic of the whiteness that surrounded and curtailed the Black lives that functioned therein. I was also affected by the drab, palpable presence of "lack" of anything in that space that might uplift, inspire, provide structure – an emptiness.  The atmosphere is totally utilitarian, like a coffee machine.  A drab insult of an institution to the lives of the people who are 'forced' or told to come there because it will provide them with what they need to survive in life: in other words, for education. There is nothing there of beauty. Nothing that says the lives of the people occupying this space are worthy and full of potential.  Despite the dedication of individual teachers, the message delivered by the structure of the buildings and the structure of the day's schedule, is "You are fodder. Your lives will continue to be as empty as this room."  Omari's mother repeatedly tells him "You're in school.  You're not in your personal space."
At the conclusion of Pipeline, Omari, the young man whose crisis is the catalyst for the events in the play, in response to his mother's request, offers her some "instructions." "Rules?" she asks. "Like a scripture," Omari responds.  This "scripture" is comprised of almost-10 commandments: (there are 9 with the 10th still being under consideration).  They include directives such as:  Hear me out.  Let me chill sometimes.  Know when to back off.  Know when to keep pushing. Don't assume the worst. Show up in person, etc. They sound like common sense, common compassion.  Common respect.  Common humility.  They sound like actions and approaches to be expected on the part of any human being engaged in the synergistic process of teaching and learning as opposed to the process of controlling.  They sound like a concrete, practical expression of the Sanskrit phrase "Namaste."
They sound like an argument for the retention of the integrity of personal space, even in school.