Technically, Alvin Ailey American Dance Theater's evening at the Kennedy Center Opera House Tuesday was a performance. But following a pre-concert gala, with an audience in sparkling gowns and tuxes and loosened up by flutes of champagne, it felt more like a love affair. The DMV hearts Ailey in a big way.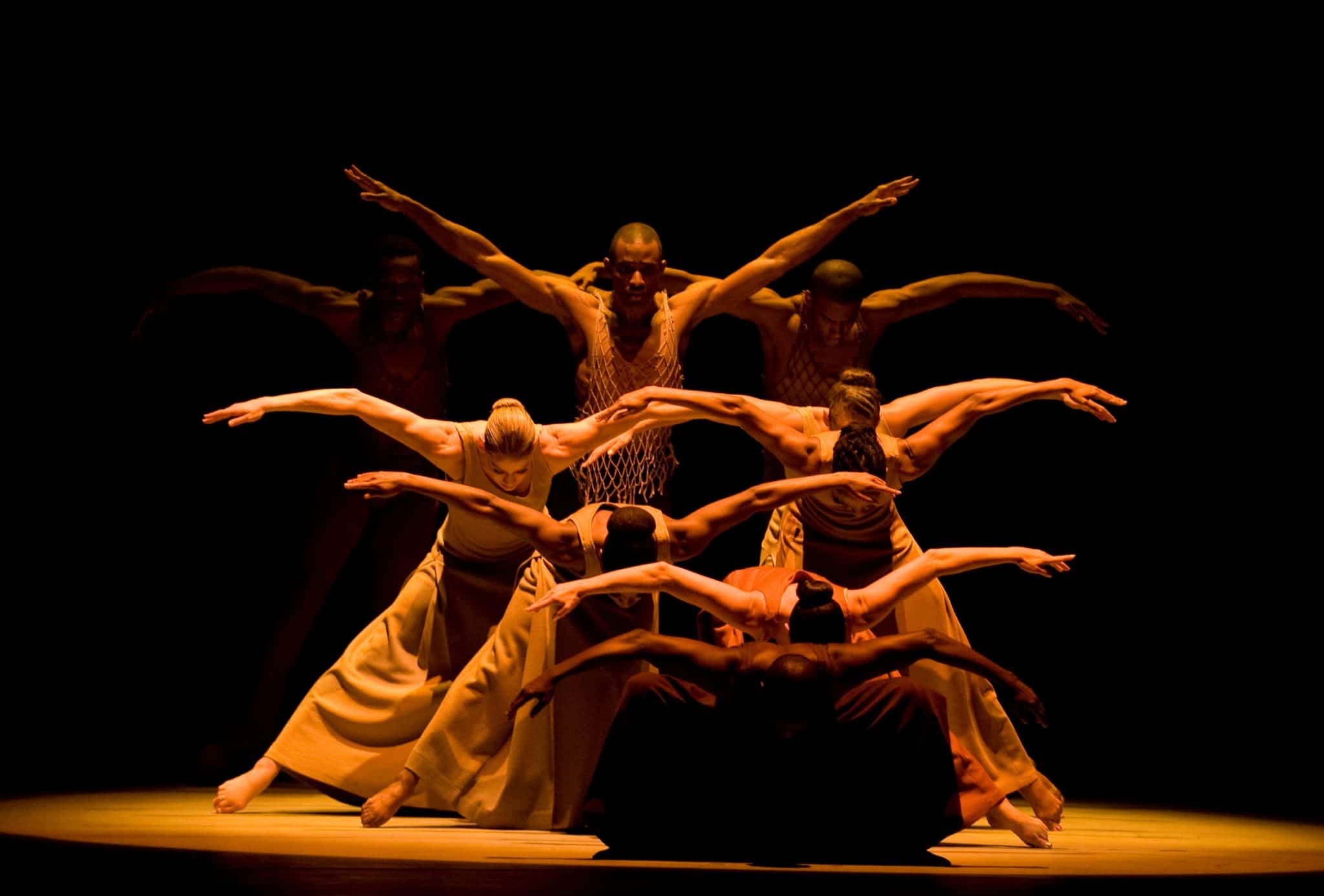 And for good reason. The troupe, now in its seventh decade and its third generation of leadership, is a living icon of African-American culture, yes, but also American culture writ large — because the two are inseparable, symbiotic. Its apprentice and training operations are juggernauts, and its patron and fan bases are wide and devoted.
As Artistic Director Robert Battle and other company leaders highlighted in remarks Tuesday, roughly a third of the company's members hail from the District, Maryland, or Virginia, and the company's touchstone work, Revelations, included six young local dancers picked to join for the occasion.
Particularly during African American History Month, that's a lot to celebrate. The program, with Revelations and Judith Jamison's stirring 2004 duet "A Case of You" counterbalanced by two strong new pieces, spoke to an artistic rootedness and continuity.
But let's acknowledge that there are tradeoffs in featuring Revelations in every single performance of this D.C. run. The company is boxed in, in a sense, because this seminal Ailey work has acquired a must-see, almost holy mystique among many audience members, one reinforced by its actual spiritual themes. Parents who saw it as kids want their kids to see it.
On one hand, that's obviously a good problem to have. Watching a video of the work online isn't the same. Besides, if the piece attracts audiences, Ailey trustees aren't fools and they'll give viewers what they want. And not to be crass, but Revelations is economical, too, in that it is "permanently endowed" by a gift from Donald L. Jonas.

Alvin Ailey American Dance Theater closes February 9, 2020. DCTS details and tickets
Yet the 10-part dance takes up a substantial portion of a two-hour program, so there is a serious artistic opportunity cost for a company with a repertoire of 270 works by more than 100 choreographers. One can argue that ballet companies put even more of their yearly artistic energy into The Nutcracker and that this is no different, the effort just spread out.
But the question is worth pondering. Maybe it's a tactic that just needs to play itself out and audiences will at some point feel confident enough in the company's legacy and strength that they won't, emotionally, need this proof of them at every performance.
And, hey, Revelations, harking back to Ailey's church experiences in rural Texas as a child, is gorgeous, mixing choreographic, historical, and anthropological elements, spirituality, virtuosity, and touches of humor too. (The ladies' aggressive, competitive fanning and pantomimed bossing of their husbands feel like a droll international language.) To still-thrilling arrangements of spirituals, the physical and figurative through motif is rising up while beaten down. At the most basic level of movement, that entails the cluster of wing-like outstretched arms — aspirational and mournful — of "I Been 'Buked," the ab-taxing floor work of "I Wanna Be Ready," the lightning runs, leaps, and tumbles of "Sinner Man," and the sweet swing of "Bosom of Abraham."
An excerpt from Darrell Grand Moultrie's 2019 "Ounce of Faith" was tantalizing, featuring soloist Khalia Campbell, her extensions and quicksilver arm and torso work applied to emotionally charged jutting, quirky space carving before she is joined by the company in controlled waves of stage-pulsing joy. I'd like to see the whole work, but from this section I suspect it is, in some ways, an homage to Revelations.
"A Case of You" is its own kind of soulful classic, the turbulence of a relationship conveyed in daring partner work by Jacqueline Green and Jamar Roberts, visually echoing Diana Krall's moody version of the Joni Mitchell song. In the background is Al Crawford's lighting — the elongated diagonal shadow of a window blind — painting an austere, tense intimacy. Like the song's lyrics, the duet brims with intoxication, the I can't get enough and the it's all too much of a love in full fraught flight.
But for me the highlight of the night was a new dance by Roberts as choreographer. It's called "Ode" and it's about gun violence. It is mesmerizing and, like its score — solo jazz piano by Don Pullen — a little insane too.
The music ranges from innocent open sixths to deranged chromatic runs and percussive tone clusters. The set is a forward-leaning colorful flowered backdrop by Libby Stadstad. Six men, bare-topped with loose silky trousers, converge, disperse, rotate, hug, and splay like the filaments of a twirling, glistening, muscular flower. At the beginning, and at the end, one of the men lies on his side, fallen, a corpse. So what we are seeing, the title suggests, is, perhaps, a series of memories of lives vigorously, lovingly, unstoppably intertwined.
[adsanity_rotating align="aligncenter" time="10″ group_id="1455″ /]
For all its storied past, the Ailey company's most important revelation Tuesday was the daring and talent of its next generation.
---
Alvin Ailey American Dance Theater at the Kennedy Center Opera House, with rotating repertory and Revelations, through February 9. Robert Battle, artistic director and Bennett Rink, executive director. Reviewed by Alexander C. Kafka.