The Shark, my desultory 3 year old, was hopping from place to place in Glen Echo Park in anticipation of seeing The Snowy Day and Other Stories, a musical adaptation of one of the most popular books of recent memory. The only thing that was missing, according to her, was snow. "Maybe they'll have snow inside! After all it is The Snowy Day," I pleaded, desperately trying to get her near the theater where the show was scheduled to start in five minutes. It turned out to be enough motivator, and into the theater we went as she instantly became enthralled by the giant storybook projection center stage.
[adsanity_rotating align="aligncenter" time="10″ group_id="1455″ /]
"When will the mooooovie start?" was her repeated question as the house was filling. Understandable, despite her now-long experience in live theater, because Dylan Uremovich's projection inspired by Ezra Jack Keats' collage style dominated the stage. Instead of answering or correcting her, I went over the elements we always go over before a play: can you see where actors might come in or go out? Where do you see the lights pointing? Are there things hanging on the ceiling that you don't recognize? What do you see on the stage that tells you where the play is set? What kind of music is playing?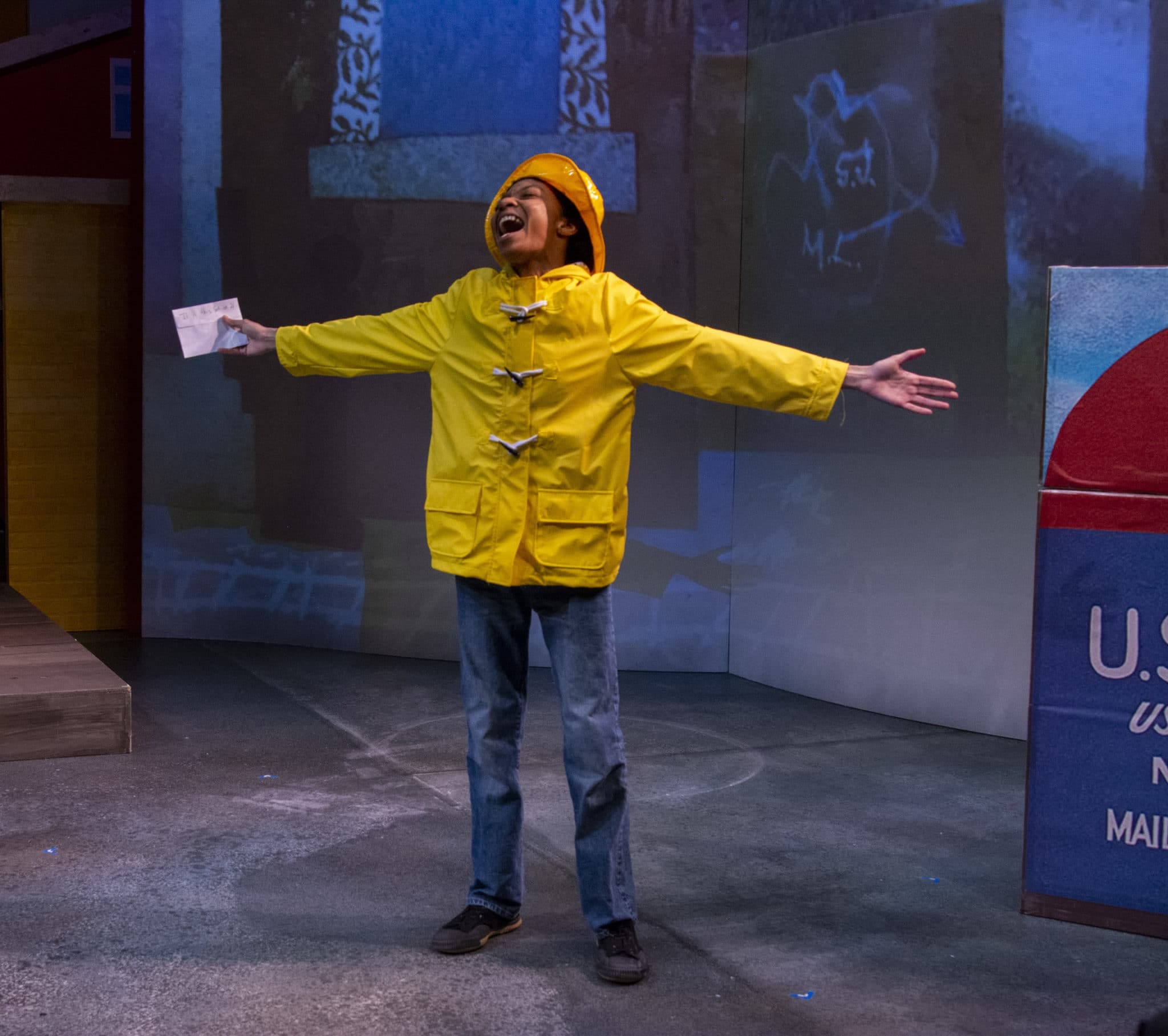 It turns out, for such a thoughtfully and crisply designed show as The Snowy Day and Other Stories, these questions were wonderfully relevant and focused the Shark on the incoming play. The play follows Peter (an incandescent Tyasia Velines,) as he has relatable struggles and triumphs, from enjoying the sense-experiences of a snowy day, learns how to whistle (from Keats' 1964 story Whistle for Willie), finds a pair of motorcycle goggles with his best friend Archie (Goggles!), and writes a letter to invite his special friend, who is a girl, to a birthday (A Letter to Amy).
As a parent who very much appreciates the utility of stories in learning, I value conflicts and challenges that can be clear to the Shark, so she can develop her own problem-solving strategies based on example, and The Snowy Day and Other Stories was a pinnacle example of this.
When Peter struggles with the shyness of reaching out to someone he likes very much or fears his new-found toy will be taken by the "big boys," this production finds an earnestness in his desire to solve them and a genuine joy when a solution is worked out. I especially love this powerful openness in the context of the Black creators that drive this show. With a Black director, actors, and adaptor for The Snowy Day, the Shark gets to hear and see and empathize with the joys and challenges of a Black family, told by Black voices, and connect them with her own.
The design funneled the attention of the crowd into these joys and challenges, mostly narrated by Peter's parents (Shayla Lowe and Morgan N. Scott), who also carry the play's music beautifully. From a set that had a comfortable feel in its stationary city buildings and cozy interiors to playful actor/projection interactions, to warm lighting tones, design throughout emphasized secure environments for Peter to take on big-seeming problems with confidence.

The Snowy Day and Other Stories closes April 5, 2020. DCTS details and tickets
The music was especially comforting for the Shark. Adaptor Jerome Hairston's songs never stop the flow of his book, coming in delightful snatches like the "strategy songs" of Daniel Tiger's Neighborhood that many toddler parents have ringing in their heads long after bedtime. More than that, the comforting and fun-loving songs create a sense of home, for the Shark at least, since making up silly songs are a big part of how I and the Shark's Pop Pop go through our days with her.
The Snowy Day and Other Stories has everything that I look for in a solid Young Audiences show: expressive and clear acting (especially from Velines), smoothly paced story (a nod to Director Victoria Murray Baatin), morally mineable storytelling, and a few surprises along the way. What was the Shark looking for? Snow, obviously. And she got it, thanks to drop boxes of fluffy white material positioned above the audience that she, I'm proud to say, noticed before the show started. The Snowy Day runs through April, and even if we don't get precipitation in that time, Adventure Theatre will be an excellent place to find a wonderful snowy day.
---
The Snowy Day and Other Stories by Jerome Hairston. Adapted from stories by Ezra Jack Keats. Directed by Victoria Murray Baatin. Featuring Shayla Lowe, Tyasia Velines, RJ Pavel, and Morgan N Scott. Costume Design by Paris Francesca. Set Design by April Joy Bastian. Sound Design by Nick Hernandez. Lighting Design by Alberto Segarra. Projections/Media Design by Dylan Uremovich. Stage Management by Kirsten Elizabeth Parker . Produced by Adventure Theatre MTC. Reviewed by Alan Katz.