Adam Gwon's chamber musical Ordinary Days is ostensibly the story of four young adults searching for love and their "life stories" in New York City.  Yet the real love story at the heart of the show is the mythical Manhattan of stage and film, a romantic and nurturing setting where characters find themselves and relationships, a world lovingly recreated in NextStop Theatre Company's charming production.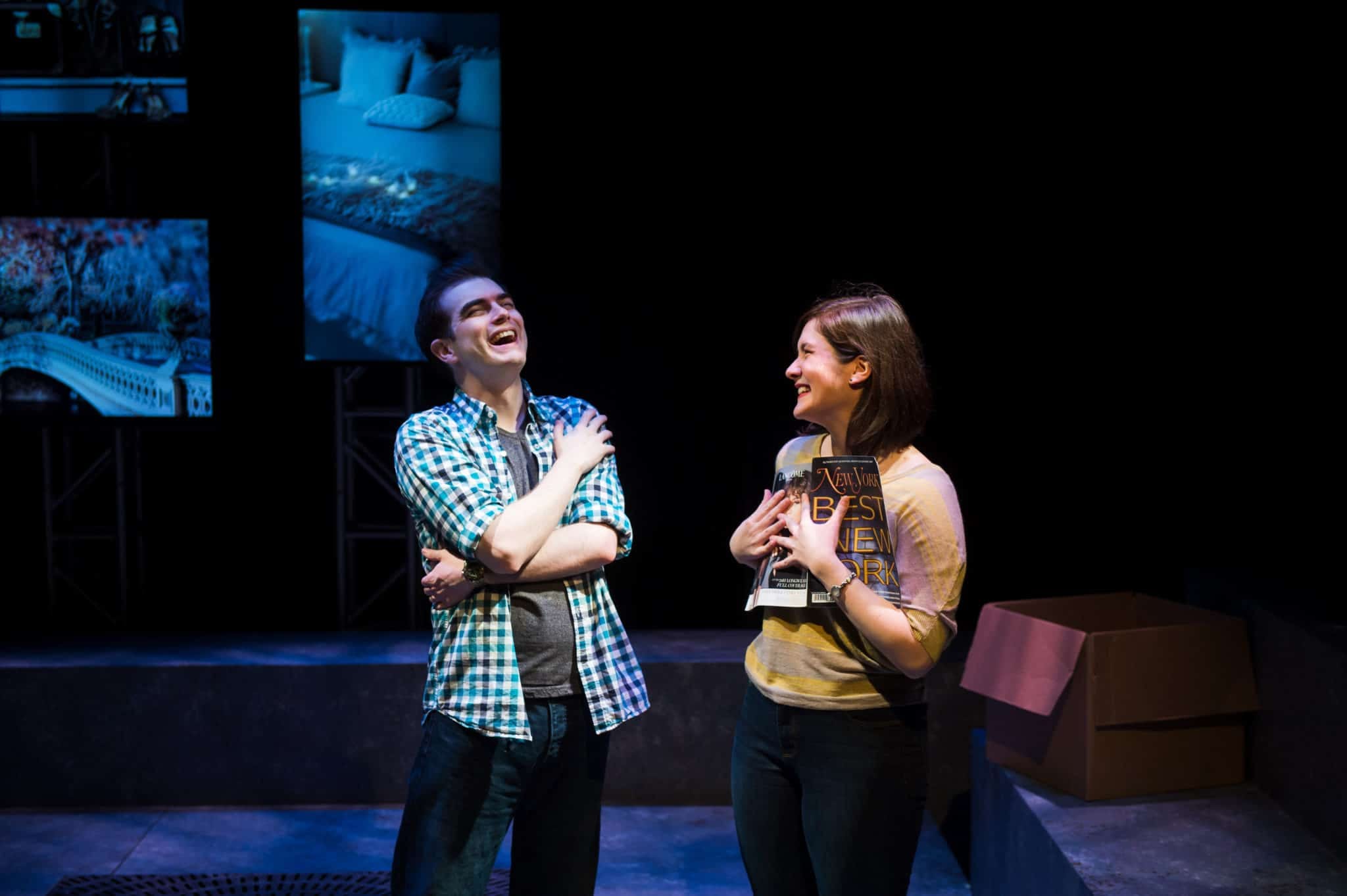 Ordinary Days introduces its four characters with the first four numbers.  Warren (Carl Williams) is a warm-hearted naïf scraping by through handing out leaflets and cat-sitting for an imprisoned artist, all while searching for his life's direction.   His life takes a turn when he finds a notebook containing thesis notes lost by Deb (Anna Phillips-Brown), a charmingly aggressive woman who has let life sweep her into graduate school.
Meanwhile your typical romantic lead Jason (Bobby Libby) is eager to move in with his girlfriend Claire (Sarah Anne Sillers), in part to avoid the 14-block walk between their apartments.  Claire agrees to the move but has a hard time letting go of old possessions and (unbeknownst to Jason) old feelings that make her less than emotionally available.

Ordinary Days closes March 15, 2020. DCTS details and tickets
Sarah Anne Sillers is particularly effective at projecting Claire's feelings in "Let Things Go," which foreshadows her emotional conflicts, and the showstopper "I'll Be Here" which finally reveals the source of her romantic blockage.  "I'll Be Here" is the breakout song from the show, which has been recorded by Broadway stars Audrey MacDonald and Liz Calloway.  The song's power is undeniable despite being obviously emotionally manipulative.
One of the problems in Ordinary Days is that there's not much to make you root for Claire and Jason as a couple.  As a result, although the musical features many duets sung in counterpoint, Jason's best songs (admirably delivered by Bobby Libby) are numbers such as "Favorite Places" and "Hundred-Story City" about his love of the city.  His duets with Claire are less convincing.
In contrast, the quirky relationship between Warren and Deb is much more endearing.  Carl Williams has a wonderfully warm and expansive stage presence, and he does an outstanding job opening and closing the show.  Anna Phillips-Brown may have the most difficult character of the show, but she perfectly balances Deb's grumpy charm, perhaps best expressed in her desire for "Calm" while on a crowded subway car.
Kudos must also be given to the one-woman "orchestra" of Elisa Rosman on keyboard.  She plays non-stop for ninety minutes with lovely precision and deft phrasing that make Gwom's compositions even more pleasantly entertaining.
[adsanity_rotating align="aligncenter" time="10″ group_id="1455″ /]
Ordinary Days is a through-sung musical (no dialogue) so the task of carrying the thin story falls to the twenty songs by Adam Gwon.  Gwon first made a splash in the world of musical theatre with this work with a short-run production in 2009, which had an Off-Broadway revival in 2018.  Although he has worked on a half-dozen musicals since then (including a couple fostered by Signature Theatre, The Boy Detective Fails and Cake Off), Ordinary Days still remains the most-produced of Gwon's works.
Gwon's work is strongly influenced by Stephen Sondheim with clever lyrics, interior rhymes, and agreeable (but often unmemorable music.  The best feature of his writing is that he gives actors the chance to elevate the works with expressive performance and heartfelt feelings, which the NextStop cast admirably does under the capable direction of Jay D. Brock.
Perhaps one day Adam Gwon will shed the term "promising" as a professional monkey on his back and compose the big Broadway show many believe lurks inside him.  Meanwhile, NextStop Theatre's production of Ordinary Days is a thoroughly enjoyable evening and a demonstration of why so many are eagerly awaiting the great Adam Gwon work yet to come.
---
Ordinary Days by Adam Gwon.  Directed by Jay D. Brock.  Featuring Anna Phillips-Brown, Bobby Libby, Sarah Anne Sillers, and Carl Williams.  Music Director: Elisa Rosman.  Scenic Designer: JD Madsen.  Costume Designer: Kristen P. Ahern.  Lighting Designer: Doug Del Pizzo.  Sound Designer: Evan Hoffman.  Properties Designer: Chris Foote.  Production Stage Manager: Laura Moody.  Rehearsal Stage Manager/Assistant Director: Quoc Tran.  Assistant Stage Manager: Regan Hattersley.  Scenic Painter: Suzy Alden.  Sound Mixer:  Atiya Strange.  Keyboard: Elisa Rosman.  Produced by NextStop Theatre Company.  Reviewed by Steven McKnight.