Peter Pan, having swept the Darling children up into the sky with fairy dust, brought them to Neverland, a venue full of pirates and mermaids. There, along with the lost boys, they did battle with the worst of them. The children returned that very night with memories of fantastic adventures and resolved to live lives full of wonder.
This being 2020, Peter was then hit with a restraining order. (In England, where the play took place, people are already more restrained than they are in America, so this is called a "stay-away" order).
And thus we are gathered in the 33rd Bard Association-sponsored mock trial at the Shakespeare Theatre, where a Marshal Pamela Talkin (in real life, Marshal of the Supreme Court of the United States) has assembled a gaggle of distinguished judges will decide whether a trial court's determinations that Pan shall never return to Earth, and also that the Darling parents better shape up, will be reversed on appeal.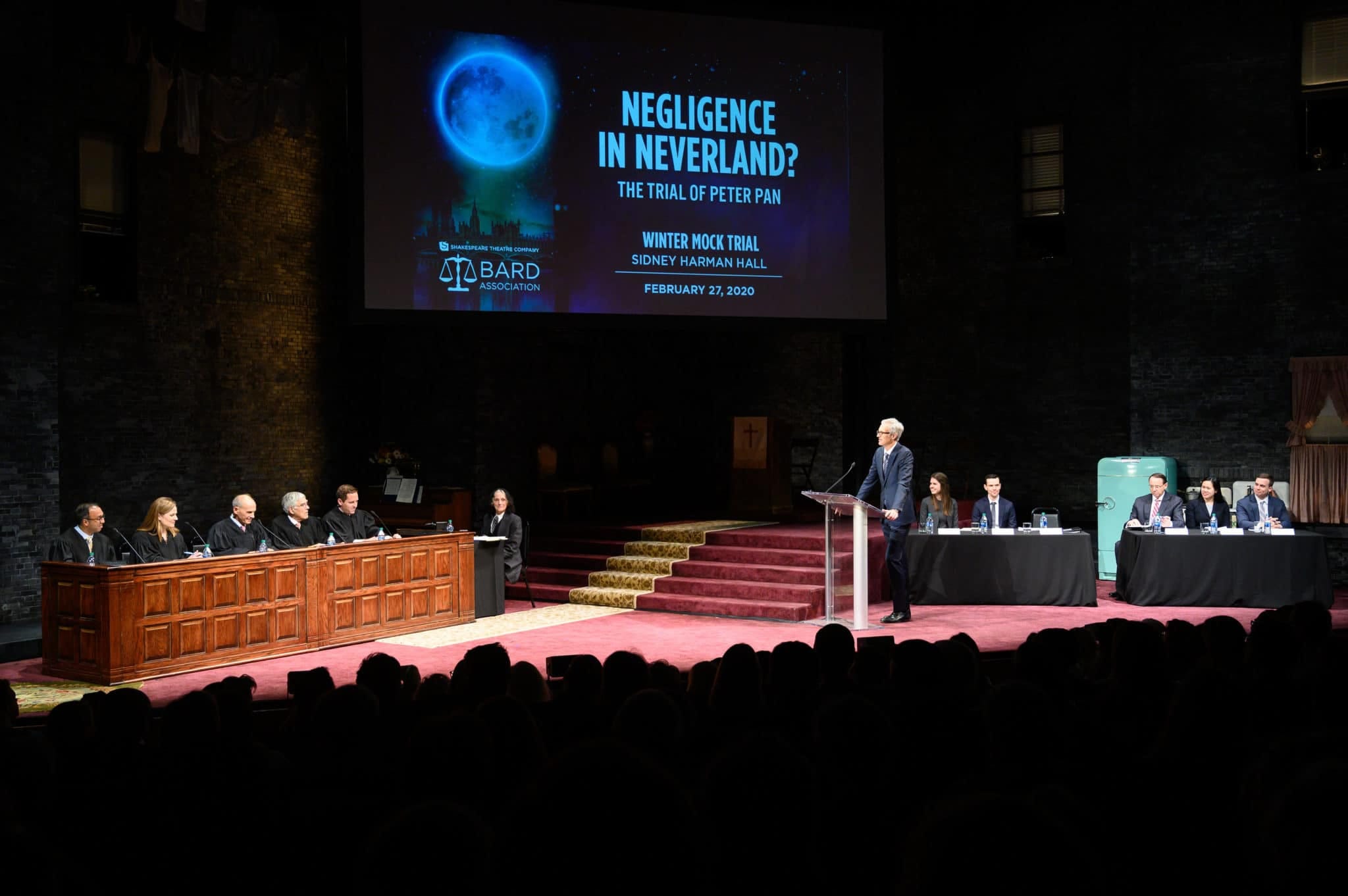 Because: lawyers.
Washington is lousy with them (or, to disclose completely, with us) — more per capita than in any real estate in the universe, except Hell.  There was a glittering array of them on display last night at Harman Hall. For Pan: Professor Jeffrey L. Fisher of Stanford University's School of Law (and Special Counsel for O'Melveny & Myers), seconded (in non-speaking roles) by Mulvany & Myers' Ephraim McDowell and Ashley Robertson.
For the anti-Pandanistas (variously styled "the Queen" and "the Crown Prosecutor"): Rod Rosenstein. Yes, the Rod Rosenstein, who as Deputy Attorney General steered the Mueller Report through the storms caused by the tweeter-in-chief, and now enjoys less surreal (and, I'm certain, more lucrative) days as a partner at King & Spalding. Gabriel Krimm and Christina Kung, of his firm, joined him on his brief and at his table.
They argued before the Supreme Court of England which, in a notable coincidence, was mostly peopled last night by American Judges. Presiding was the Honorable David S. Tatel, a Court of Appeals Judge for the DC Circuit whose gentle manner belies a mind so terrifyingly precise that he has brought underprepared lawyers close to tears. His colleague Amy Coney Barrett, who sits on the Seventh Circuit (Illinois, Indiana and Wisconsin) joined him, as did U.S. District Court Judge (and hip-hop enthusiast) Amit P. Mehta and DC Court of Appeals (a local appellate court; not the same thing as the Federal Court of Appeals for the DC Circuit) Judge Joshua Deahl. The only English judge was Lord Nicholas Phillips, late the President of the Supreme Court of the United Kingdom.
Which brings us to another startling distinction between English and American courts. In U.S. courts, we call the judge "your honor," a title which is sometimes more aspirational than descriptive. But in England a male judge is the Lord, a title with particular impact here given that the hearing was on the gorgeous set of STC's gorgeous The Amen Corner, where religious imagery abounded. (In England, sadly, women judges are known by the prosaic title "Lady".)
The record in this case can readily be found in the text of Lauren Gunderson's Peter Pan and Wendy, a 2019 reimagining of J.M. Barrie's one hundred fifteen-year-old story. In this retelling, which celebrates girl power and the rights of indigenous people, Peter comes off — as the Brits say — as a bit of a rotter. This somewhat complicated Professor Fisher's attempts at hagiography. Fisher's remedy was to include the 1953 Disney film, which was much more Pancentric, in the record, but even that was not enough for Judge Tatel. "I'm an originalist," he announced, before putting Barrie's 1905 story in the record too.
The night was as much spin doctoring as it was lawyering. To Fisher and his team, Peter was "a precocious young man widely proclaimed Neverland's head of state."
"Despite his youthful demeanor, Peter has run the rural, mid-celestial country of Neverland for nearly a decade and has high hopes of an even more expansive political career."  Before the Court, Fisher explained that due to his youthful charisma and sterling military record (Fisher noted that he had overthrown a "crusty old man") Pan's followers were beginning to call him "Mayor Pete." Fisher's argument, in essence, was that as a head of state, Pan was immune to the British Court's authority; that there was no kidnapping (the basis of the stay-away order) but even if there was, it was in Neverland, where the Court had no authority; and that fairy dust was not a hallucinogenic but simply a performance-enhancing substance which allowed the children to fly.
To team Rosenstein, Pan was "a grown man with an unhealthy obsession for spying on children in their bedrooms and luring them from the safety of their family homes. Beneath Peter Pan's green tights and elvish features lurks the tortured soul of a narcissist *  * * Lurking about London without conscience or even a shadow, Pan stalked the Darling children, greedily feeding off their dreams and bedtime yarns." What Pan gave the children was not a mere performance enhancer but an "unknown dangerous substance called by its street name, 'Fairy Dust,'" by which "Pan fooled unsuspecting young minds into following him on life-threatening adventures serving no apparent purpose outside of his own twisted amusement."
(You can read the briefs here.)
The second part of the trial court's order — requiring the senior Darlings to raise their children with more attention and imagination — received less attention and imagination in the proceedings. Rosenstein pointed out that the Darlings showed great imagination in assigning a dog, Nana, to watch over the children while they went to the theater, and both sides praised Wendy's maturity and intelligence.
The hearing itself was longer on amusing references to the contemporary political scene than it was on legal arguments. Rosenstein promised to build a "big, beautiful wall" between England and Neverland, and added "the pirates will pay for it." (He introduced himself as the "acting Attorney General," explaining that the Attorney General had recused himself because of the help he had given to the Queen in settling her own family contretemps). Judge Barrett wanted to know whether Pan, by entering the Darlings' British home, was an illegal alien. And Fisher, though he admitted that the two most compelling figures on the record were women (Tiger Lily and Wendy), argued that "they never be elected."
While the Judges retreated to deliberate, Bard Association Management Committee Chair Abbe Lowell treated us to an interview with the veteran actor Edward Gero, an affiliated artist with Shakespeare Theatre. Gero, who is not a Judge but who played him on the stage (specifically, Justice Antonin Scalia in The Originalist), gave several insights into his life and process in response to Lowell's questions, including that his original ambition as a child was to become a priest; that he takes as long as a year to prepare to play historical characters (among other preparations, he read The Federalist Papers to play Scalia) and that he teaches, at least in part, because it gives him an opportunity to become more familiar with the texts he plays as an actor — he teaches, in short, to learn.
The Judges came back loaded for bear. By a 4 to 1 vote (Judge Mehta being the sole dissenter; as a trial judge, he said, he always votes to uphold the trial judge) the Court reversed both orders. Judge Tatel would have gone even further, requiring the Queen and the Attorney General to increase their attention and imagination, but fortunately for rule-givers and rule-enforcers everywhere, his opinion on that score was mere dicta.
The audience, fat with lawyers, was asked another question: was Peter Pan or the Darling parents primarily responsible for the difficulties captured in the record? We voted with red and blue tokens, which were subsequently weighed on the scales of justice. William Faulkner once advised writers to "kill the darlings," by which he meant to excise phrases which sounded good but did not add to the story. The audience last night was not quite so carnivorous, but by an overwhelming margin we voted to blame the Darlings.
Abbe Lowell, assisted by Jerry Block, Carol Elder Bruce, Gregory Cooke, Nina Laserson Dunn, Burton Fishman, Michael Kades, Lloyd Randolph, John Vogel, and Carolyn Wheeler, created the mock trial scenario.