Empty nest syndrome is not an issue for Marian (an expertly controlled and controlling Susan Rome), a contentedly retired wife and mother living in Florida with her second husband Richard (John Leslie Wolfe, a portrait of cordial acceptance).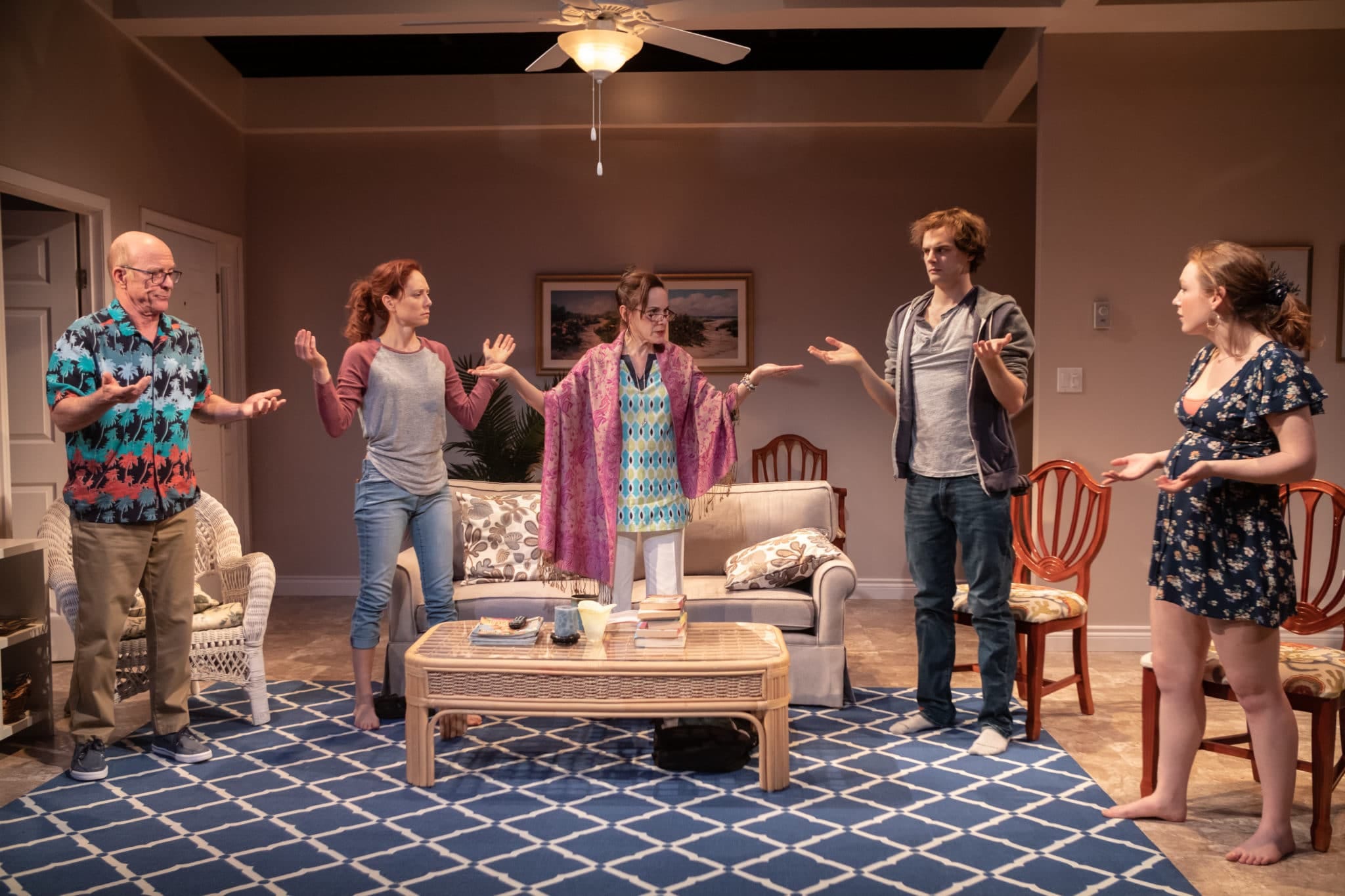 She's got book club, sunshine, dining out and shopping with friends—not to mention her husband's pregnant 18-year-old niece Kitty (Jordan Slattery, playing the wise-beyond-her-years Millennial with glowing self-possession) bunking with them for the duration, as well as the forlorn and fragile next-door-neighbor Bobby (John Austin in a breakout performance of adolescent confusion and sensitivity) crashing on the sofa mostly every night.
Then her daughter Lee (Shanara Gabrielle, tense and tensile) comes barreling in from out of town, crackling with neurotic energy and epically misplaced libido, and does more damage than Florida hurricane season.
[adsanity_rotating align="aligncenter" time="10″ group_id="1455″ /]
Lee and her issues are the catalyst for Dani Stoller's cuttingly funny and discomfiting domestic comedy, Easy Women Smoking Loose Cigarettes, a world premiere production at Signature Theatre under the sitcom-bright direction of Stevie Zimmerman.
Signature has a shaky history with straight plays and while you applaud them for taking artistic chances, their non-musical works can be testing. Easy Women was part of the SigWorks: Monday Night Play Reading Series and was staged with the help of the Heidi Thomas Writers' Initiative.
While you can see Stoller's potential in the sharply comical dialogue and her mining the humor in the some absurdly dire situations, Easy Women could use the talents of a dramaturg to shape the play and keep it from popping off into different directions. There's also an inescapable "ick" factor that even an established comic genius like Christopher Durang or Nicky Silver may not be able to write their way out of.
Perhaps it is used for ironic effect, but the merry and bright sitcom music and cheezy pop tunes like "Afternoon Delight" in the show cannot completely gloss over the fact that Lee is, at best, mentally ill and at worst, a predator.
Lee arrives at Marian's home after her husband kicks her out for sleeping with eight different men over a year. OK, no shame in being a pants-chaser, a Don Juanita to the male's stereotypic Don Juan trope. Women are capable of the same caddish behavior as men.
However, Lee is not the happy-go-luck bed hopper enjoying the libertine life with no accountability or guilt—a privilege afforded to many men over the ages. Her catting around is dangerous to herself and others.
Easy Women Smoking Loose Cigarettes closes March 29 2020. DCTS details and tickets
Marian, an acolyte to a new-age guru who believes in harnessing the power of what is referred to as  your "hoo-hah" in the play, says that Lee's "vagina is misunderstood." A funny line, but it coarsens the underlying serious issues in the play about compulsive behavior, addictions, and infidelity.
With the ripe for the picking, nice kid Bobby always underfoot, you can see what Lee's going to do a mile away. And when it happens, it's awful—a mercifully quick crescendo of missed signals, discomfort and exploitation for the purpose of release. All this with mother Marian and the rest of the family on the other side of the den door.
Maybe we're all just too #MeToo these days, but whoa, this kind of situation, this using of a young person, is not comic fodder. The play veers from smart-ass dialogue to toxicity and predatory sex and then back again, and it's not stylish or edgy or provocative, but crude and sad.
It gets to the point where you don't know what Easy Women is—a dark comedy, an issues play, a grotesque drama? And it doesn't help that, despite the best efforts of a strong cast, that there's no character you particularly care about, not even Bobby when you get right down to it.
Stoller cleverly portrays the cultural differences between Boomers, Gen X-ers and Millennials in their reactions to hard times—Boomers Marian and Bobby hit the sauce, Gen X-er Lee stares at her smartphone and Kitty and Bobby deflect with side eye and eye-rolling. Moments like these give you hope for Stoller's talent as a playwright, but not for this play.
---
Easy Women Smoking Loose Cigarettes by Dani Stoller . Director: Stevie Zimmerman. Featuring: John Austin, Shanara Gabrielle, Susan Rome, Jordan Slattery, John Leslie Wolfe . Scenic Design: Meghan Reham. Costume Design: Debra Kim Sivigny. Lighting Design: Andrew Cissna. Sound Design: Kenny Neal. Intimacy Coordinator: Casey Kaleba. Production Stage Manager: Karen Currie. Produced by Signature Theatre . Reviewed by Jayne Blanchard.