Bandstand, the Tony Award-winning swing style musical is making a brief stop at The National Theatre. A story of five World War II  veterans trying to rebuild their lives through music, for some in Tuesday night's opening audience the story of the struggles of homecoming was a familiar one; forty military survivors were there, through the musical's partnership with TAPS (Assistance Program for Survivors) and more are invited to the March 6 performance.
It's 1945 and World War II has ended.  American troops flood back to the States in triumph, regaled by parades and touted as "heroes" by the small towns that welcome them home.  Donny Novitski (Zack Zaromatidis), an army vet, returns to Cleveland to reclaim his life, "Just as It Was Before," only to find that his once star-bound career as a singer-songwriter has fizzled and jobs are scarce. Worse yet, Donny is plagued by nightmares of his years in the trenches and wracked with survivor's guilt after the loss of his best friend, Michael.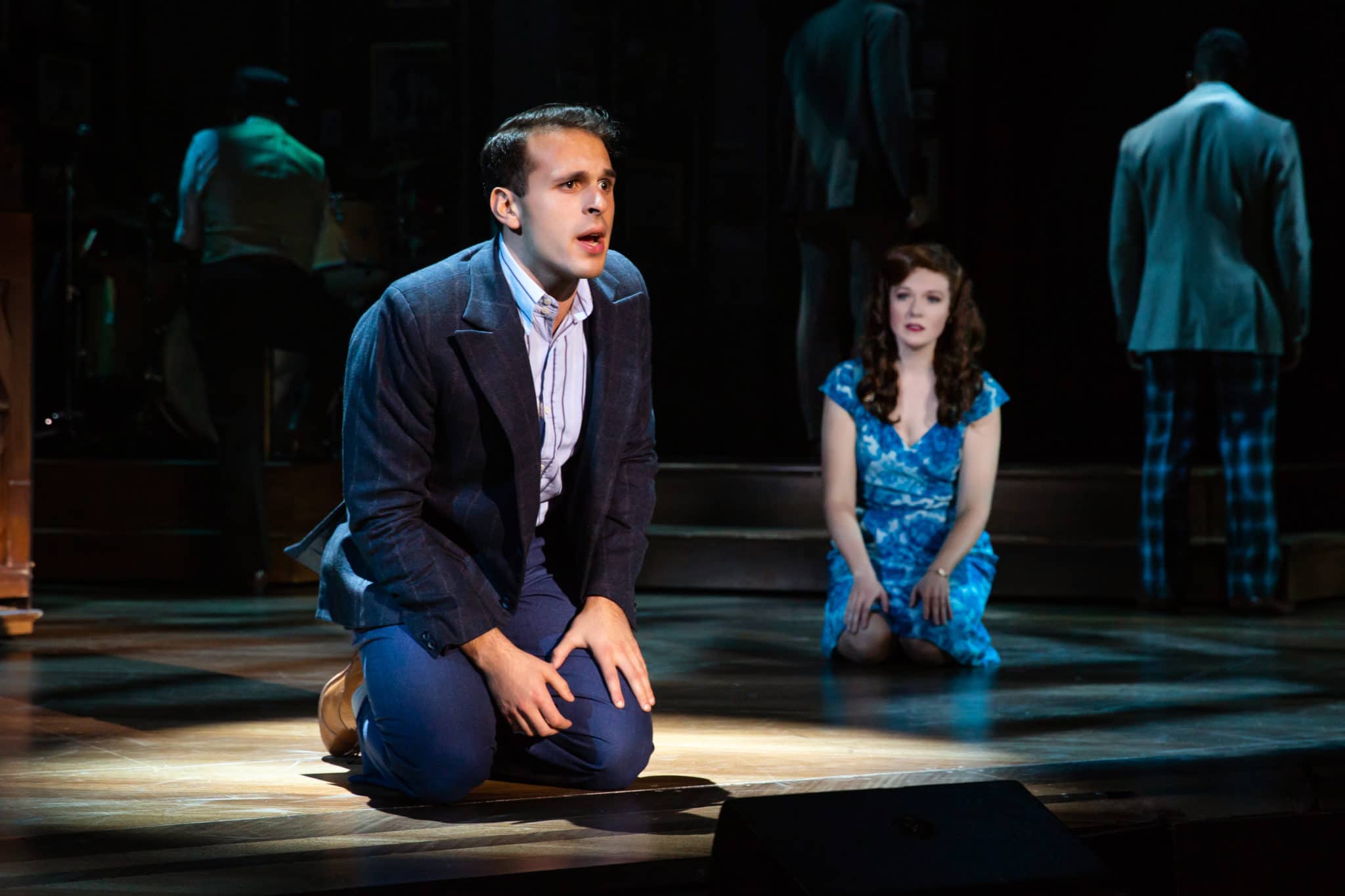 When Donny hears about a national swing band competition to honor the troops (ironically sponsored by Germany's Bayer aspirin) with a prize of performing on live television in New York City, he quickly assembles the all-veteran "Donny Nova Band." Like Donny, his bandmates are both staggeringly talented, and endlessly tormented by flashbacks to the war.  Drummer Johnny Simpson (Jonmichael Tarleton) suffered a brain injury when his tank flipped under enemy fire: a blessing (when he can forget some of the things he saw abroad) and a curse. Trombonist Wayne Wright (Louis Jannuzzi III) can't seem to reconnect with his wife and children—his post-traumatic stress driving him to control every detail of their lives—and his thoughts often straying to suicide.  Jimmy Campbell (Rob Clove), is studying law when he's not playing saxophone and clarinet, trying to find some justice in the world. Trumpeter Nick Radel (Scott Bell) can't shake the bitterness at the loss of his once promising musical career, forfeited to those who stayed behind. All the while bassist Davy Zlati Benjamin Powell) is drowning himself in a sea of liquor and self-deprecating jokes.
[adsanity_rotating align="aligncenter" time="10″ group_id="1455″ /]
And they are the "lucky ones" who made it back. Julia Trojan (Jennifer Elizabeth Smith) — Michael's "gold star widow"— is left to pick up the pieces of her life alone until Donny finally honors his promise to check in on her and discovers the band's new lead singer (Smith's clear, vibrant soprano beautifully piercing through the cacophony of the raucous brass swing band).
Director and choreographer Andy Blankenbuehler ( Hamilton) has assembled a tremendously talented cast of up-and-coming, non-Equity, artists.  Each "band member" sings and plays their instrument live from the stage, resulting in a rollicking swing concert that keeps the audiences' toes tapping.  All the while, the ensemble cast of dancers showcases Blankenbuehler's original—2017 Tony Award-winning—choreography in truly spectacular, breathtaking, fashion.  Alongside the traditional athletic rigor of swing dancing—flips, slides, lifts and impressive high kicks (including an audience favorite by bassist Powell)—the choreography blends together soft shoe, an undeniable Bob-Fosse-flair (albeit a bit before his time) and the elegant lines of traditional ballet (with ensemble member Milena J. Comeau drawing the audience's eye again and again with her riveting performances).
Paloma Young's gorgeously-detailed costumes are ripe with 1940's fun and flair, with clever details caught only in the spins and tumbling acrobatics of the ensemble dancers, or in a few sleight-of-hand onstage changes.

Bandstand closes MArch 8, 2020. DCTS details and tickets
Any criticism of Bandstand lies not with the cast members' energetic and all-around-skilled performances, but the book and lyrics of the show itself- namely, for failing to truly "push the envelope" of traditional Broadway song-and-dance theater to more fully explore the delicate issues it sets forth.  As the first musical certified by the nonprofit foundation "Got Your 6," Bandstand  aspires to a new class of artistic endeavors that strive to more accurately portray the struggles faced by military veterans reintegrating into civilian life after combat.  While the book and score light upon some of the many mental health issues veterans face upon return — survivor's guilt, post-traumatic stress, substance abuse and the growing problem of veteran suicide in the United States — these explorations lack the depth they so deserve.
Amidst the (arguably a few too) many swing dance numbers in the first act, I longed for the interjection of a few more introspective songs to lend backstory to each of the main characters or shed light on their states of mind. For some, like Julia, who marches through the first act in a state of relentless cheer despite having lost her husband, the audience is given only the barest of glimpses into their underlying grief, until well into the second act.  The exception is Julia's mother Mrs. Adams (Roxy York), who delivers one of the show's most wrenching songs ("Everything Happens"), a discordant melody reminiscent of a Sondheim tune.  York, who lights up the first half of the show with her quick comedic moments and bubbling-over joyfulness, takes full advantage, pulling the audience into a raw emotional performance.
Bandstand  is a high-energy, uplifting whirl of a musical with some of the best dance and instrumental performances to be seen in our area. It is also a step towards creating a new generation of musicals that reflect not only the glossy exteriors, but also the darker interiors, of their characters.
---
Bandstand. Book & Lyrics by Richard Oberacker & Robert Taylor. Music by Richard Oberacker. Directed and Choreographed by Andy Blankenbuehler. Starring Zack Zaromatidis, Jennifer Elizabeth Smith, Roxy York, Rob Clove, Benjamin Powell, Scott Bell, Louis Jannuzzi, Jonmichael Tarleton and featuring Shaunice Alexander, Beth Anderson, Michael Bingham, Milena J. Comeau, Ryan P. Cyr, Sarah Dearstyne, Michael Hardenberg, Andre Malcolm, Kaitlyn Mayse, Matthew Mucha, Mallory Nolting, Taylor Okey, Katie Pohlman, Oz Shoshan and Cameron Turner. Costume Designer Paloma Young.  Presented by The National Theatre . Reviewed by Meaghan Hannan Davant.