The hefty tome of Shakespeare's plays and sonnets, a nondescript table, two chairs and a turquoise feather boa is apparently all one needs to stage all of the Bard's output: if you skip a few things.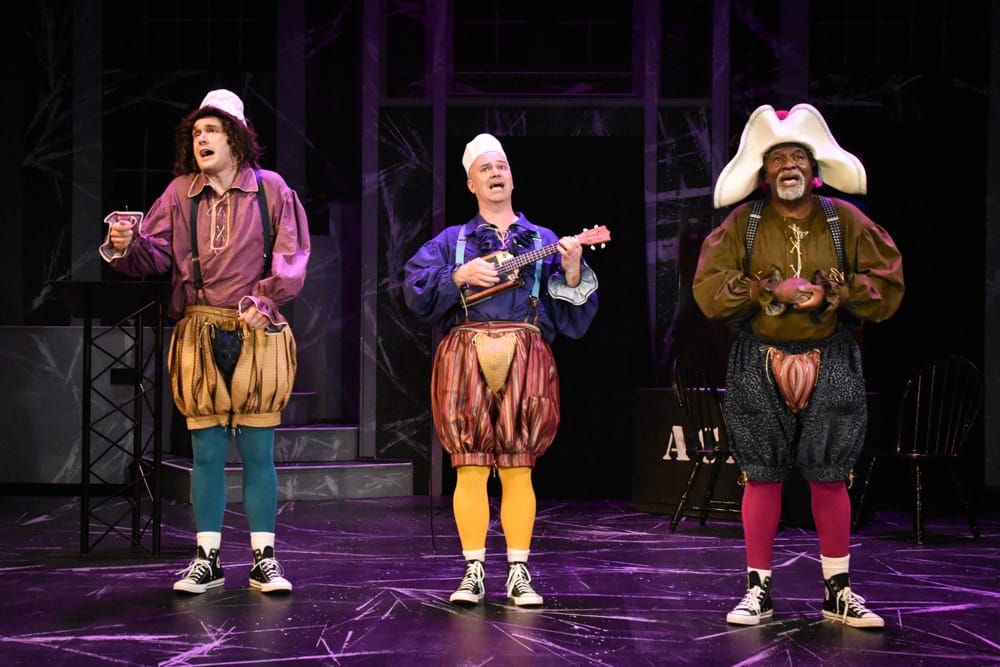 With The Complete Works of William Shakespeare (Abridged), Chesapeake Shakespeare pulls a rabbit out of a tattered hat with this fun riff on the Bard. First produced in 1987 by the Reduced Shakespeare Company, this show toured various Renaissance Festivals and smaller venues before landing at the Edinburgh Fringe. Since then, it's been seen all over the world in a multitude of productions.
That's an impressive resume for a small show with just three cast members. Employing slapstick, vaudeville, audience participation, outlandish acting and truly terrible puns, it's also a grand evening out, if a bit tiring towards the end. And that's rather a pity: with a show that's been had such longevity, the edges are getting a bit shopworn and the not-updated-enough jokes can be seen coming a mile off: in other words, the script is starting to show its age and its Renfest origins are peeking out of the seams.
Rather than hosting a touring RSC production, as seen here in DC, three area performers take their crack at it: Greg Burgess, Elliot Kashner, and Matthew R Wilson, who all pretty much knock their socks off entertaining us. True, Burgess sometimes searched the floor for his lines, and Wilson had the difficult job of too much solo time onstage that bogged the show down a bit, but these are minor quibbles. Playing pretty much every female character, it's Elliot Kashner who shines the brightest, and seems most at home winging it. And you can see that the script- meant to be a framework of sorts, – practically cries out for three actors who are so at home with improvisation and so trusting of each other that each show would have its own flavor.

The Complete Works of William Shakespeare (Abridged) closes March 29, 2020. DCTS details and tickets
Yet it doesn't quite quite take wing- not yet, anyway. On opening night, it seemed that some seasoning is still needed. At one point a young fellow was brought on stage to play Ophelia's 'ego' (a bit that was frankly overly long). With his black unkempt hair, pointed chin and black owl glasses, he was a dead ringer for Harry Potter – yet did anyone in the cast say a word? We were all thinking it in the audience, but nope, it was 'stick to the script.'. By now, I'm betting ,the cast will have loosened up and be more able to improvise.
Even if that never happens, though, there's still an enormous amount of fun happening: Tybalt dies, then slithers down the stage so he can become someone else; there's cigar box banjo and Othello as a Gilbert and Sullivan operetta, all the sonnets are presented on an index card (whew); and (spoiler alert) let's not forget the Silly String vomit every time someone dies. Every. Time. And…. somehow? It's always funny.
Matthew Smith's costumes add to the fun, with one actor in impossibly pink tights topped by a large striped codpiece of impressive size. (To be fair, the other two also sport equally impressive codpieces. Don't want anyone feeling inadequate).
Act 2 is completely devoted to a mini-version of Hamlet, highlights only; no worries 'To Be Or Not To Be' takes over. But even with loads of audience participation, it wears a bit thin; it feels very like an add-on to make up time from the original Renfest show.
[adsanity_rotating align="aligncenter" time="10″ group_id="1455″ /]
You might be tempted to take the kiddies to this- honestly, anyone over the age of six would enjoy all the physical comedy and silliness- but it's really best for folks with at least a passing acquaintance with Shakespeare's characters and plots.
The Chesapeake Shakespeare venue is one of the most beautiful theaters in the Baltimore area; from its three-quarter stage, stupendous gilt plaster ceiling and full bar that's open throughout the show (and yes, you can bring drinks and snacks to your seat), to a staff makes you feel at home instantly.
Overall it's quite a fun show if a trifle overlong. Remarkably, you'll also learn a lot of history and trivia bits about Shakespeare and his times. And the three actors are so endearing you probably won't care about the evening's flaws, for, to paraphrase in iambic pentameter:
The play's the thing,
combined with
lots of silly string.
---
 The Complete Works of William Shakespeare (Abridged) . Playwrights: Adam Long, Daniel Singer, Jess Winfield and William Shakespeare . Director: Ian Gallaner . Cast: Greg Burgess, Elliot Kashner, Matthew R Wilson . Technical Director: Daniel O'Brian . Costume Designer: Matthew Smith . Scenic Designer: James Kronzer . Lighting Designer: Katie McCreary . Sound Designer: Ian Gallaner . Production Manager: Kyle Rudgers . Stage Manager: Alexis E Davis .  Produced by Chesapeake Shakespeare Company . Reviewed by Jill Kyle-Keith.