Hi, my name is Tẹmídayọ Amay. I am an actor, writer, director, producer, and artist all day, every day. I like to cook, and bake. My favorite television shows include Grace and Frankie, Sex Education, and Grey's Anatomy. I am a Libra sun, Leo moon, and Scorpio rising. I have deeply melanated skin and the most delicious, kinky-coily hair. I also happen to be a queer individual on the nonbinary spectrum.
I begin this essay with a full workup so that you remember, while reading that 1) I am so many things in addition to my gender identity and 2) I can and will speak only for myself living in this gender identity.
Great, now that this is stated, let's get into the nitty gritty.
According to Merriam Webster, our fave dictionary, they is now a legitimate pronoun associated with those on the non-binary spectrum. They (d) is defined as: used to refer to a single person whose gender identity is nonbinary (see NONBINARY sense c). Since this definition includes the phrases: gender identity and nonbinary, let's keep going. Gender identity is defined as: a person's internal sense of being male, female, some combination of male and female, or neither male nor female. And lastly, nonbinary relating to or being a person who identifies with or expresses a gender identity that is neither entirely male nor entirely female.
This is a lot of information, and also very much from the perspective of those who write from a white/cis/anciently western set of standards. While I am grateful to have Merriam and other predominantly white institutions validating my existence in this way, my existence—and the existence of every single other trans/nonbinary/gender-expansive individual whose identity is not quite written about in a dictionary—has been valid since the beginning. We have been validating our own existence and those of each other since the beginning.
Being nonbinary in everyday life is a bit of a trip. I get to move within and around society courting the different gender stereotypes that meet me every day. Demographically speaking, I am 5'6" (or 5'7" if I'm lying on a resume), and 125 lbs. I have very prototypical feminine features and dress in anything from overalls with a size XL graphic T to a mini skirt and free nipples. And depending on the day, this has a huge influence on how many people catcall me, find me safe to be around, and remember my pronouns are they/them. I have a heap of privilege because of the shapes on my body. And I recognize that, with this privilege, I have a responsibility to dismantle as many systems as I can as I make my way through this life. But often, I end up getting stage-fright, if you will, and not speaking up, because of the amount of energy it takes to continuously advocate for myself and my people, and because the everyday imposter syndrome that tells me I am not nonbinary enough to make waves.
Living Black, living non-straight, living nonbinary, living with kinky hair and dark skin, living African/awkward/an artist/etc. means I balance the intersectionality of this life and choose, on any given day and in any given moment, which part of myself I will fight for. It is exhausting to have to explain why I deserve to be a human being with infinite systems reminding my identities that they are not.
This is most prevalent in my work as an actor. Most of the characters I have played have been cisgender. And I want to say that's fine, but I know it's not. There are trans/nonbinary roles out there. Roles that have been written for the unique and necessary perspective of those living within the trans/nonbinary community. But many of them are not given to us. There have been countless productions of musicals, plays, and movies where cis people have played trans. And while those actors have done the work they have done to walk into shoes that are not for them, can you imagine what the role would have been, played by someone who didn't have to make up that life experience? The depth, the richness, the nuance that would be inherent in their translation of that character, in their resurrection of that story. Mmm, it would be everything and more because it would be the truth.
Okay, a bit of hope here. There are a couple of instances that I want to name because the individuals who made them happen deserve to be recognized. The first one lives within my time, playing Gifty with the best team in the game at Round House Theatre's production of School Girls: or, the African Mean Girls Play.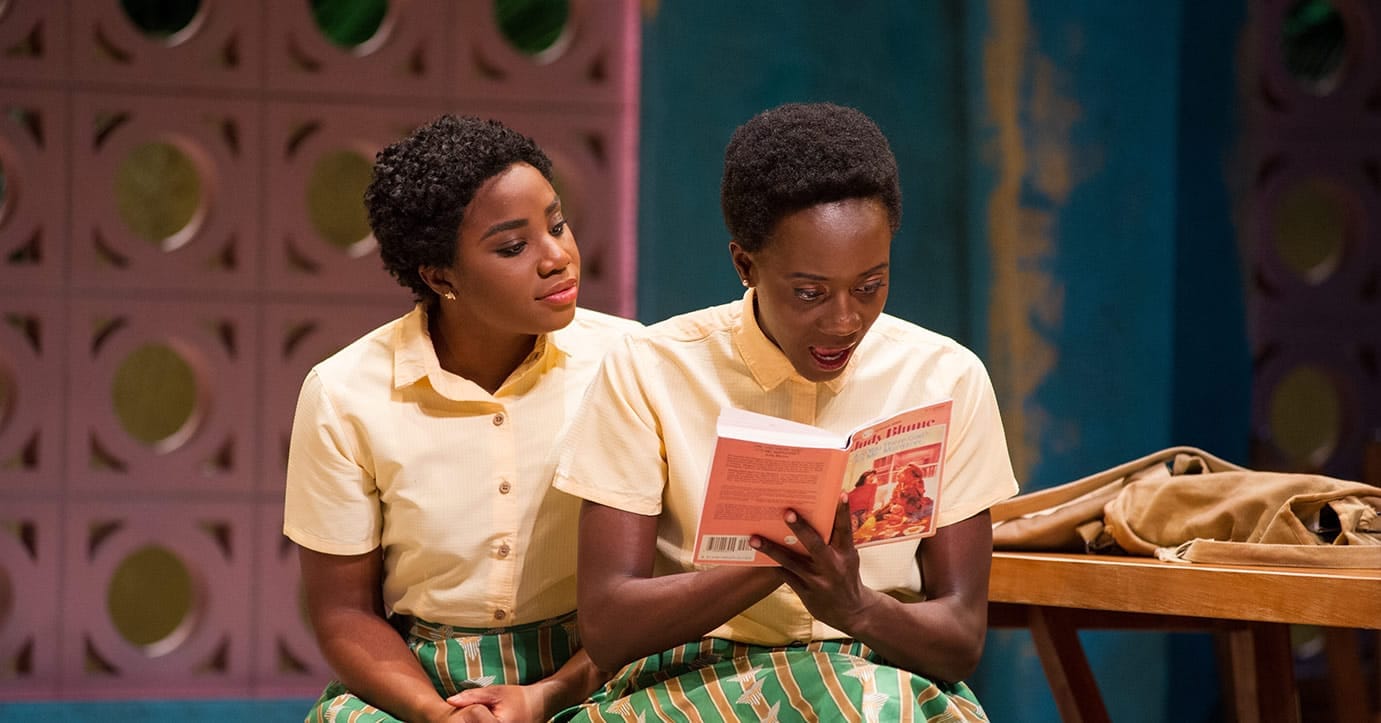 Nicole A. Watson, period. Nicole (she/her) is a gift to Washington, DC is a gift to Washington, DC theatre and brings a level of compassion and ferocity to her directing that I have been taking notes on since we met. We are in our first day of rehearsal, going around the room sharing our names, roles, and pronouns. And I mention mine. This was the first time professionally I had changed my pronouns to no longer include she/her. Summer 2019 was wild, and it gave me the courage to step into that truth (thanks, summer 2019). We read the play, and listen to the brilliant designer presentations. Our stage manager calls for break, and Nicole comes over to me. I'm freaking out because directors always make me a little nervous. Clearly, I've already effed something up. She meets me face-to-face, and asks me point-blank if I would like to have my own dressing room. When I tell you my body split in half. Part of me was thinking "omg, she heard and she cares and I could just cry" the other part of me was like "you're not nonbinary enough to need your own dressing room." Guess which one wins?
I tell her thanks, but no, I don't want to add any difficulty to the process so I will share a dressing room. A couple days later, after spending time at home, thinking, chewing, I realize I have made a mistake. I send her an email with sweaty palms letting her know that I have changed my mind. "I'm being so difficult," I thought to myself "and wishy-washy. Now I've gone back and forth with my decision and they have probably already prepared the dressing room." I ask to take her up on her offer. Before 24 hours pass, I have confirmed this information with her and our stage manager. The weight I didn't realize I was carrying had been lifted off my shoulders.
Why was this such a moment for me? Well, contrary to the several hundred words above, I do not talk about myself. Much less advocate for myself. I will fight tooth and nail for others, but asking for help and practicing vulnerability for myself? Nah, dude. Also, this was not a move I had to make on my own. She came to me. And was patient with my response. So, Nicole, if you are reading this, thanks, friend. You're the bomb and everyone should know it.
[adsanity_rotating align="aligncenter" time="10″ group_id="1455″ /]
Okay, before I cry, I'll tell you about the second one. We are in the REACH, the yummy new addition to the Kennedy Center. And we are reading a new play. I love new plays; they have new play smell. It smells like possibility and angst and printer paper. I've been asked to do this reading by Ms. Nicole A. Watson—see love above— for a TYA masterpiece being translated by Jacqueline Goldfinger (she/her and they/them). I'm not super familiar with the original work so I am looking up the character descriptions. Mine says: "Non-binary, Ageless, the helper in the children's adventure." When I tell you I screamed out loud, at the table, startling everyone including myself. I did not expect to be reading a character specifically written for this identity. And I did not expect to scream about it. I thanked Jacqueline for writing it explicitly in the text, and I thanked Nicole for inviting me to read it.
So, what are the takeaways in this ditty? If the role asks for a trans/nonbinary actor, hire a trans/nonbinary actor. Full stop. Being nonbinary is as unique to the individual as being Black, or being pansexual. While I can only offer my experience, short of writing a novel to you all, I know this is just an essay covering five months' time. There is so much more to say, to write about, to investigate. And I encourage those of you reading to Google/YouTube everything. Take the initiative to get to know this nonbinary/trans/gender expansive life before it is asked or required of you. It's a juicy one, and one that will only continue to gain importance as the next wave of artists and activists come into bigger light. Be ahead of the curve and you won't get left behind. Instead you'll get to advocate on behalf of someone else, and they'll write about how you made their truths easier to carry, and that feeling rocks I promise you.
I hope we get to a time and space in our infinite dimensions where all this is normal. Where pronouns are immediately shared at all business meetings, rehearsals, and office functions–even for fully cisgender room. Where me writing pronouns in my reflections is just as common as anyone else at DC Theatre Scene. Where I can change my presentation from masculine to feminine and the only reason folks call out is to compliment my color coordination. Where nonbinary/trans/gender expansive folks are human. And on this International Trans Day of Visibility, I hope we are given just that. The freedom to live without fear, without hesitation, to be in full light—on and offstage—as our full selves. And we are celebrated for everything we bring to our communities.
P.S. There are a couple of human beings that made this essay come into fruition and I want to call them in: Britt A. Willis (pronouns: they/them), Ezra Tozian (pronouns: they/them), and Andrew Watring (pronouns: Andrew). Britt is a dope queer/trans play and game writer who recently collaborated with Ezra Tozian—a fierce nonbinary actor and multidisciplinary artist—on 4615 Theatre's virtual reading The Vessel is a Fragile Thing. Andrew is the fearless artistic director of Fractal Theatre Collective, steering the company into revolutionary gender-expansive territory. Each person sent an email to DC Theatre Scene's editor, Lorraine Treanor (she/her), to give kudos on providing pronouns in their interview of the Head Over Heels cast. Let's keep it going, and include pronouns for all writings moving forward. Thank you, Lorraine, for making this happen.