One summer evening in 1941, a young graduate student home visiting his parents from Cornell University, attended a performance at Catholic University directed by Walter Kerr. Schneider was so taken with Kerr's work that he went backstage and told him that he had never before seen anything of such high quality.
Alan Schneider had been born weeks after the 1917 Russian Revolution in Khar'kiv (in today's Ukraine). His parents, both physicians, took their family to the United States in 1923, where they found jobs at the Maryland State Tuberculosis Sanatorium. Alan finished high school in Baltimore, before studying physics for a year at Johns Hopkins University. He subsequently transferred to the University of Wisconsin–Madison, where he earned a joint degree in political science and literature. After a stint back home as a radio announcer and speechwriter for Postmaster General James A. Farley, Schneider accepted a fellowship at Cornell to study drama.
When Kerr discovered that Schneider was finishing his master's degree, he introduced him to Department Chair Father Gilbert V. Hartke. Schneider was hired more or less on the spot. By December, he was directing the world premiere of Jim Dandy by recent Pulitzer Prize winner William Saroyan.
Alan Schneider's 1952 take on Thornton Wilder's The Skin of Our Teeth was something else altogether. In the production's program notes for what would become his final Catholic University show, Schneider wrote that the play is "a mixture of sense and nonsense, laughter and tears, burlesque and fantasy, the Marx Brothers and Aristotle." The critics were ecstatic in their reception of the production, with the Washington Star's Carmody writing, "Mr. Schneider's direction is so mercurial, and the technical lighting and settings of James D. Waring so exact, that the production is as much a joy as Wilder's dashing script. Together they have achieved not only the more zany aspects of the play, but have conspired just as successfully on the emotional, marveling context of Wilder's appealing boost for humanity."
Schneider joined the newly founded Arena Stage shortly thereafter.  Schneider already had established a reputation as perhaps the foremost American director of the avant-garde with an unusual sensitivity for the aesthetic emerging among a new cohort of playwrights.  He partnered with these rising playwrights in responding to the conformism of postwar life by embracing the absurd, the brittle, the humorous, the angry, and the vicious.
As Samuel Beckett's favorite American director—and long-term correspondent—Schneider kept winning kudos for his productions of works by Beckett, Albee, Pinter, Saroyan, and Brecht. He did so by always paying rigorous attention to technical matters, while remaining as close as possible to the words written in the script, much to the appreciation of the playwrights themselves.
Schneider is perhaps best remembered for his direction of the disastrous American premiere of Beckett's Waiting for Godot in 1956. Capturing the vaudevillesque character of the work, Schneider and Broadway producer Michael Myerberg cast burlesque and film comic stars Tom Ewell and Bert Lahr as Vladimir and Estragon. Anticipating lighthearted fare in keeping with the lead actors' reputations, the opening night audience at the Coconut Grove Playhouse in Miami was stunned, confused, and then angry over Beckett's absurd tragicomedy. "It was like bringing 'Gisele' to Roseland," Schneider was reported to have said. "We got clobbered by everybody. Ninety percent of the audiences walked out." Lahr never forgave Schneider. Lahr's son—the renowned New Yorker theater critic and historian John Lahr—records that Schneider's name in his childhood household was among a trio of words—the other two being the most classic of all Anglo-Saxon curse words—that his father banned from utterance.
Alan Schneider's direction of Waiting for Godot for television in 1961 starring Burgess Meredith and Zero Mostel.
Schneider later gained wide recognition with his direction of the original Broadway production of Edward Albee's Who's Afraid of Virginia Woolf?—featuring Uta Hagen, Arthur Hill, Melinda Dillon, and Arena Stage veteran George Grizzard. In 1963, Schneider became the first director to win both the Tony Award for Broadway and the Obie Award for Off Broadway in the same year for Albee's play and the Off Broadway production of Harold Pinter's The Collection.
As these kudos suggest, Arena Stage could never contain Schneider. He eventually relocated his home base to a contemporary home surrounded by woods high above the Hudson River less than an hour from Manhattan in the artsy river town of Hastings-on-Hudson. Nonetheless, Schneider did not abandon Arena Stage and Washington. Nearly half his productions appeared on Arena's stages and, during Zelda Fichandler's 1973–74 sabbatical, Schneider took over the company's artistic direction. Schneider's Arena season that year included Two by Beckett, featuring American theater legends Hume Cronyn and Jessica Tandy.
As Zelda Fichandler noted in her final tribute to Schneider after his untimely death in 1984, "We opened two theaters together, both times it was a race to get the building there ahead of the production, did 40 productions together, turned Our Town into Russian in a two-day, nonstop session simultaneous translation." Throughout it all, she recalled, "he took such childlike delight in the magic of the theater and in the achievement of others, such joy when someone, anyone, anywhere, could make it happen." Schneider's Russian connection was also important to Fichandler.  Both of them were Russian speakers, she noted, and "like two good Russian souls, we had many talks over the years. But whatever the specific subject matter, and whether it was funny or sad, his encompassing theme was always that life is unpredictable."
Arena Stage provided Schneider with a secure home base that he could not bring himself to relinquish. As he wrote to Beckett in late 1960, "Decisions piling in, continued and worsening ill health of my parents, the whole New York situation theatrically and the world situation morally and politically. Compensated for somewhat by growth of the two small ones, the efforts of my Jean, and the shelter of Hastings-on-Hudson. Having been offered permanent artistic directorship of Washington's Arena Theatre [sic], which opens a new building next year. Am tempted but unsure about leaving New York, freelancing, off-Broadway potentialities. Washington would offer a place and continuity of effort instead of this 'jiggling around' but not sure how much could be accomplished in situation there, how much freedom, etc. We shall see."
Schneider directed Thornton Wilder's Our Town four times at Arena Stage. A Depression-era play about everyday life in a fictional American town at the beginning of the twentieth century, Our Town has proven prone to mawkish emotionalism. Wilder conceived of the play quite differently. He used a "metatheatrical" style to draw the potentially sentimental portrayal of a lost American utopia more clearly into the world of theater. Set in the theater in which it is being played, Wilder placed the character of the stage manager at the center of the action as a narrator, thereby removing any actual life offstage. The playwright would complain that too often the piece in the wrong hands becomes overloaded with sentimentality. Schneider's reliance on the actual text—a directorial style that served him well in his productions of Beckett—once again paid dividends in his various stagings of Wilder's American classic at Arena.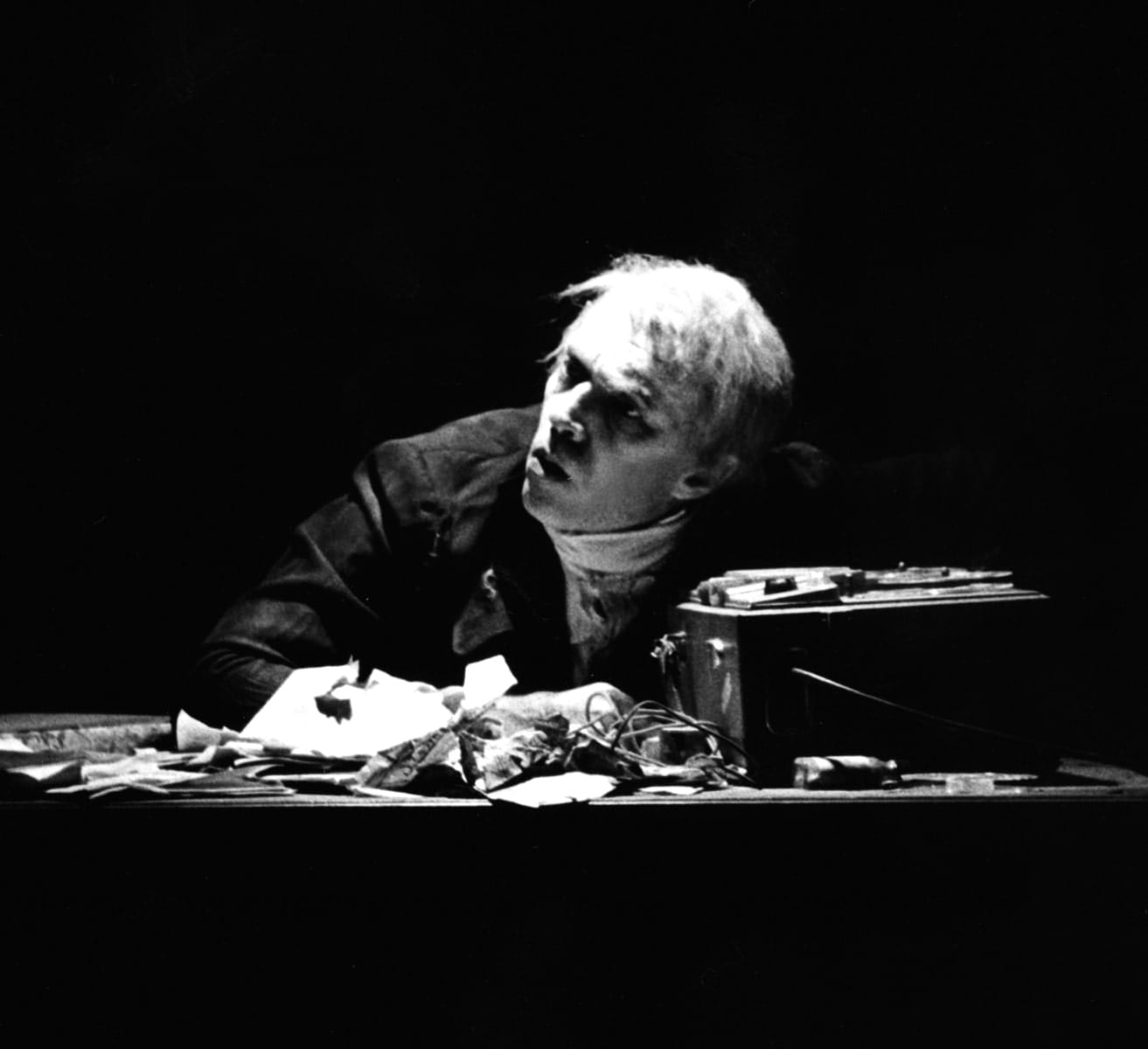 Schneider first produced the play during his initial season with Arena Stage as production director during the 1952–53 season. He returned to the play two decades later with a memorable production during Arena's 1972–73 season staged with Ming Cho Lee's inspired sets. The US Department of State invited Arena to take this production—together with Jerome Lawrence's and Robert E. Lee's Inherit the Wind—to the Soviet Union, in what became the first Russian tour by an American resident theater group.
The performances in Moscow and Saint Petersburg proved a triumph. By the time all the details had been negotiated and the company landed in Moscow, Arena was ready for fourteen performances in Moscow and Leningrad, divided between both works. The tour included sixty-six actors, directors, and technical staff members, plus one monkey (the hosts having refused to provide a Soviet simian to appear in Inherit the Wind). Before departure, Wilder hand wrote a touching note to the Fichandlers, in which he warned that he "had a long story with the Communists. Our Town was presented in the East Zone of Germany (back in 1947) and closed down by the authorities after two performances." Moreover, he noted, "no book of mine has ever been published in Russia."
Ming Cho Lee considered the production to be among the most complex challenges of his career; Robert Prosky and other Arena actors recalled the experience for the rest of their lives; and the impact on the Moscow and then-Leningrad (today, Saint Petersburg) theater communities proved profound. Performing on the legendary stage of the Moscow Art Theater became a highlight for all. A small number of Arena Stage actors took the opportunity to meet with Jewish Human Rights activists in Moscow and Leningrad.
For the russophile Fitchandler and the Russian-born Schneider, the trip held special meaning. After returning to New York, Schneider excitedly wrote to Samuel Beckett, "Did you get my card from Moscow? Had a marvelous trip, hospitality most pure, and some excellent theatre. Lots of discussion about Beckett over there."
Schneider's final 1975–76 production of Our Town took the stage at a moment when he had three other productions playing concurrently in Washington. From his chance encounter with Walter Kerr at Catholic University during the summer of 1941, Schneider had become a Washington institution of sorts, even as he continued to make his way around the world.