Strange times have given us just that: time. Specifically, all of us have time inside to experience performances on our home screens. Individual artists and companies are scrambling to material online, leaving audiences to pick through a myriad of choices. Choosing what to see can be both overwhelming and, frankly, often underwhelming. Occasionally, however, hidden gems show how performance on small screens can actually bring revelations to works and performance genres we thought we knew.
The use of the small screen as artists' primary communication tool brings to mind the late Marshall McLuhan's famous aphorism, "the medium is the message." Because of my love and preference for live theater, I've been resistant to soaking in this new medium.
Two recent experiences have won me over – and even won me emotionally in the way live theater has so often done over the years.  Both of these were works of music-theatre conceived and originally produced long before small screens were even imagined.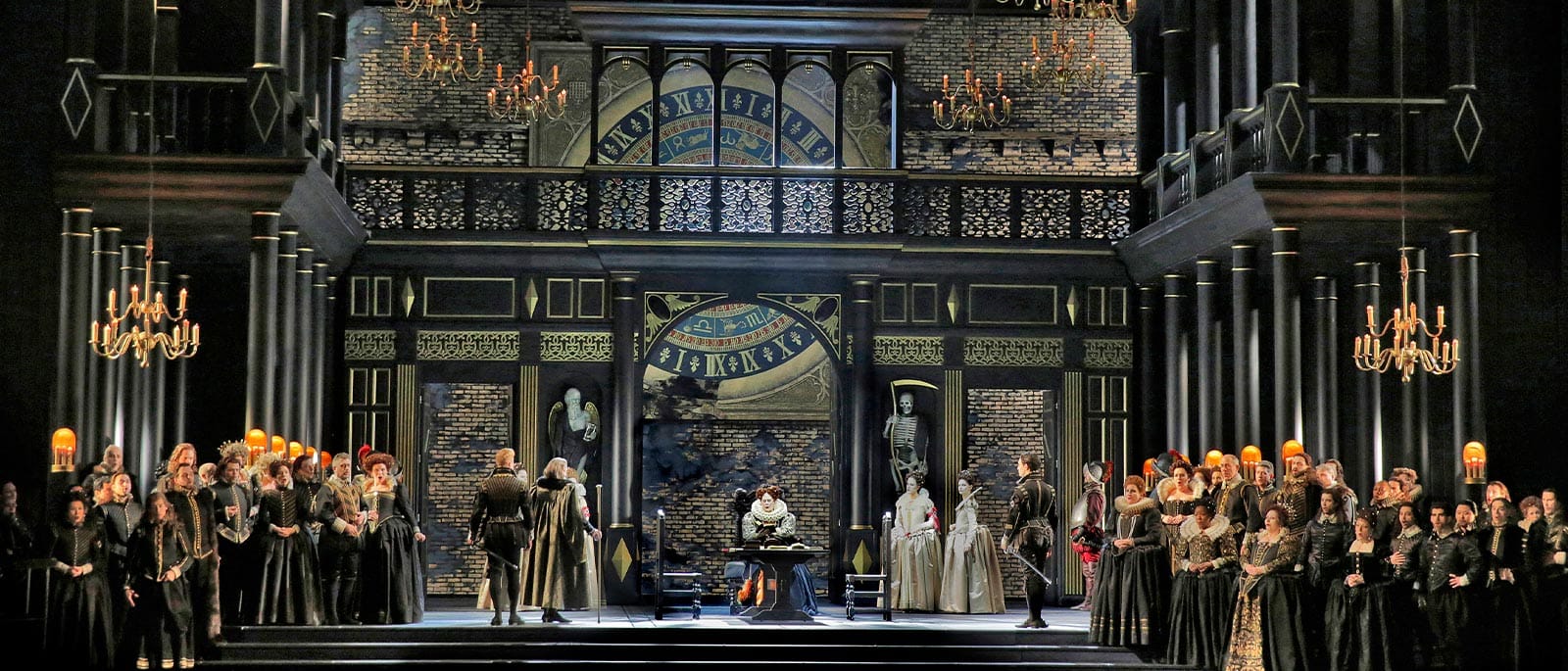 Roberto Devereux is a tragic opera by Gaetano Donizetti. Written in the middle of a cholera epidemic, under stress not unlike what we are living through today, it premiered in 1837. Separately, and in quick succession, the composer had lost his parents, two babies, and his young wife. Love and death were themes much on his mind when he plucked history to create a lyric tragedy based on Queen Elizabeth's relationship with one of her favorites at court, the Robert of the title, the 2nd Earl of Essex.
The production I viewed was from the Metropolitan Opera, one of the world's biggest producing institutions with massive budgets and technical prowess and a pioneer in delivering its live performances to the screen by way of its HD produced series shown in movie theatres across the country and around the world.  It would not be hyperbole to state that the Met's translation of the opera medium through this series single handedly has changed the shape of its artists and performance delivery style of opera forever.
I have been watching streamed productions from Met Opera on Demand, free performances from the Met's considerable cache of recorded HD performances presenting a new show every 24 hours during this shut down period.
Still, imagine me on my couch, thinking what to dial up for my evening's entertainment. So many choices. I wasn't sure I wanted an evening of bel canto opera with, you know, all the trilling up and down musical scales and smooth legato that "beautiful singing" style suggests. Besides, I argued, haven't I already seen plenty of portrayals in film and on stage of Queen Elizabeth I?  Still, you know how it is, you can always surf away after a few minutes into it.
Set and costumes were, as expected, spectacular and historically accurate in recreating the sumptuous, glowing world of the Tudor court. The quartet of four principal singers (Matthew Polenzani, Mariusz Kwiecien, Elina Garanca, and Sondra Radvanovsky) not only demonstrated superb vocal control but as an ensemble, with the aid of director David McVicar, had created a kind of special nuanced affinity not always achieved in opera.
Sondra Radvanovsky as Queen Elizabeth created an indelible character. Not only did she masterfully deliver the pyrotechnics of the score's coloratura passages, racing from high to low notes and back again. But moreover, she justified every note of every line, and, up close on my television screen, I could watch her craft in the emotional arc of this queen.
Movement, gesture and voice all demonstrated Radvanovsky's strong interpretive choices as the aging queen. At this stage of her life, becoming enfeebled, she was raging to stay in charge.  The character had hip problems; her walk was more a lurch under the heavy jewel-encrusted farthingale. Her hand gestures, caught in close up, jabbed the air in a palsied frenetic way. The lurching and the palsy were echoed musically in how she chose to deliver certain vocal lines making them not simply beautiful but dramatically invested. The internal fight was all laid out, a kind of insistent attack then lifting to the highest note pianissimo as if she is about to expire.
Radvanovsky made me follow her every emotional twist and turn. The woman was reaching for her last chance at love. She was enraged when she sensed she had lost Roberto and that he loved a much younger rival. If she couldn't have him she would destroy him, and as Queen she could. Time was running out.  At one point she seized her wig and plucked it off her head exposing a hideous old woman. Her game was up; her love lost.
We couldn't have seen all this if we'd been in most of the 3,800 seats, say the four top balconies. The Met's HD recordings bring you opera from the best seat in the house, and, on the small screen, it is emotionally so intimate and wrenching, it's as if you are sitting beside the queen at her dressing table as she pulls off her white mask of lead paint make-up.
---
Intimate and wrenching is what I took away from another work on a different scale and in another musical language entirely.
Stephen Sondheim celebrated his 90th birthday in a gathering of Broadway artists, singing his lyrics and tunes back to him. Not being able to gather and deliver their tributes on a Broadway stage, individuals got up close and personal from afar, with relatively low-scale tech, captured on a Zoom-like platform..
Nonetheless, the show proved a wham-bang line up of some of the biggest names on Broadway for the last 35 years. (Let's face it that's pretty synonymous with Sondheim.) People all have their favorites, and the songs will bring back memories of different productions.
The real revelation was how this production illuminated Sondheim's brilliant combining of lyrics and music, and, to my amazement, the discovery that his writing is made for small screens. Sondheim is a master at bringing you into the very minds of his ideas and characters, seeing through their eyes, following them chasing after their thoughts.
Big houses like those on Broadway and the Kennedy Center all too often drown out the lyrics, even performed by the formidable talents, say, of Angela Lansbury and Len Cariou. Chorus numbers, where lyrics are broken up, passed around and delivered by several characters, get lost because they go by so fast and mic technology just can't keep up with Sondheim's concise and dazzling speed of musical language.
The new small screen technology may be a boon for composers working in music-theater in the ability to control and clarify for audiences how solos become duets, trios and so on. By gallery viewing of apps like Zoom, audiences can follow and more critically appreciate a composer's layering of voices.
Theater-makers are beginning to explore how to create content and moderate form for our home screens.  Not to aspire to technical expertise and bold creative innovation may knock artists and companies out of the game.  Let's face it: this is, for a while, the only game in town.