Update:  The live performance of this show has been canceled. Mosaic will create a video performance, for Fall 2020 release.
On August 28, 1968, two iconic intellectuals — author, editor, political commentator and (PBS) television host William F. Buckley for the right and author, lecturer, frequent television guest and occasional actor Gore Vidal for the left — met in blood combat at ABC's television studios. They were ostensibly discussing the Democratic Presidential convention in Chicago which was going on at the time.
Fifty-two years later, Mosaic Theater will debut Alexandra Petri's satire, Inherit the Windbag, in which the antagonists, now both long dead, appear from the afterlife in the Richard Nixon Presidential Library in Yorba Linda, California.
Inherit the Windbag will begin its run on August 19 and end it on September 20, making it the first, or among the first, plays area audiences will have a chance to see.
Opening the play on August 19 might seem a bit optimistic for a theater company simmering — as all area companies are simmering — in the stew of coronavirus.
Mosaic Theater Company Artistic Director Ari Roth noted in a Zoom meeting, "We got lucky." The play was nearly fully rehearsed before being shut down (on March 16, the day before its debut) and Roth and director Lee Mikeska Gardner don't anticipate the need for extensive rehearsals before the show opens.
The set is built and standing ready in Atlas's Sprenger Theater, he said. The play will open during intense media coverage of the Democratic and Republican conventions, whose back-to-back August dates are also the result of postponements. The satire has already sold 1,000 tickets. Plus, Roth believes he's got a great play on his hands. And one that Petri may tweak to reflect the present.
"Alexandra is set to…show us that racism, narcissism, entitlement and myopia were just as much at play back then as now — in both parties — in both the entitled left and right wing camps," Roth said. "But she's also showing us something of the humanity of the two self-contradictory author/pundits — she's showing us the toll of their thin-skinned defensiveness — and the impressive, entertaining, estimable intellectual heft that both [Buckley] and Vidal brought to their public (and private) discourse, vituperations, tender moments, and all…"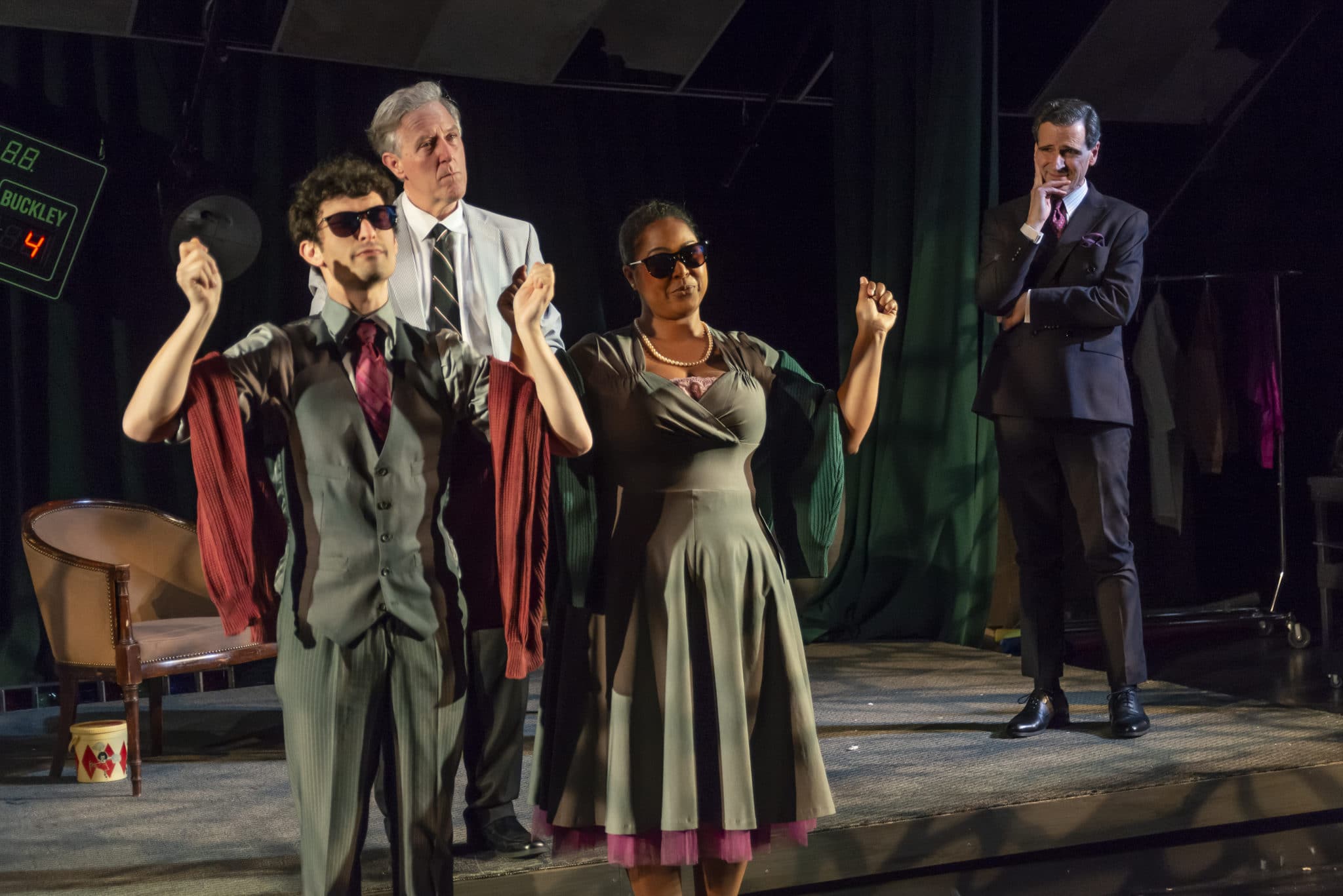 While Mosaic's excitement about producing the latest offering from Petri, a prolific playwright and Washington Post columnist, has propelled the project forward, Roth was quick to point out that Gardner will re-stage the play to assure that each actor has a safe distance from every other actor. In addition to John Lescault as Buckley and Paul Morella as Vidal, the play features Tamieka Chavis and Stephen Kime as demons. Work backstage will also be choreographed to allow  the crew to observe safe distancing.
Both Mosaic and the Atlas Performing Arts Center will work together to be protect audience members. The theater will be sanitized between performances. Whether masks will be required and other safety requirements made will be resolved according to CDC and the DC Mayor's office guidance. Mosaic projects tickets will be available for 25% of the Sprenger's 180 seat capacity, or 46 people per show for Windbag's five week run.
With concern mounting about how weakened the COVID-19 shutdown will leave the 80+ companies in our area, Mosaic Theater, Roth said, is in good financial health. They were able to get a PPP grant, allowing them to retain all staff and to pay the cast of Windbag for their original contract. They have strong donor support for programming, and the recent 3 year grant from the Andrew W. Mellon Foundation will support the residency of  playwright Psalmeyene 24.
This allows Mosaic to confidently proceed with its ambitious and bracing 2020-2021 nine play season.
August 19 – September 20, 2020
INHERIT THE WINDBAG
World Premiere by Alexandra Petri | Directed by Lee Mikeska Gardner
October 20 – November 1, 2020
REMEMBER THIS: THE LESSON OF JAN KARSKI
World Premiere Limited Run by Derek Goldman and Clark Young
Directed by Derek Goldman | Featuring Academy Award Nominee David Strathairn
November 11 – December 13, 2020
THE NICETIES        
By Eleanor Burgess | Directed by Angelisa Gillyard
Featuring Naomi Jacobson

January 20 – February 21, 2021
BORDERS

BORDERS (I)
A Virtual Encounter Between Two Enemies on Grindr
By Nimrod Danishman | Directed by John Vreeke
BORDERS (II)
By Henry Naylor | Directed by John Vreeke | Featuring Elan Zafir
With additional Voices From a Changing Middle East Festival programming, including:
I, DAREEN T
By Einat Weizman, based on the Life and Incarceration of Dareen Tatour 
A Voices Festival Off-Night Chamber Production: February 1-21, 2021
MY BRIEF AFFAIR WITH THE MINISTER
By Ari Roth | Directed by John Vreeke
A Voices Festival Workshop Reading: Feb 8 & 15, 2021
March 24 – May 2, 2021
MARYS SEACOLE
By Jackie Sibblies Drury | Directed by Eric Ruffin

June 10 – August 22, 2021
THE TILL TRILOGY
By Ifa Bayeza | Directed by Talvin Wilks
PART I. THE BALLAD OF EMMETT TILL

PART II. THAT SUMMER IN SUMNER
PART III. BENEVOLENCE
Subscriptions to the Mosaic season are available.  A special 2 for 1 offer ends on Mother's Day, May 10, 2020