Homebound
Round House Theatre
Free
Series ends June 29, 2020
Click here
If you haven't caught on to this web series yet, there's time to catch up. Homebound is only 3 episodes into its 10 part, 10 minute, 10 playwright series. Expanding technology takes this from its Zoom window world into the lives of its fascinating characters, and mysterious plot development. New episodes every Monday through June 29.
Bill Irwin's In-Zoom
Old Globe Theatre, San Diego, CA
Free
Ends Saturday, May 16
Click here

In the Beckettian short, two unnamed men played by Irwin and Tony-nominated funnyman Christopher Fitzgerald (Wicked, Waitress) attempt to connect and record inspirational messages with comically poignant results. Irwin's exploration of Zoom as a performance medium is fascinating but his farcical shtick ultimately leads to an unexpectedly moving ending. It's short and bittersweet. – TDF Magazine
Too Solid Flesh
Like Fresh Skin theatre company
Free
To view: RSVP to [email protected]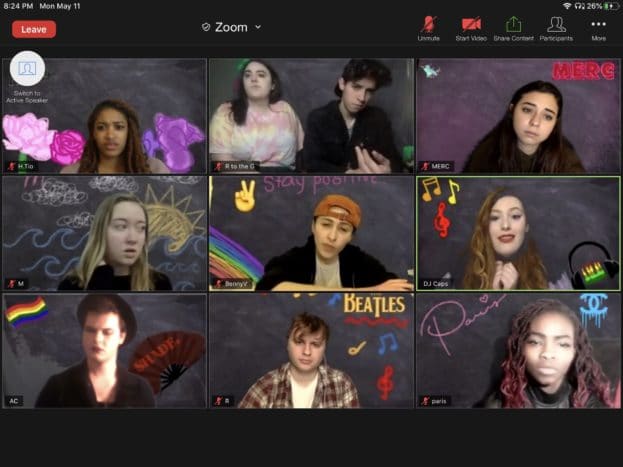 The stories about isolation, woven into Shakespearean themes, are from the 18 Adelphi student performers. Like Fresh Skin says it is pushing ZOOM into new territory. Too Solid Flesh uses various emerging technologies, from Zoom to next-generation apps. Among these technologies include specific sections that have been pre-recorded for different purposes; Tik Tok, used in both a presentational and interactive way; a video game in an observational capacity; Pictionary; chat boxes; and the Zoom live performances themselves.
Cats
Adelphi Theatre, 1998 production on YouTube
Free
Benefits The Actors Fund: COVID-19 Emergency Relief
Ends Sunday, May 27, 2pm
Click here
This week's offering, the last show from Andrew Lloyd Webber's The Shows Must Go On! is his musical Cats. NOT last year's film release, which some consider a critical disaster.
Andrew Lloyd Webber's CATS, the most famous musical of all time, first exploded onto the West End stage in 1981. 'Memory', one of its many classic songs, became an instant worldwide hit. Since then CATS has smashed records and conquered the world. Using the latest technology, all the excitement, thrill, romance and intimacy of this theatrical legend has been captured on screen. Breathtaking visuals and full digital sound (that has been completely re-recorded with a seventy piece orchestra) will leave you deep into the mysterious world of CATS as you've never seen it before — more intoxicating and magical than you could possibly imagine. With a star cast including Elaine Paige and Sir John Mills. –  Ed Ruben
COVID & INCARCERATION
24 Hour Plays, Viral Monologues
Free
Click here
If you are fans of 24 Hour Plays, Viral Monologues, you know its demands. Playwrights create short (usually 5 minute) plays, or musical-styled songs with 24 hours, turn them over to a performer, and 24 hours later, the shows go live. This week, Round 8 is built around a common theme, "Covid & Incarceration." 15 playwrights sourced the stories from inmates or their supporters. And audiences have a chance to take meaningful action thanks to a button after each playlet. "Hard truths, powerful telling" – Jonathan Mandell.
And the perfect finish:
Leonard Bernstein's Mass
PBS' Great Performances
Free
Starts Friday, May 15, 9pm
30 minutes
Click here

Recorded at last year's Ravinia Festival, the piece features the Chicago Symphony Orchestra and South Pacific Tony nominee Paulo Szot as the Celebrant, singing lyrics by Bernstein and new text by Pippin songwriter Stephen Schwartz. The episode also includes performances by the choral ensemble Vocality, the Chicago Children's Choir and the Highland Park High School Marching Band. – Thanks to TCF Magazine