Every day, I navigate to DC Theatre Scene's guide, the New York Times and the Washington Post websites and read up on all the creative and upbeat ways people are feeding their theater jones.
I am not one of them.
By and large, I am a dismal failure at watching theater on a screen—be it laptop or smartphone. For the most part, Zoom and streaming productions of stage shows and readings just makes me miss live theater more. I miss that communion of like-minded souls gathering in a shared space, our faces tilted upward in happy anticipation as the actors tell us a story.
But then again, I miss the ocean too, and want nothing more than to sit on the beach and wash my sorrows out to sea.
It's not all bad. There have been some streamed shows I lapped up like cream. The Folger Theatre's rebroadcast of Macbeth as reimagined by the gifted magician Teller and Aaron Posner reminded me of how mystical and good-scary this play could be and the performances were so vivid it felt like 3-D. The supernatural production streams through July 1 on folger.edu.
I also thoroughly enjoyed and took great comfort in the Public Theater's What Do We Need to Talk About (streaming through June 28 on publictheater.org), by Richard Nelson. In this 70-minute masterpiece, we catch up with the Apple Family as they cope with their lives in quarantine. The Zoom "Brady Bunch" intro box format was perfect for this piece, bringing the family together in a sense, but also underscoring their isolation.
The small screen format is also ideal for Baltimore Center Stage's Where We Stand, by Donnetta Lavinia Grays. This fable-like play about isolation and the effects of loneliness and exclusion on the soul is all the more affecting because it is filmed in isolation, in a dark, empty theater devoid of an audience. Where We Stand closed in April (public streaming ended on the same date it would have closed live).  It is currently only available for educators offering a student matinee.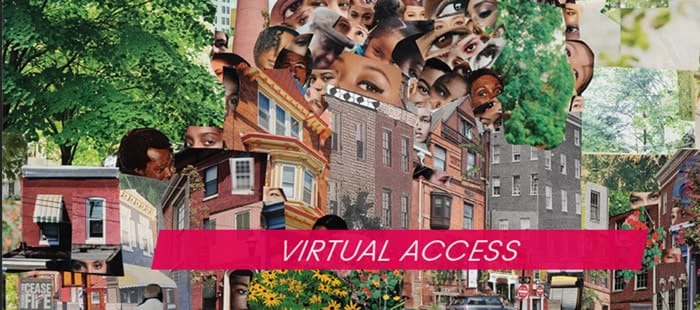 Other than that, I've been a complete dud with theater on screen. My excitement at NTLive (Britain's National Theatre) streaming productions every week was quickly squashed when I slogged through two showings of Frankenstein (with Benedict Cumberbatch and Jonny Lee Miller flipping roles between monster and creator) and was bored to tears. There was something about the flat, panoramic style of filming that made me feel like I was watching paint dry, but simultaneously looking at the striking stage effects, lighting and choreography and thinking "This must be amazing in real life."
What have I been doing during stay-at-home instead of tuning into streamed shows like a loyal theater maven? Well, I have turned to what I call the "theater of the mind."
My daily 5:30 check-in/happy hour with my family is like a one-hour playlet unfolding in front of my eyes. Through the magic of FaceTime, we report on our day, share what we're making for dinner, and make each other laugh until tears run down our faces. We tell family stories, bust on family members who are not compliant with face masks when in public—and howl with laughter over one cousin who has assembled a homemade hazmat suit complete with oversized goggles and a helmet that she wears to the grocery store and then wonders why no one comes near her in the aisles. We have keep each other's spirits up, nursed my cousin Rose through a bout of shingles (virtually) that exposed telemedicine is not a perfect science, cried a little now and then, and showed off our home improvement projects and blue-ribbon gardens. When things go back to normal, I never want to give up this ritual, even if it is only once or twice a week.
I've been reading like a fiend. My real job is in health care and I am teleworking furiously, trying to keep physicians and health care facilities informed on all the COVID-19 changes, particularly with telemedicine. The news from federal and state governments changes sometimes twice a day. So, the last thing I want to do at night is look at a damn screen.
Instead, I turn to the page. I am reading my old friend, the late David Carr's collection of writing, Final Draft (2020, HMH, $28) that just came out. The book, edited by his widow Jill Rooney Carr and featuring an foreword by Ta-Nehisi Coates that captures Carr's personality and influence in all its infuriating, beguiling glory, has made me nostalgic for my days in the Twin Cities (I knew David from my time as a theater critic there, and later when he moved to DC to become editor at the Washington City Paper and later as media critic for the New York Times) and for plain old good writing. I had forgotten what a good writer David was, his prose clean and devoid of artifice, his storytelling skills keen and observant. Not much got by David and thank God for that.
The other book I devoured was written by the English playwright Alan Bennett, so it kinda counts. The Uncommon Reader (2007, FSC, $13) tells the tale of how Queen Elizabeth II's life changes after she picks up the habit of reading after she drops into a mobile library near Buckingham Palace. She's as voracious as one of her pet Corgis once she's exposed to the joys of reading, and Bennett's trademark deadpan humor wickedly details the willy-nilly aspects of her reading list and the effect her new passion has on Prince Philip, the palace staff and her royal subjects.
Anne Tyler is to me a Baltimore Chekhov, calmly and astutely (and with wry humor) capturing the minutiae of families, relationships and communities through the eyes of a slightly off-kilter narrator. Her latest book, Redhead by the Side of the Road (2020, Knopf, $17.76 on Amazon), is a quick read that is a balm for the quarantine-weary soul. With Tyler's signature wit and expansiveness, she speaks to our times in this story about Micah Mortimer, a creature of habit, and his all-thumbs attempts to connect with the scant people in his life and the world at large.