Of the many pitches about online content we have received, the announcement from Pandemic Theatre of how they were presenting Shakespeare's barbed romantic comedy, Much Ado About Nothing, struck us as especially unusual: a changeable presentation style, a cast taking on differing roles depending on their preferences, released once a week over 5 weeks, and finally, the whole effort supported by a ticketing option that allows the viewer to watch all 5 acts whenever they wish and pay whatever they want.
Well. We knew you'd have questions, so we asked Pandemic's founder, Acacia Danielson:
Why choose Much Ado About Nothing?
Acacia Danielson: This is what I told my actors when I pitched them the project: "Apart from being on of my personal favorites, this is a story of how love persists through miscommunication, pain, trauma, personal faults, etc. Ultimately, it's about joy, forgiveness, hope, and it's chock full of silliness and laughter. We need that right now."
That still holds true 6+ weeks down the line. This play is the perfect vessel to hold many of the emotions life in quarantine is bringing out in us. We're giddy, we're depressed, we're passionate, we're vengeful, we're overly suspicious, we're quick to judge, and we love a good cat video. I think this project would have been very different if we had decided to do Macbeth.
Is there one director?
Yes, of sorts. I'm producing the play and am also technically the "director." However, unlike in a traditional show model, I have not worked with the actors directly on their scenes. I laid some basic parameters, but then gave them complete freedom to interpret those "rules" however they wished. A few actors have run ideas by me, and we have tweaked a couple scenes for clarity/continuity but what you see in the videos is completely born out of the actors' brains.
About your release schedule: Why 5 acts released once a week?
As I was looking around the internet at the various Zoom shows, staged readings, etc., it seemed like audiences were weary of spending even more time on a screen at the end of a work day. Shorter (30-45 minute) offerings seemed more manageable and appealing, and are similar to a TV show episode. Since we were planning to release the show on YouTube, it made sense to marry the idea of a web series, an entertainment model YouTube is already known for, with Shakespeare's 5 dramaturgical acts.
Plus, it gave the actors more time to work on and submit scenes. For example, if they were working on two scenes, one from Act I and one from Act IV, they could focus on the Act I scene and then turn their attention to the Act IV scene once the first had been submitted.
Why have different actors playing the roles each week?
I wanted to showcase the individual style and creative flair of the actors. I've worked with most of these artists on at least one project before, and wanted to see more of their work. Self-producing is extremely important for artists, especially actors. Being cast in productions and working on other people's projects is always good, but there are aspects of an actor's work that only they can reveal.
Some of the Much Ado actors are already pros at this, and some are just getting started. I hope this project a.) gives the actors some fantastic material for their portfolio, and b.) introduces viewers to the unique and talented performers in their community.
Most importantly, though, I pray that this project has given the actors a renewed sense of the artistic identity and creative agency that have felt so threatened and uncertain because of COVID-19. We need to encourage our beauty-makers and truth-speakers.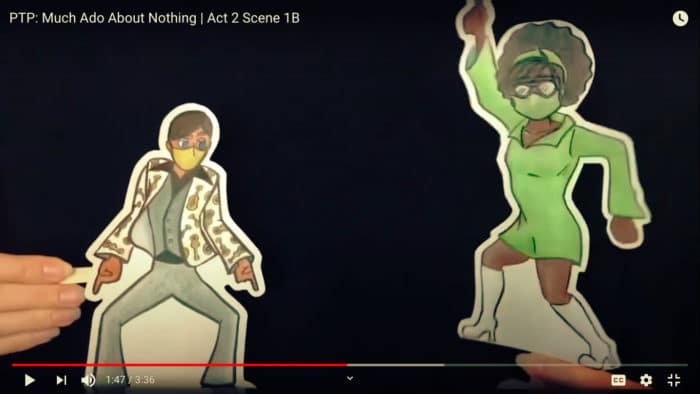 In what style(s) would you say the play is being performed? I see some fun cartoon art.
In almost every style you can think of! We have some actors performing the scenes in a realistic style, with multiple actors playing the roles, and then we have….everything else. Puppets, live animals, stop motion, playing cards, crazy costumes, candy, actors playing all the roles themselves, mime, pool party, radio DJs, the list goes on. The actors had complete freedom with the style of their scenes, and they took this liberty very, very seriously. It very much feels like a "crazy quilt", where a bunch of odd and irregular pieces come together to make a colorful and exuberant whole.
There are lots of ways to interpret Beatrice and Benedick. Who will be playing them? And how are the actors approaching the roles?
The casting of all the characters is completely different from scene to scene, as is the interpretation of Benedict & Beatrice. In one scene, Benedict & Beatrice are played by humans battling it out with witty gusto, and in another scene one of them is a stuffed animal. You just never know. So far, though, most of their 1-on-1 scenes have been played pretty straight, either by two different performers or by one performer playing both roles.
We've created a system of tracking characters where each character is assigned either a COLOR to wear or an OBJECT to hold throughout the show. For example, Beatrice always wears blue and Margaret always has sunglasses. A Character Breakdown can be found on our event page.
Regardless of casting, however, that sense of deep love thinly veiled by loquacious hate is always present.
I read this is a benefit for the performers and creative team.
Yes, all proceeds go directly to the artists. While artists often work simply for the love of the craft, I want to respect their time and effort. The actors will receive payment in two halves, one in the middle of the run and one at the end, when we've received the funds from Eventbrite.
As I understand it, 1 ticket buy gets access to all 5 plays. True?
That's correct! Ticket purchasers receive a link to a YouTube playlist that gets updated each Friday with the new videos for the next Act. Once they have that link, they can watch the videos whenever and as many times as they want. (We ask that ticket holders do not share this link with their friends in order to direct new viewers to the ticket page.)
The Eventbrite page lists different date options simply so we could keep the ticket page active for the entire length of the release period.
Does your audience get to donate again at the end of the performance? How is the money
working?
They certainly can if they want! Right now, we have a donation option at the front end: when you make a purchase (one of the ticket options is "Pay What You Can/Donation"). If, after viewing, someone wants to donate again/for the first time, they just need to return to the ticket page and make the donation there. We've also included a link to theatreWashington's Taking Care Fund which supports theatre artists throughout the DMV.
Whether they give directly to this project or towards DMV artists in general, we say a hearty THANK YOU to all our loving donors!
Links to Much Ado About Nothing from Pandemic Theatre:
Facebook Details
Tickets:
https://www.eventbrite.com/e/pandemic-theatre-presents-much-ado-about-nothing-tickets-103812359562