The theater is the place where things are shown: that is, it's a mirror where things that we don't make overt in daily life are brought out in front of us to see.  While we usually talk about the action that takes place on the stage, the primary and maybe most important drama takes place inside of us while we watch and engage with what we are seeing on the stage, often in a darkened room in the company of others.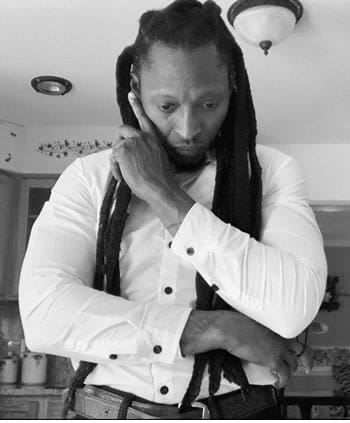 In his current pastel art exhibition, What If?, at the Center for Contemporary Political Art gallery, Carlos Walker deftly drops us onto the stage in the theater of our hearts and souls and engages us in the personal drama we all keep hidden behind guarded gates/fences and masks: that drama we give the collective title of race, or more, honestly, white body supremacy.
This is not a term Walker uses.  He merely shows us the picture.  The picture of a melancholy young boy marching and holding up a sign that reads "Don't Shoot" in a plea to keep the police from killing him.  The picture of Dylan Roof being welcomed into the warm embrace of the devout worshipers at "Mother" Emmanuel African Methodist Episcopal Church just before he murders them. The poster advertising the enslaved human beings for sale.
The difference in Walker's pictures is that the race and power dynamic of the people in these iconic images has been reversed.
While we have repeatedly seen the little Black boy pleading for his life, in this painted image he is a little white boy, who would be right at home in the famous Dick and Jane books so many of us grew up learning to read from.
Here, Dylan Roof is Black and the kindly parishioners are white.
The slaves being auctioned off are white and the slave sellers are Black.
What do you see when the race is changed?  Did you attribute innocence and vulnerability to the white recipients of power abuse violence more readily than when you saw it was happening to Black folks? Is your sympathy accompanied by as as many caveats as when the recipient is Black? How do you see the Black wielder of power? Are you comfortable and understanding of the policeman?  Do you think, "Well, all the white person had to do was follow directions?"
"In these illustrations, you will discover that the ethnicities of oppressors and oppressed have been reversed. This has been done in order to open the mind of the viewer to…WHAT IF? Throughout these illustrations, you will see the Caucasian race placed in African-American experiences which have been created to assist the viewer in grasping the understanding of why we are promoting that Black Lives Matter. Also, I expect this display will bring clarity to all who fight against understanding our stance against injustice." – Carlos Walker.
When it comes to race, and many of our most internalized and personal issues, we often don't examine what our beliefs are.  And what comes up instantaneously when there's a challenge in our public square can be shocking, especially, if you've been trying to chant Namaste on a more regular basis.
This is a powerful exhibit. It marks the spot where a powerful drama – perhaps even a treasure – lies. You should know that this exhibit is not an accusation.  It does not blame anyone. Anyone.  It merely shows the picture and allows you the subdued, respectful, gentle, private space with yourself and the image.
Only you need know what comes up in you when you view these images: only you need to know what you feel.  Only you need to know whether you're content with what you see or whether you want to change something in yourself or in your world as a result of what you discover about yourself while viewing these pictures. This is a very private drama between you and the image on the wall. A drama that has huge consequences.
I attended a gallery talk with the artist and his curator a few days ago.  Other accomplished local artists were there.  Many of them talked about the technique, skill and craft the artist exhibited and how it made the impact of the drama embedded in the images even stronger. All I can say is that the technique presented no stumbling block between me and my experiencing the drama stimulated by the images.
What If? is on view by appointment at the CCPA Gallery until July 10.  In acknowledgement of the pervasiveness of the coronavirus and of the partial re-opening of locales that is taking place in Washington, DC, you can make individual arrangements for showings for audiences as small as one person. And you can negotiate a time to see the exhibit that works best for you.
CCPA Gallery
Carlos Walker exhibit
916 G Street, NW
Washington, DC 20011
Phone: 202-638-3612
Email: [email protected]
We are grateful to Charles Krause and CCPA Gallery for permission to show photos from their exhibit of Carlos Walker's exhibit, What If?