"And how shall we entertain ourselves?" the characters in Boccaccio's 14th century story collection, The Decameron, keep asking, and each in turn tells a tale. In Day 3 of Synetic Theater's streamed Decameron, three women take a whack at "entertaining" in the time of COVID-19, using a wild variant of means and tones.
Elena Velasco is a strong local director and performer in her own right and brings to this fellowship that is Synetic her most serious lens on theatre for social justice.  To my mind, she, more than any of the other artists thus far, neatly sidesteps all pretext of following the assignment from The Decameron (and mind you, Boccaccio's 14th centure story for Day 6 is one of my favorites, a rather expanded narrative about the cult and corruption found in the Church in the practice of relic worshipping.) She gets right down to what she wants to say, and what's on her mind is tough, not-to-be-forgotten stuff in this time of COVID-19.
Under five minutes, the work creates a compelling drama of a woman alone who, upon hearing the evening news, does not dwell on her own discomforts "in these troubled times" but is absorbed into the plight of people coming across our southern border. Upon going to bed, she dreams or perhaps shaman-walks her way beside the many who risk everything to cross the U.S. border for a better life. We hear the shouts of cruel people, "Go home. Go back to Mexico."
One of the elements Velasco incorporates is mask, and I found the crude mask, that she and fellow artist Savannah Kent made, very powerful. This robed figure beckons as guide, and the dream figure of Elena follows through a dark doorway into an empathetic walk about in the stony desert landscape. The spare music Velasco has chosen is also very effective, insistent high plinks and, underneath, a slow deep ostinato on strings that feels ominous.
She captures so much life in the filmed details — the insects, the blazing sun, the artifacts left behind on the trail or perhaps to mark a death, most of all the dry landscape. The work is full of restrained sorrow and rage.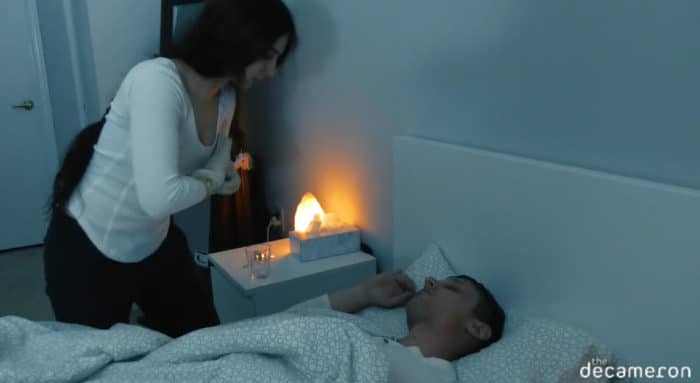 Maryam Najafzada's piece is based on Boccaccio's "Day 10, Story 4" and has very neatly updated the original tale of a pregnant wife stricken with a terrible disease and supposedly dead, left in a sepulcher only to be rescued and brought back to life by a stranger who shows in actions he is the faithful lover and helpmate. Najafzada makes the sick and dying character (Scott Brown) and his wife (Nutsa Tediashvili), who in the first scene makes the choice out of fear to walk away and leave one as much as presumed dead.
It's quite the Eastern European cohort that has put this together. Tediashvili doubled as cinematographer. Vato Tsikurishvili mentored the primary artist. Najafzada's family member Shamil served as editor. Oqtay Zülfüqarov and Jahangir Zulfugarov supplied the music.
It is always somewhat startling when Synetic artists speak, and the first scene, like some of the other "voiced" experiments of the company, feels most jarring and at the same time most tipping into soap opera drama.
It's when we see Najafzada doing simple gestures or chores, filling each with substance that we see the loaded,physical presence of these artists, stirring cookie dough, placing a cooling cloth on a fevered brow, that we watch the focus and fullness of expression in this artist and the Synetic way.
The piece is called "Sunbeam" and like the prismed light that is used, it's shot through with hope and a belief in the power of love.
The final work in today's program is in another vein entirely. It's more like a sherbet break at a banquet, a welcome intermezzo.
Renata Veberyte Loman has been a Synetic company member since 2004 and was part of its award-winning ensemble in Synetic's marvelous King Lear.  Perhaps her assured status — or maybe just her quirky comic sensibilities – allowed her to not take the assignment so seriously. She has given us a puppet show with two handmade hand puppets, a kind of cool dame with wise chops and her straw-haired Rapunzel-like granddaughter.
These two get more than a little risqué and get away with a lot, as puppets can do, with anatomically-correct body parts on that subject we all want to know how to handle during Covid – the  Sexy Time.
If you need a diversion, some love advice or just want a good giggle, this is the piece for you.
Day 3 of Synetic Theater's The Decameron debuted July 12, 2020.
Tickets to watch  The Decameron series start at just $10 and are available now.