Day 5 brings us three new short works by Synetic Theater members as studies on life in the time of Covid.
Kat Cárdenas-Cruz put a smile on my face with her short piece, "An Artist Struggles." She directly links back to Giovanni Boccaccio, the progenitor of ten days, each with ten tales, that we know as The Decameron, treating us to the narrator's flowery intro passage of Day 4, Story 9 as a silent film-style prologue.  She returns to give the original work another nod more than halfway through, when her character "discovers" in a pile of books Boccaccio's medieval tome and momentarily, at least, gets some respite from her isolation in place and, it would seem, some inspiration in its pages. Moreover, she has a good laugh at one of its entertaining tales.
Her theme is clear. Art is what we need at all times, but perhaps especially when isolated during a pandemic. We need opportunities to see ourselves, to cry and to laugh.
Part of the charm of this piece is its simplicity. Cárdenas-Cruz makes sure however every frame and sequence is clean. As script-writer, director, subject and editor of her film, she tells her story honestly about struggling to be creative and productive, stuck in an apartment in the time of Covid-19. Seeing it will feel very familiar.
The devil of creativity is in those details from life lived at a snail's pace (boredom) building to a slow boil (frustration.) This young actress shares with us her "clown," a character repeatedly sliding down walls out of the camera's view, so fatigued is she from filling her time and trying to invent.  Once it's with a Le Creuset pot on her head as a helmet. The repetition serves like a music motif.
Cárdenas-Cruz credits Vato Tsikurishvili as her mentor on this piece, and knowing his work as featured member in many Synetic productions, these two share qualities in their performances of honesty and strength.
Next on today's program, Raymond Simeon also uses a day's routines to tell his story, but the rituals take us in an entirely different direction.  Shooting in black and white, the work feels immediately darker, the shadows become ominous as in film noir.
Simeon, like Cárdenas-Cruz, uses repetition of action; in this film we see him repeat putting on and off a white shirt as marker to "let me count the days." The buttoning up and unbuttoning shown at different speeds, instead of seeming humorous, feels head-bangingly brutal. The pattern of old-fashioned black and white tiles is shot very effectively as is the small black-and-white TV static "drizzle" to underscore the feeling of a man trapped in patterns and rituals.
Simeon also uses sound well. As the film progresses, growing darker, sounds that might seem ordinary – a clock ticking, a computer whirring, a tea kettle whistling – become more unfamiliar and even disturbing at night.
Simeon tells us he intends his film to be about a man in isolation struggling with his sanity. A pity, I was going right back the story chronicled in Boccaccio Day 7, Story 1 (otherwise not incorporated,) which was about, among other things, the fear of a werewolf behind the door.  The actor is suitably hirsute, and the zooming in focus to ultra close-up of beard, heavy, malevolent eyebrows dripping with sweat, and wild-eyed raging suggested to me a symbolic transformation into horror-film genre, as his "beast" is unleashed.  Like all good works of suspense, Simeon's film plays with our minds how we are meant to interpret the devolution of character.
Catch this multi-faceted, Cuban-American performer around town when things reopen, now doing an improv turn with WIT (Washington Improv Theater) or TBD Immersive.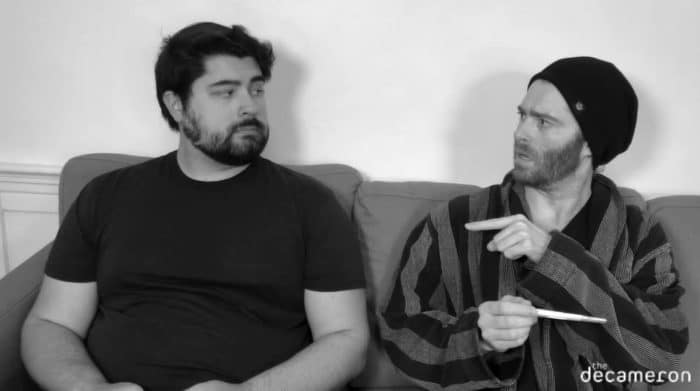 Dylan Arrendondo is another performer who in a good year of local live theater oould be seen live in one of the many production houses in Washington.  He proves in his short piece that he has a good sense for comedic acting and how to tell a story through physical action and facial expression.
I enjoyed how he pushed stylistically into silent film genre's history by opening with a good old-fashioned displayed inter-title: "Master Simone makes Calandrino believe that he is pregnant."   He jettisons most of Boccaccio's plot and characters, and, in true Synetic form, focuses instead on mining one line, fashioning an updated story about a crafty trick played on a "roommate" by a guy who seems to have a consumer compulsion.
Arrendondo has cast Jared Graham as his easily-duped partner, and the two of them give us one of the most unlikely and goofiest odd couples ever.  They blend a most contemporary situation comedy well while adhering strictly to the rules of silent film storytelling.
The titles get increasingly funny, especially when they obviously translate a mouthed response to more acceptable language on the screen.  Arrendondo also has a naturally winning way with silent film's use of looking into the camera for "asides" to his audience. Graham's dreamy stares into space one moment then his sped-up clown walk, carrying the many packages into the house for his "pregnant" partner, are staggeringly funny.
Arrendondo also keeps faithful stylistically to black-and-white silent film genre with the music he's selected, from the first musical underscoring with Kevin MacLeod tinkling those ivory keys.
This was a good package of stories from Synetic.  So, thanks to the mentors and the featured artists, including Vato Tsikurishvili who mentored Cárdenas-Cruz and Ben Cunis who served as mentor for both Raymond Simeon and Dylan Arrendondo.
Day 5 of Synetic Theater's The Decameron debuted July 14, 2020.
Tickets to watch  The Decameron series start at just $10 and are available now.
DCTS reviews The Decameron