Into the valley of death rode the six hundred…no, no, no, that's not it at all. I'm looking for a poem to help me decide what to do – poetry is the oldest form of literature, after all, predating written language – but all I'm getting is stuff extolling stupid courage. Pro-stupid writing is easy to get; that's why God invented the internet. I'm looking for a poem which comes to grips with a prosaic subject: Risk Assessment, to use its business-buzzy name.
You see, I'm thinking of going to a theater. Specifically, to the American Shakespeare Center, where I have been invited to review Othello. And it terrifies me.
Since March 20, I've left my house only for the necessities – food, medicine, and whiskey. Oh, and once, heavily masked and hands in pockets, to look at doors. Coronavirus is real, brothers and sisters. According to one count, it has put more than a hundred fifty-six thousand of our fellow Americans in the ground.
"Are you afraid you'll die if you go to the theater?" my dear bride asks gently.
Well, hell yes, dear. I'm an old guy with co-morbidities up the wazoo. The great Atlanta Braves first baseman Freddie Freeman got the coronavirus; his fever spiked at 104.5 and he prayed, "please don't take me." Freddie Freeman is a professional athlete, 30 years old and in prime condition. I'm…not.
And, to quote Mario Cuomo, life is better than death. If I knew that the personality survived death it would be easier, but I don't know; nobody does. It is the undiscovered country, isn't it, from whose bourne nobody returns.
Here. I am sitting on the back porch, nursing a cold drink. Because of the storms, a wild cherry tree lies on its side, but, miraculously, it is still alive, green and supple, its leaves fat with the recent rain. Suddenly, a fawn, the size of a terrier, slips out of the woods and gallops to the tree, tears into it, disappears inside it. The world is a symphony of green and blue and white, fluffy clouds. And when I die it will all be gone – the clouds, the fawn, the tree, the icy drink, my memory of it all, me.
You are familiar with the concept of the good death. In it, you are lying peacefully on a comfortable bed. The light shines upon you through the window, bringing you warmth and peace. You are surrounded by loved ones. Someone is playing Mahler; others are telling you how wonderful you have been. Perhaps Drew Carey is there to tell you jokes, thus facilitating your passage to the other side. Also, you are one hundred two years old.
That's not coronavirus.
Instead, I imagine myself locked in close quarters in some nameless hospital, hooked to a ventilator which breathes for me as my lungs turn to glass. No one I know is within half a mile, by operation of law. Instead, medical professionals, guided by an unfathomable generosity and swaddled in so much protective gear that I could believe I'm being visited by spacemen, approach me as necessity requires, and leave as soon as possible. I have cooties, and must be avoided. I compose my last words but of course cannot say them, as I can't draw enough breath. No one would hear them anyway.
"You're at more risk when you go to the grocery store," Lorraine points out, and, of course, she's right. At the grocery store I will pick up a piece of fruit to see if it's ripe; the last person to hold it, half an hour ago, might have been lousy with coronavirus. I pick up some fish, but do I know that the person who packaged it, or who scaled it, or who cut its head off, was free from coronavirus? It's reasonable to assume that anyone with Covid symptoms would stay home from work, but you can have coronavirus without symptoms. Just ask Juan Soto.
Still: the likelihood of infection increases with the time of exposure. I zip in and out of the grocery store like a man on a scavenger hunt; I'm there for forty-five minutes tops. Othello is two and a half hours, and there's an intermission.
But Lorraine assesses risk differently than I do. She is a woman who taught herself Fortran so that she could get a job programming ATMs when they first came out, who gave that up when she got bored in order to produce music and theater, who raised a mixed-race daughter (beautifully) as a single parent, and served as a housing tester for civil rights organizations, who left her home of thirty years because her fiancée got transferred to Washington, who took a job working for Mike Tyson, who took over this website when its founder moved to Texas and devoted herself to it, 24/7/365, for fourteen years because she loves theater. So yes, she has more of a taste for adventure than I do.
"We have more coronavirus cases here than they do in Staunton," Lorraine points out. This is also true. According to this website, Staunton, VA (population 24,922) has had 137 cases and no deaths. Surrounding Augusta County (population 75,558) has had 244 cases, with 3 deaths – a cumulative infection rate of 381 per 100,480, or .38%. Charles County, Maryland (population 163,257), where we live, has had 1,774 infections, with 90 deaths, an infection rate of 1.1%. Your results may vary, but are probably worse.
And the Blackfriars Playhouse, where Othello will take place, has instituted every caution imaginable. It seats 300 normally but will make only 125 seats available. There will be no seating on stage or in the front row. There will be no concessions. All transactions will be cashless. There will be no paper tickets or programs. Masking is mandatory for everyone except the actors on stage. The building will be disinfected in accordance with CDC and Virginia guidelines.
Except for the actors on stage. If I would be quivering with fear in the back row, how will they, maskless, be able to perform? Both plays require close contact – fighting, loving, carousing. Why would an actor perform during a time of plague?
I decide to ask them. It turns out that being on stage is the safest thing they can imagine doing.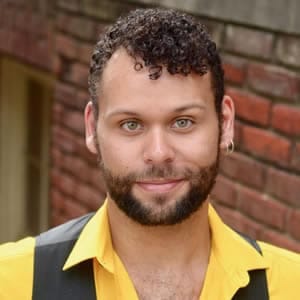 "To be honest, it feels necessary to perform under these circumstances." This is Topher Embrey, a comic mainstay; he will be playing the ridiculous Sir Andrew Aguecheek, one of the great roles in the canon. "As a gay actor of color in this world, it is tough as it is, so this pandemic only heightens the threat to my well-being. Working here provides me with housing, health insurance, and income which is something I couldn't take for granted. I just continually remind myself of the many blessings I have currently: my family is fine, I have a roof over my head, friends in my corner and money in my pockets. That's all I can do."
---
Or consider what Sarah Sazuki, who plays Bianca, Cassio's lover, has to say. She sees both sides of it: terror and security.
"I find that the work calms my anxiety and is a source of anxiety. The text is something concrete to hold on to, and it feels grounding to return to character work while the world is so unstable. However, in spite of my gratitude and love of the work, I am dealing with a constant anxiety that never really goes away. The racial unrest of this moment in conjunction with the pandemic have made this process harder than it was before. I am confident in the measures we've taken to protect ourselves and our community, but I wonder whether it's enough. I find comfort in planning, but there are so many what-ifs right now on a local and global scale…I try to keep everything in perspective when my anxiety peaks…We are a small part of this moment, and we're trying our best. That makes me feel a little better."
---
Rachel Louis is an acting fellow, just setting out on the adventure which will be her career:
"Coming back to live theatre feels like returning home. At 'real' home, in quarantine, there's only so much distraction from the news, the newest crazy thing that leaves me feeling scared and helpless. I walk into the theatre and that baggage is left at the door. I can commit myself totally to the process of storytelling, forget what is happening in the world, and help the audience do the same. But more than just distraction, the story becomes an opportunity for reflection on one's self and the society we live in, and that reflection is key to progress. Every day, I acknowledge that I am not a doctor or activist, but I CAN help my community by doing what I do best, and there's a lot of joy in that."
I admire their optimism and generosity of spirit, but I realize that I need medical reassurance. So I resolve to consult the former head of the infectious disease unit at the University of Rochester, a guy who's co-authored a hundred seventy-five articles, more or less, about infectious diseases. If you wonder how I could get such a credentialed contributor, especially with my budget of zero, the answer is easy: accident of birth.
"It looks like Augusta County currently has a pretty low rate of new cases – according to the JHU web site, the 7-day rolling average of new cases in Augusta county is only 2.8 per hundred thousand population," says Dr. John J. Treanor. "Staunton has a higher rate, and would be considered the hot spot in Augusta county, with a rate of 9.7 per hundred thousand.  Of course, the population is small, so that's got a lot of wiggle room.  Virginia as a whole has a rate of around 11."
He points out that New York will not allow anyone who has been to a place with a rate over 10 back into the State without a quarantine. That's why Washington Post theatre critic Peter Marks, who lives in New York, won't be going to Staunton.
"But….  there is definitely a risk of being in a theater" Dr. J. says. "Transmission of CoV is probably mostly by droplet, but airborne transmission may also occur and this is more of an issue in enclosed spaces, depending on ventilation…Airborne transmission is not as easy to prevent with sitting farther apart and wearing masks.
"So a lot depends on your tolerance for risk, as well as how important it is to go to the performance," he says, before warning me to wear a tight-fitting mask, avoid human contact, and wash my hands. But there my little brother has hit it on the head.  An important element of risk assessment is reward. Risk is more enticing if you love theater.
And…I don't love theater, and I haven't since 2014, or earlier. I like theater, and I admire the skill and artistry of those who practice it, but my relationship with theater is like that of old lovers for whom things have cooled into a state of friendship and understanding.
No, I don't love theater. Not like the woman on the other side of the room, who is watching a production by the National Theatre of Greece on her laptop. The production is in Greek – a language neither of us understand – and because it is in an amphitheater, the words reverberate, so that even if we understood the language we couldn't understand the play.
She is enraptured.
No, I don't love theater. But I love the woman who loves theater.
Oh, wait. I found the poem.
"The sense of danger must not disappear/The way is certainly both short and steep/However gradual it looks from here;/Look if you like, but you will have to leap./Tough-minded men get mushy in their sleep/And break the by-laws any fool can keep;/It is not the convention but the fear/That has a tendency to disappear./A solitude ten thousand fathoms deep/Sustains the bed on which we lie, my dear:/Although I love you, you will have to leap;/Our dream of safety has to disappear."
It is by Auden, and they read it at our wedding, twenty-five years ago, in three weeks.
I look at the last big Risk Assessment I made. She worked out much better than I had any right to expect.
She looks back at me.
I'm going to Staunton.