I went to the theater in New York for the last time the day after they shut down Broadway on March 12th,
six months ago today. My theatergoing on Friday the 13th Off-Off Broadway (which was shut down a few days later) turned out to be a harrowing experience, – one that was so absurdly the opposite of socially distanced that I felt haunted for weeks by the possibility that I had caught the coronavirus.
But if I haven't gone to a theater in six months, my day is still filled with theater – theater redefined, some say for the better.
One effect of the new era is that, as New York Times critic Jesse Green has observed, "the experimental, the fringe and the avant-garde, which have never depended on lavish funding or popular attention, are not only surviving in their online digs but also, at least by contrast, thriving."
Sean Stewart went further. Thanks to the rise of online theater, Stewart, a novelist and Augmented Reality pioneer, argued on his blog , theater is poised to "leap-frog movies and return as the central art form of the century" because streaming platforms make theater scalable (viewable by enough people to make it affordable), and, unlike cinema, it's both live and interactive.
It's hard to know how much my gratitude for the continuing efforts of theater makers during this time of upheaval has clouded my critical judgment. I've been thrilled by some of the group shows – yes, the celebrity studded concerts, such as 90th birthday concert for Stephen Sondheim, but also the anthologies of original short monologues – some of the weekly 24 Hour Plays' Viral Monologues (such as the one themed Covid and Incarceration), The Homebound Project series, and #WhileWeBreathe . But I've wondered how much of the thrill was for the energy and the sense of community rather than the stories or the craft. And if I'm honest, the plays I've enjoyed the most have probably been the expertly recorded videos of fully staged productions from the past, such as those that the National Theatre presented each week for four months (like The Deep Blue Sea.) and also, obviously, Hamilton.
My informal survey on Twitter suggested I'm not alone.
Nobody pretends to be enchanted by Zoom as a performing arts platform. But I can point to ten Zoom plays that transcended — or at least experimented with — the limitations of the medium…and offered a glimpse at a new kind of theater that shares plenty with the best of the old kind. These plays are listed alphabetically. The descriptions are largely excerpts from my reviews or features, which are available at the link.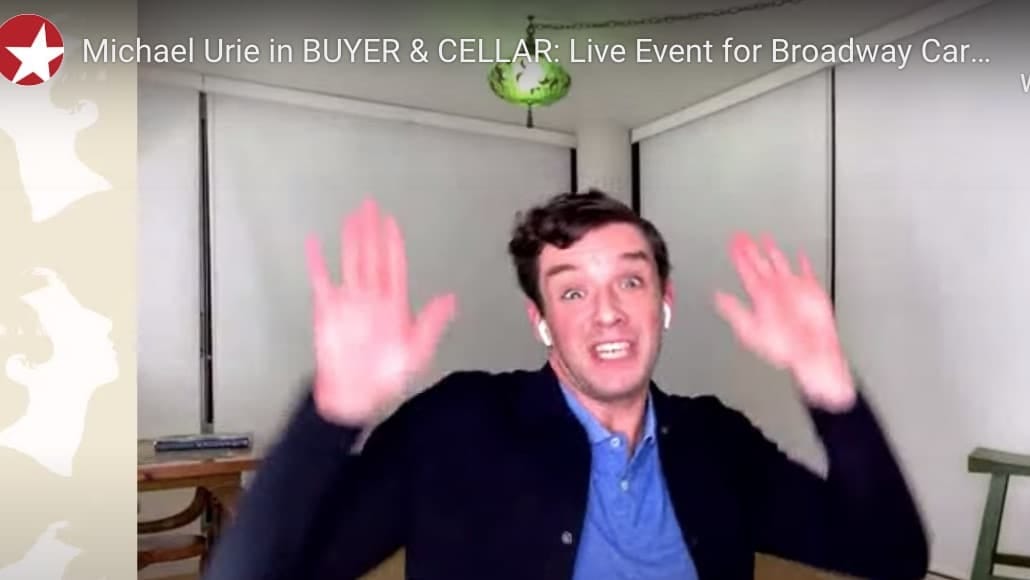 Michael Urie portrays a minimally employed actor who is hired to work the fake mall that Barbra Streisand has set up in the basement of her Malibu home. Streisand really has created such a mall full of her collectibles, which she lovingly detailed in her 2010 coffee-table book, "My Passion for Design."  The very subject of "Buyer & Cellar" reflects something the live-streamed plays are all offering, although nobody says this out loud — the rare chance, from the safety and isolation of our own homes, to ogle other people's. And Urie's performance was exemplary, funny, well-choreographed, far from a "Zoom reading."
Will Arbery's much-acclaimed play about a gathering of former classmates at a conservative Catholic college in Wyoming, not only  worked amazingly well as a Zoom play; in some ways, it improved on the production at Playwrights Horizons. It was less dark (less dimly lit) and somehow it seemed shorter, although nothing was cut.
A starry cast portrayed seven actual frontline medical workers in New York– two doctors, three nurses, an Emergency Medical Technician and a paramedic — telling their own wartime stories of dealing with COVID-19 in well-edited, interspersed monologues. This was the latest documentary play by the team that produced "The Exonerated" and "Coal Country."
The reading was an homage to the playwright, Terrence McNally who had died just a couple of weeks earlier at the age of 81. It was a timely look at a past epidemic by a playwright who survived it and has just died from complications from the coronavirus. But the performances of the four actors –elia Keenan-Bolger, Jesse Ferguson, Ari Graynor and Zach Quinto — felt more fleshed-out and engrossing than at a typical reading
Bryan Cranston and Sally Field performed live A.R. Gurney's two-character play about a man and woman writing to one another over half a century, starting at the age of seven. The 1988 play seems=ed ideal for online theater. Even when it was on Broadway — as it was twice, the last time in 2014 (my review)– there was no scenery or costumes, and the actors stayed seated at a table the whole time and read from scripts without ever looking at each other. It still managed to be terrifically entertaining and surprisingly moving.
Bard's splendidly glitchy production of "Mad Forest," Caryl Churchill's fascinating avant-garde drama about the 1989 Romanian Revolution, was the first live play I've seen since the shutdown that attempted a full staging via Zoom. Rather than just reading the stage directions, the twelve actors enacted them – a mother slapped her son; friends shared a piece of chocolate, and lay down together on a lawn; a couple hugged one another; the members of a wedding party ggot into a massive group brawl — although each of the actors, all undergraduates at Bard, was performing  remotely from locations across the country where they are sheltering, the show was a revelation, and something of a revolution itself, suggesting new paths forward for online theater….The grainy dull transmission reproduces the effects of a bad television broadcast — just the sort of TV that we can imagine the Romanians had to put up with. Each twitch of Zoom felt deliberate
This comedy performed by the original Broadway cast in at least one way worked better on screen than on stage – the close-ups on the facial expressions of the characters. Gideon Glick portrayed a gay man in search of love as his three closest female friends one by one get married.
His friends' reactions to the stories he told of his various dates, and also their baffled and perturbed reaction to his rants, were priceless.  Out of a still splendid cast, Lindsay Mendez in particular was hilariously expressive
BD Wong working with his husband the videographer Richert Schnorr, and enlisting some starry accomplices, turned a 15-year-old solo musical about a gay man in New York reviewing his life of loneliness, lust, loss and love into a witty and inventive series of music videos that hung together and suggested a new way of approaching adaptations for online theater.
This first online version by this experimental company that for a decade has created short works for one performer and one audience member at a time manages to combine several aspects of our current moment. The creative team developed technology to reproduce the sense of intimacy between actor and audience that comes naturally to the stage — the actor can see the audience, not just the other way around. The original monologues, most directly about the way we live now, are written by Black women playwrights, with the directors and cast members all BIPOC.
What Do We Need To Talk About?
Richard Nelson used characters whom he had written about since 2010, to create an original play in which they are in lockdown and talking to one another on Zoom – a clever way to get around the distraction of the flawed platform. The result was beautiful and sad, funny and moving, terrifically acted, and perfectly timed – a precise reflection of our sudden new era. Nelson followed up with two more Apple family plays that I did not consider as successful. But few other playwrights and directors have committed to writing such full-length works of theater for the online medium.
Most on the list were "readings" of plays that had been produced previously on stage, some of it on Broadway — not, in other words, original work. (A shout-out to MCC Theater for its new series of one-acts, such as Matthew Lopez's The Sentinel; all but one of them so far have been world premieres.) But if most of the full-length plays have not been new, the productions have been intelligent and innovative. What's been happening on the virtual stage is promising enough that I suspect the percentage of original new works of theater written specifically for the platforms that are currently available will step up in the (gulp) next six months.