I click on the link and settle in for the new show, Joy!, delivered into my living room by Synetic Theater. A special surprise "Joy" box at my side ready to be opened. Check.  Glass of prosecco poured and ready to be partaken (they said "Joy" didn't they?) Check. Zoom video camera on. Check. Audio off. Check. Participant button allows me to rename my image as myself. Check. Another day, another made-for-Zoom performance.  I think I'm getting good at this. Theater in the time of covid.
The screen alerts me that "loud noises, some strong language, and described moments of trauma."  Oh, dear, spoiler alert. Am I the only one who decries that as audience we no longer are allowed dramatic surprise?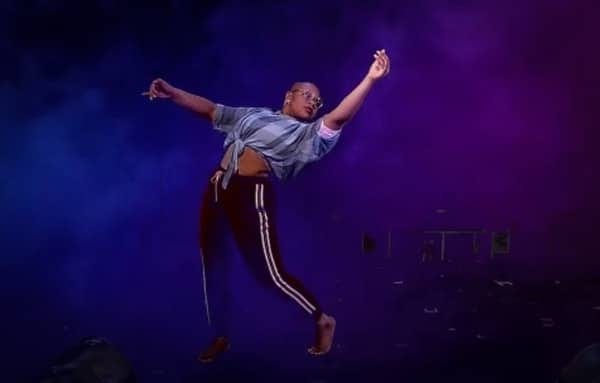 Undeterred, I wait. An electronic percussive track and melody on keyboards fixed in a loop fills the darkness. A body slowly emerges, but dimly, whose glasses, catching the light, appear as goggles and produce a curious, almost steam punk creature. Then hands, arms, and shoulders turn into liquid as they undulate in flamenco's sensuality.
Maria Simpkins' face comes into close up. She speaks of "our little boxes" and introduces "five digits of Joy." She invites us into an intimate world where you tell me yours and I'll share mine. While I'm writing my first Joy down, she beats me to the punch –
"Tango!"  (How did she know?) And then "Mad Hot Ballroom Dancing!" She leaps up, dons red, sparkly ballroom heels and, as she weaves the story of her childhood, demonstrates the salsa, cha cha, waltz, tango, Argentine tango, swing, and flamenco.
Simpkins' performance exposes the lie not only about who gets to tell the story but who gets to dance the dance. Dance teachers have for centuries defined the aesthetic for each dance style – swan-like neck and body for waltz, tucked in waist and grounded hips for salsa, etc. – but Simpkins explodes all that with bold moves, controlled grace, and sheer passion.
There is a lot more in the journey of Simpkins' story, and it's not all joyful.
She reminds us that you can't have joy without truth.  She can be brutal in one moment, dishing out what it's like being a "black artist in white spaces," and, in the next, show her personal vulnerability with all the scars of racism and cultural and gender prejudice. A Voice Over poetic shard repeats like a musical motif. "You are a fragile thing …of eternalized feathers and oversized lace."
Though the actual set is minimal, the "virtual" design effects include tunnels where she can dance through and, with the magic of green screen, a moment where Simpkins steps inside an earlier Synetic production of Carmen in a choreographic re-enactment with the whole cast. Simpkins' one-woman show is proof that Synetic is getting more sophisticated with its videographic prowess than even a few months ago with it series of thirty short pieces based on The Decameron.
It feels like a race to the end, perhaps because of some holdups due to technical difficulties. The "Joy" box, most of its contents unopened, has been forgotten. But the substance of the work holds. Director Katherine DuBois has balanced the pathos with moments of defiance and cheeky humor. Most of all, the team has used camera in close-up format and direct address to achieve an intimate theatrical experience that feels oh so one-on-one.
Simpkins delivers what she promised on the promo, "the epitome of Black Girl madness."   If you like this, you'll want to see its twin solo, Zoom-as-theatre performance, Joy! with Vato Tsikurishvili, directed by his own papa, Artistic Director of Synetic Paata Tsikurishvili. Simpkins assures us "it's just as dope."
---
Joy! Created and adapted by Chris Rushing . Directed by Katherine Dubois . Performed by Maria Simpkins . Choreographer: Katherine Zukeri . Composition and Sound Designer: Sinan Refik Zafar . Produced by Synetic Theater . Reviewed by Susan Galbraith.
Maria Simpkins' Joy! performs in rep with Vato Tsikurishvili's response October 16 – November 8.
Tickets: $22 – $34, which includes prop box. Available here.