February 8, 2020 I sat in GALA's historic entertainment "palace" to review Nilo Cruz' Exquisita Agonia. It was the last time (pre-Covid) I enjoyed live theater. Nine months later, Managing Director Rebecca Read Medrano has done what no other theater in Washington has been able to do – mount a season and reopen an indoor theater with the Mayor's and Homeland Security's seal of approval – by a series of strict protocols, deep cleaning, severely limited seating (50) and, most especially, retrofitting an air cleaning system in a costly but extremely far-sighted investment.
The company has opened its forty-fifth season with a smart comedy from Spain's Golden Age by the prodigious master playwright Lope de Vega. Commissioned by GALA, the new adaptation of El Perro del Hortelano (The Dog in the Manger) by Paco Gámez makes it a world premiere, and the show darts through the twists and turns of the original plotline with the speed of a steeplechase. Gámez makes the story feel very fresh.
It's classic comedy: figures popping in and out of symmetrically placed doorways, a pair of lovers caught in trysts, goofy suitors after a prize female, and that jealous haughty female flip-flopping between going for broke to get her man and retreating to her high station as contessa.
While Americans will say they don't think class is such a big deal, there are still unspoken strictures which makes this serving up of fruta prohibida all the more tantalizing.
Director José Zayas gets great mileage from the two central metaphors of forbidden fruit and dog in the manger. Zayas knows exactly how far and fast he can push the physical comedy, and there are moments of sheer loony tunes.  But he also knows how both images can suffice to build authentic dramatic tension. In the best moments of the evening, you feel both happening at once.
In the first scene, someone has stolen into the home of Diana, an unwed countess and head of her household. Understandably alarmed, she calls the entire staff together.  In they troop in various forms of pajamas and nightwear (looking, I might add, much like all of us, who have quarantined in our homes for months.) Only Diana struts around in tall acrylic heels and a black metallic see-through affair made up of pants and overskirt short in front and descending to floor behind, immaculate blonde ponytail, and an entire look that screams as half-time get-up of a popstar at the Super Bowl (if we could have one this season.)
Soraya Padrao as the Countess Diana strides, sits erect and poses, and conveys beautifully her class status and a certain severe dignity that feels true to classic Spanish style and character. Her quick changeability and a certain emotional carelessness makes us recognize in her portrayal that Diana is also all about America's stand-in for a royal or noble class: contemporary pop-star darlings.
Ariel Texidó as the love interest makes every moment reveal another side of this flesh and blood man. Far from being Padrao's straight man, his Teodoro (Household Secretary) carries on through his own machinations, juggling a romantic interest with his mistress, the contessa, with a carnal affair with another member of the household, Marcela (Catherine Nunez.) His befuddlement in getting in over his head is both funny and in moments quite endearing.
Seeing GALA company members again after so many months feels like welcoming a returning family. Most of the cast of seven does double duty. Nunez is delicious, playful and teenage-goofy one moment then when jilted a raging b-woman. Delbis Cardona, Carlos Castillo, and Oscar Ceville play an assortment of foppish nobles and servants and infuse them with physical clown fun that we have needed for some time. Luz Nicolás also takes two supportive roles, a household member and at the end the plot-boggling intervention as Teodoro's faked father, and delivers strikingly different portraits: one a little nosy and more than a little collapsed and sad, and the other, albeit a cameo, positively whacky and indelibly sparkling.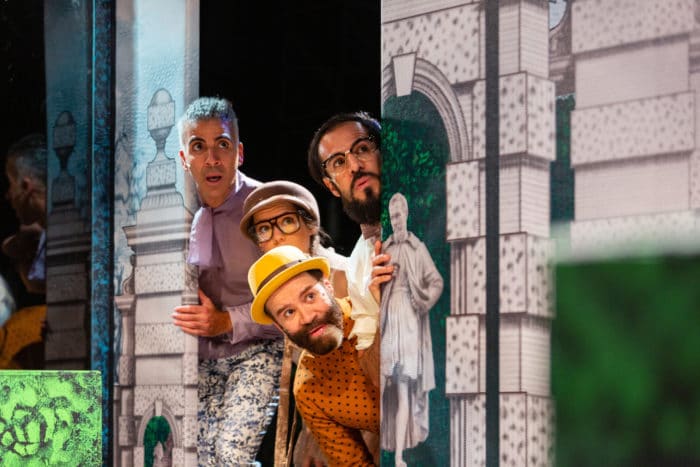 Clifton Chadick's scenic designs have been highly notable in other productions, including Exquisita Agonia, and here is no exception. Rather than a heavy set, he creates an airy cage making the whole story take place in an outdoor garden room with rich blue patina frets. The back wall of the set features painted statuary, while sculptured topiary serve as accents of green even providing benches than can be rolled around. Alberto Segarra further transports us to this garden of earthly delights with his light design.
Of course at times in our politically correct world, one has misgivings about the whole premise. Along the way, we can't forget that power has been shown to be willful and corrupt. Marcela's imprisonment by Diana for her relationship with Teodoro is plainly cruel. Unjust incarceration should be punished. There is more than a bit of misogyny in Teodoro's resolve to cut ties with Marcela and move on with Diana.  Were we supposed to think of them only a "friends with benefits?" Diana's snobbery feels more than a trifle offensive, and one wonders "can this marriage … [built on betrayal and deception] …be saved?"
This is not a foot stomping, screamingly funny comedy, but there is much wry wit in the writing. Most importantly, watching Zayas' strong direction and the actors give fully to character and rich physicality will remind us of the joy of theater and its role to bring us together and hold a mirror up to our follies and our hidden desires.
El Perro del Hortelano (The Dog in the Manger).
Available through Nov 22, 2020
Tickets: $25 – $45 View in person
---
El Perro del Hortelano (The Dog in the Manger) by Lope de Vega. Adapted by Paco Gámez. Directed by José Zayas. Scenic Design by Clifton Chadick. Lighting Design by Alberto Segarra. Costume Design by Moyenda Kulemeka. Costume Design by Jeannette Christensen. Properties Design by Tony Koehler. With Soraya Padrao, Ariel Texidó, Luz Nicolás, Catherine Nunez, Delbis Cardona, Oscar Ceville, and Carlos Castillo. Produced by GALA Hispanic Theatre. Reviewed by Susan Galbraith.