These are the plays that won't let go. They are there as I drift off to sleep, or, unbidden, come to me during the day. This happens more often now, as work here slows to a close. You probably have your list of best plays and performances. This is not that list. These seem to have touched me the most deeply. And so I share them with you, with gratitude to the creators and producers who brought them to us.
[sic] by Melissa James Gibson, Theater Alliance, 2004
Somehow I found Theater Alliance at H Street Playhouse, and had my first sighting of  Susan Lynskey, Ian LeValley and Michael Glenn, director Kathleen Akerley and artistic director Jeremy Skidmore.
A play perfect for these isolating times, three solitary souls, a composer, a writer and a would-be auctioneer, live in their own spaces (Thomas Donahue managed to give them all their own rooms with a hallway running from the set out into the audience for their occasional meet-ups in the tiny H Street space.)  Gibson's dialogue was refreshingly witty (I could go on and on about the auctioneer's monologue) and when the turn comes for poignancy, Gibson had all three, alone in their rooms, say "I want someone to open the door and be excited to see me."
A Headsman's Holiday by Kornel Hamvai, Theater Alliance, 2005
More wit, some of it quite wicked, at Theater Alliance. Beheadings are picking up as the French revolution unfolds and a talented but mild mannered professional headsman is transferred to Paris as the revolutionaries become increasingly blood thirsty. Jeremy Skidmore brought director Aaron Posner to town for this. Review
Irish Authors Held Hostage, John Morogiello, 2006
I remember Tim and me stumbling out from the Warehouse Theater on 7th Street, trying to regain our composure. Each "remember…" triggering a new fit of laughter over this comedy about terrorists who, figuring Irish writers would be good for ransom, capture Oscar Wilde, George Bernard Shaw, Samuel Beckett, James Joyce, W.B. Yeats, Sean O'Casey, Brendan Behan, among others. Naturally, the writers, in true O. Henry Ransom of Red Chief fashion, were too much for the hostage takers. Review.
We have BEGGED John Morogiello, who now runs Best Medicine Rep, to restage this. Maybe you can convince him.
Assassins by Stephen Sondheim, 2006, Signature Theatre
While almost universally disliked by critics, I liked the shock of  Joe Calarco's decision to have the audience sit facing a mirror image of themselves while the assassins play among the seats. Andy Brownstein's sloppy, maniacal Samuel Byck has yet to be topped, no matter how often I see the musical. Review
And how often have you recalled  Sondheim's "Something Just Broke" in this year of mounting tragedies.
Girl in the Goldfish Bowl by Morris Panych, 2006, MetroStage
Two years after first seeing her in [sic], Susan Lynskey, who is very much an adult, brilliantly played Iris, a brainy, sometimes bratty pre-teen who sets out to observe and solve the tragedy that is her dysfunctional family and its guest boarders.  Review.
Mojo Mickybo by Owen McCafferty, 2007, Keegan Theatre's new island project
Theatre on the Run is a simple space in a community arts center. Through one of the metal doors just offstage can be seen and heard classes passing in the hall.  I don't recall a set for this play or little underscoring, and so the job for two actors playing Belfast boyhood friends and members of the town, must fill the space and fight any non-Belfast sounds entering the room. Not a problem for Christopher Dinolfo and Michael Innocenti, who rough house and laugh and pretend to be Butch Cassidy and Sundance Kid while the troubles of 1970 Belfast draw near. Review. 
Who's Afraid of Virginia Woolf by Edward Albee, 2007  (Bill Irwin as George)
I was lucky enough to see two definitive version's of Albee's George and Martha battle to the finish. Both haunt me.  Of the Bill Irwin-Kathleen Turner tour in 2007, I can do no better than to quote our reviewer: "Kathleen Turner and the astonishing Bill Irwin … turn his signature characters of Martha and George into drunken angels of despair.  It is church as much as theater, and it will give you a scrubbing.  Halfway through the play you will feel as though you need a shower, and at the end you will feel as though you had one." Review
And then, in 2011, the Steppenwolf touring production came to Arena Stage.
Who's Afraid of Virginia Woolf by Edward Albee, 2011.
Tracy Letts still had the sweater and behaviors Albee specifies for George, but, as Jayne Blanchard describes it, beneath it lies "a lethal and sophisticated aggression that lacerates like a fine boning knife." Sympathy pivots to Amy Morton's Martha. All tables were turned and glasses smashed. Review.
---
If there is hope for theatre as it evolves it is that directors and performers will still continue to find new truths in classic plays that will unsettle us as as much as these two Virginia Woolfs have done for me.
---
She Stoops to Comedy by David Greenspan, 2007, Woolly Mammoth Theatre
A cast of four take on multiple roles in this very funny comedy. Kate Eastwood Norris plays two characters who finally end up in the same room together. "Worth the price of admission," our reviewer wrote. But it is Daniel Escobar's  monologue "Who would want to see a play about that?" that keeps this on my list, that question a reminder of how important minor moments truly are. Review.
Who would want to see a play about that? Me.
Rorschach Theatre, in its early days, performed some extraordinary works out of the rough and tumble Sanctuary Theatre  in Columbus Heights:
References to Salvador Dali Make Me Hot by José Rivera, 2007, Rorschach Theatre
While, below him, a war-torn couple work out their relationship and a cat and coyote carry on, Scott McCormick, playing Moon, stands atop a refrigerator singing "Blue Moon."  Try to forget that image! Review
Who needs a fancy theatre when you can produce shows like these in an abandoned church: This Storm Is What We Call Progress  featured the astounding Karl Miller, 2008, and Adam Jonas Segaller making what I declare is the greatest entrance in DC theatre history in Kit Marlowe, 2007.
Peter and Wendy, 2007, Mabou Mines at Arena Stage
Karen Kandel, as the mother, tells us a story of the night her children flew out of their bedroom window, off to some grand adventures.  She and puppets play all the roles.  It unfolds delicately, but something always seems a bit off. She may be entertaining us.  Or, as I came to believe, she is telling the story she tells herself to protect against the fact that her children died in a fire which consumed her house.  I saw it in her eyes as she left the stage, the smiling storyteller dropping away, leaving a look of horror she could no longer keep to herself. Review.
Until I sat in on Debbie Jackson's interview with Ms. Kandel, I thought I imagined that look. When I asked her about it, she smiled, as though to say, you have found me out.
Macbeth aka "the naked Macbeth", 2007, Washington Shakespeare Company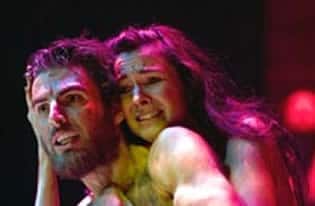 I do hope you saw José Carrasquillo's interpretation of Macbeth which, he told us, was to set the story prehistoric, where humans were primitive creatures, and therefore, unclothed, roaming within a primeval forest. We write, in 2007, that there would never be anything as boldly artistic as this again. And we were right. Review.
Were I not to include this next one, you would know me as a liar.  In 2007, I created and produced Queen of the Bohemian Dream for Capital Fringe. It was a tribute to the great lyricist Fran Landesman, who was so delighted with it, she recorded a passage from her flat in London to end the show.
Queen of the Bohemian Dream, 2007, Capital Fringe
A huge thank you to the cast and director Michael Bobbitt. Fran's lyrics could be Sondheim-like tricksters, and rehearsal time was short. When Nelson Pressley of the Washington Post, seeing the first performance which received a standing ovation, asked how long the show ran, I confessed, I hadn't noticed. It was our first time through.  Review
Discovering a new performer or a new play is one of the joys of covering theatre for 15 years.  But being at the opening of a new company in their own theatre, built by the company members themselves, has only happened once.
The Suicide by Nicolai Erdman, 2008, 1st Stage
The marvel of this play is not just that it's a comedy by a Russian playwright whom Stalin promptly exiled to Siberia, nor that it introduced us to Lucas Beck, a gifted trombone-playing actor, nor that its detailed set had professionally rendered Social Realism art on its walls. It is that, against nearly everyone's advice, it launched the ambitious 1st Stage in the middle of a recession (the  one before the one before) with the US premiere of a play the title of which could well have had its naysayers say "Well, I told you so."  Review
In 2009, we were there when a foreign policy advisor on South Korea, not having studied playwriting or even having briefed himself on the field, wrote and performed one of the most original plays I have ever seen.
Krapp's Last Power Point, 2009, Capital Fringe Festival
A scientist has come to Washington to sell those in power on his latest discovery: a genetic modification which he calls "the love bug." While nearly everyone else on the planet would have had a field day with this, Dr. Krapp is nervous, meandering, and boring. So boring his mind wanders to the fact that his wife has left him. To help himself, and us, get over the worst bits, Krapp invents his alter ego, Father Devine, a showboating salesman in an ice cream suit.  Both parts played by neophite author and actor, John Feffer. Review.
Most of you probably never saw Krapp's Last Power Point, and John Feffer has dodged all attempts (on my part) to perform a reprise. Fortunately, he has dropped the performance in 10 parts on YouTube.
In 2009, with The Oogatz Man ,we learned that playwright Kathleen Akerley can be a Tom Stoppard stand-in.
In 2010, came the revelation that Landless Theatre, whose Grade A musicals of Grade B movies we'd been enjoying, could also pull off a heart-tugging version of the Broadway musical High Fidelity  in a signal of what was to come, their own Sondheim-approved Metal version of Sweeney Todd.
The Goat, or Who Is Sylvia?, Edward Albee, 2010, Rep Stage
It took director Kasi Campbell to look Albee's quirky bestiality play square in the face and find a new interpretation of Martin. From the moment Bruce R. Nelson staggered into the living room where he would ultimately confess to his wife and son, we saw a man simply sodden with love. I wrote to Albee, with whom I happened to be in correspondence at the time, that I felt I had finally seen, at Rep Stage, the Martin he had intended to show us. Review.
Side Show, Bill Russell and Henry Krieger,  2014
There was great hope that the 2014 revival of Side Show would have a long and glorious run once it closed at The Kennedy Center. Unfortunately, it lasted less than 3 months.  But those who saw it here will long remember Emily Padgett and Erin Davie as conjoined twins, Robert Joy as the evil barker and most especially those glorious freaks.  Review
Still Life with Rocket by Mollye Maxner, 2017, Theater Alliance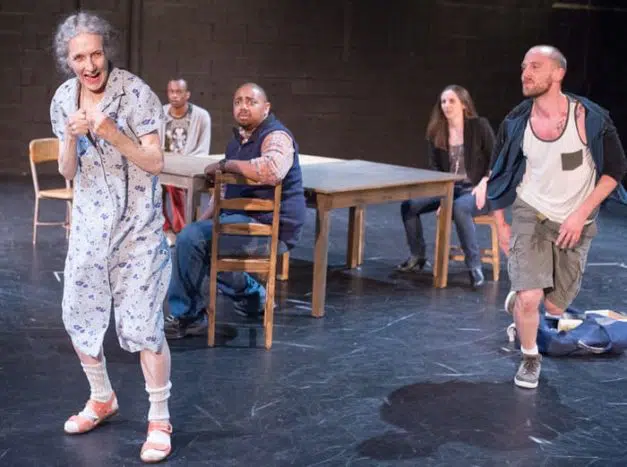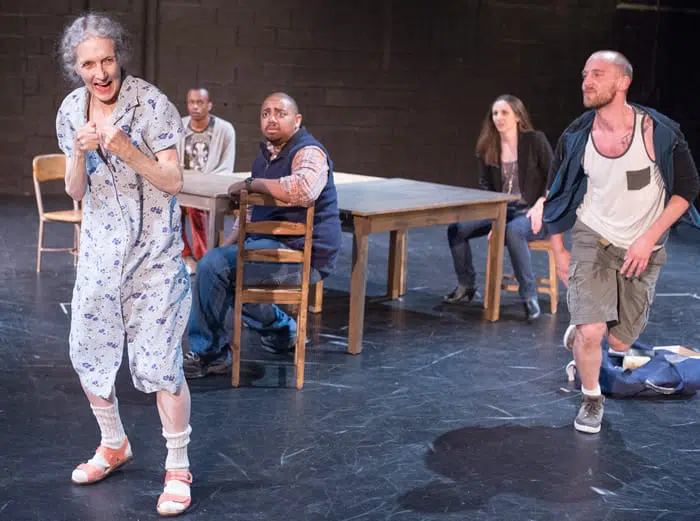 This is the one.  The biggest memory tug. The one I say, when I see them, "Thank you, Annie .. Justin … for Still Life."  And they say, "It's one of my favorites, too." A brave cast totally committed themselves to creating the world of the Fisk family. A play so tender, you thank whoever is up there for the likes of this play. Review and this feature
---
It may seem strange to end this reverie in 2020 at Olney Theatre Center. We're missing so many plays I could linger on in between. But this became the last live performance I saw in our area this year.
The Amateurs by Jordan Harrison, 2020, Olney Theatre Center
There we were on Sunday, March 15th: a daunting cast of Emily Townley, Evan Casey, John Keabler, James Konicek, Michael Russotto, and Rachel Zampelli were knocking themselves out wringing every bit of humor from a comedy about the Black Plague in the 14th Century.
I know. To quote Daniel Escobar (see above) – Who would want to see a play about that?
We all did.  And as the troupe dragged their ark across the stage and stopped in front of me, the cast delivered their last lines. Emily Townley caught my eye, and we both started to cry.
It was over and we knew it.