Were there magical moments on New York stages in 2020? The question is debatable – just like the definition of "theater" is being debated – since nobody has been performing on any actual stages on Broadway, or Off-Broadway, or (with rare exception) Off-Off Broadway, for the last nine months.
It was clearer the first year I began contributing to DC Theatre Scene, in 2015.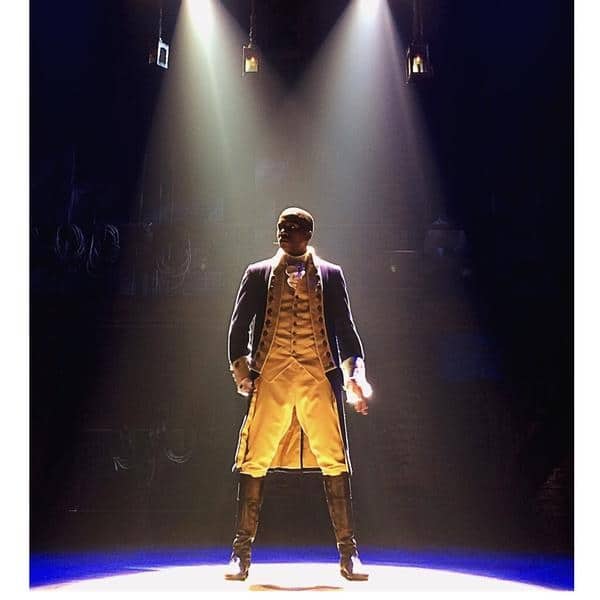 That was the year of Hamilton, and I was struck by the moment in the musical when Leslie Odom Jr. as Aaron Burr realizes he's been outsmarted and betrayed, and he sings "I wanna be in the room where it happens," a spectacular rhythm and blues number that is as insightful about political power as it is exciting to watch.
There was another memorable moment that year at the very beginning of Lincoln Center's ravishing The King and I, after the 29 musicians played the lush overture in an orchestra pit that looked to be in the middle of the auditorium – and suddenly a magnificent ship slid all the way out over that orchestra pit in a rolling fog.
I counted memorable moments from 13 different shows that year; in each of the four years that followed, the number grew. Most have not been on Broadway, and some of them were not in shows that I liked.  Some were purely visual; some were largely verbal; in different ways and for different reasons, they've stayed with me, which is what happens with live theater.
Among the worthwhile moments I saw on stage in 2016, a surprising number became more memorable because of off-stage events.
It became impossible to remember the Radio City Rockettes performing to Singin In The Rain without thinking of Debbie Reynolds, who became a star at age 19 because of the movie that introduced that song, and who died at the end of 2016 at age 84, one day after the death of her daughter Carrie Fisher.
The sadness was not just off-stage. One of the most moving moments that year occurred in a much quieter work of theater, Tiny Beautiful Things ,based on a real-life advice columnist. A correspondent who calls himself "Living Dead Dad" tells her his son was killed by a drunk driver. "Your son hasn't yet taught you everything he has to teach you. He taught you how to love like you've never loved before. He taught you how to suffer like you've never suffered before. Perhaps the next thing he has to teach you is acceptance. And the thing after that, forgiveness."
In 2017, the events in the world threatened to upstage anything happening inside theaters, which may be why two of my favorite moments on stage that year — one at the very beginning of the year, and one at the very end –were wordless.
In Confucius, the curtain rose to reveal row upon row of performers bathed in stage smoke and glowing blue light, then glowing yellow, then glowing red. In alternating rows, the men — dressed in bright blue billowing robes with flowing sleeves – and the women — in deep red – leapt and bounced and bowed, and then circled one another with dignity and grace. It was stunning.
The very first moment in Farinelli and the King, the very last play to open on Broadway in 2017, was thrilling, because it was the moment we saw the sumptuous set, multi-tiered, rich dark wood, red brocade and pre-electric chandeliers that were lowered in front of us, so that the performers could light the candles in them. What helped make this so memorable is the excitement of anticipating what will follow.
Of course, wordless is not always a salve. It can be haunting. In 2018, I saw The Damned, Ivo van Hove's adaptation of Visconti's film about the rise of Nazism and its corruption of a German industrialist family.  At one point, son Martin (Christophe Montenez) cruelly and methodically tars and feathers his own mother, the scheming Baronne Sophie von Essenbeck (Elsa LePoivre.) — one of the many startling moments that drove home the horror.
That same year, there was a memorable moment in The Hendrix Project, when it became clear that all the characters attending Jimi Hendrix's 1969 New Year's Eve concert as the Fillmore East — the last such concert before he died — would be staring at us like zombies for the whole show (as if watching Hendrix) and not say a single word in the entire time.
In 2019, André De Shields commanded the stage in Hadestown from the get-go. The show begins in complete silence as the rest of the cast watches Hermes, in his elegant, grey silk suit, slide across the stage, pause, and open a button to show a loud and splendid vest, before trombone player Briane Drye lets out a blast from jazz heaven and De Shields launches into the get-down "Road to Hell." It was the quietest, and most mesmerizing moment on a Broadway stage all year.
Ali Stroker as the fun-loving, oversexed Ado Annie in Oklahoma!, teases and kisses, flirts with and sings to the dim Will Parker (James Davis), — and most memorably swings with him gleefully on her wheelchair.
Did 2020 have such stage moments? Maybe not so much. But I went back through the year and I found something almost comparable — call them theatrical expressions.
There was, top row, the expression William Jackson Harper and his dog gave each other in  Stephen Adly Guirgis' Don't Look Back, a play just several minutes long that was part of 24 Hour Plays' Viral Monologues; Stephen Sondheim singing Andrew Lloyd Webber Happy Birthday while washing his hands, a savvy pandemic-period joke, as part of the one-night-only return of The Rosie O'Donnell Show in March, a week after all theaters shut down — the first of the many mass gatherings of entertainers as fundraisers for The Actors Fund this year; Rachel Dratch in A Story of Survival by David Lindsay-Abaire, also in Viral Monologues; Meryl Streep as one-third of the tipsy triumvirate in "Ladies Who Lunch" (alongside Audra McDonald and Christine Baranski, part of Take Me To The World: Sondheim's 90th Birthday Concert;
Second row: Michael Urie in Buyer and Cellar, Celia Bolger-Keenan as Sally in an early Zoom reading of Lips Together, Teeth Apart shortly after the death of its playwright Terrence McNally, when, in response to another character saying " I think these are terrible times to be a parent in," Sally says: "I think these are terrible times to be anything in."; Gideon Glick in the Zoom reading of Joshua Harmon's Significant Other,  which he had portrayed on Broadway, finding hilarious ways to translate his character's comical anxiety, from the neck up; Jake Gyllenhaal  looking longingly at the unattainable neighbor in lockdown in the four-minute musical Across the Way.
Third row: Judith Light as a woman going crazy with regrets  in All The Old Familiar Places by Jon Robin Baitz, as part of The Homeland Project; Alison Pill as one of the seven stressed-out frontline New York City medical workers in The Line, by Jessica Blank and Eric Jensen, based on interviews with actual stressed-out medical workers; Mia Katigbak as her character in  Russian Troll Farm tells the story of her life from heartless childhood to bloodless apparatchik; Kara Young equal parts innocent and fierce as the 18-year-old orphaned title character in Bulrusher, a production by Paula Vogel, one of many theater artists who stepped up to this moment in history.