Presented by Spooky Action Theater
Spooky Action Theater
1810 16th Street NW

Washington, DC 20005
202-248-0301
$30 - $40
Show Dates
Thursday, Mar 12, 8pm
Friday, Mar 13, 8pm
Saturday, Mar 14, 8pm
Sunday, Mar 15, 3pm
Thursday, Apr 2, 8pm
Friday, Apr 3, 8pm
Saturday, Apr 4, 8pm
Sunday, Apr 5, 3pm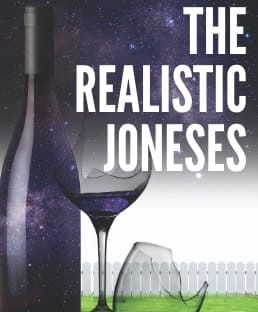 Spooky Action Theater says:
2020 begins with the Washington premiere of  The Realistic Joneses, by critically acclaimed playwright Will Eno, directed by Gillian Drake, Spooky Action Theater's New Works in Action Program Director.
In this "humane, literate and slyly hilarious" play (New York Times), two couples find they share a lot more than their last names.  Ever stumbling towards meaningful relationships, humor caps their encounter with an unsettling truth that lies just below the surface.
The Realistic Joneses
by Will Eno
Directed by Gillian Drake