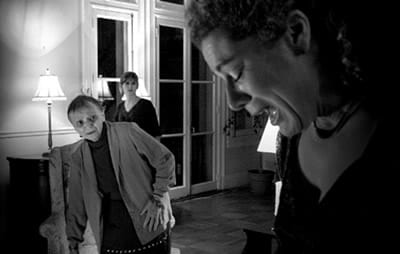 Since I have been reviewing theatre in DC I have had the great opportunity to see some pretty incredible theatre from companies just starting out. Recently many of these "fringe" companies got a boost from a two page spread in our paper of record that outlined an exciting kind of theatre that many DC theatre goers are not used to. Watching a production in a smaller space is a truly incredible experience that is unrivaled by the more conventional night of theatre at a larger venue. These companies do wonderful work with far less resources and also bring to stage plays that are more risky and edgy.
There is only one catch! You have to go! Sometimes due to a shortage of performance spaces here in DC one may have to travel a few extra miles or drive around a few extra blocks to get a parking space. That my dear friends is what it takes to support companies that desperately need your butt in their seats! I cannot stress strongly enough how important this is for the DC Theatre Community.
So if you love theatre and you would like to see the DC theatre scene grow and prosper take it on yourself to support some of this great art.
Some March shows worth seeing:
Didactic Theatre – God Of Hell
Solas Nua – The Mai
Spooky Action Theatre – Rameau's Nephew