Didactic Theatre Company is a fresh addition to DC theatre for a number of reasons — the most important is they stick to their mission which includes making us think outside the box. Even though their latest show, Rebecca Gilman's The Glory Of Living, is not up to the standard set by their last few productions it none the less has redeeming qualities that point Didactic on the path to a bright future.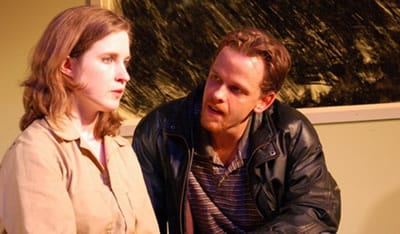 Glory is a story of neglect and child abuse that asks us to first feel empathy for the victim, a young wife and mother (Lisa) and then forgive her for terrible crimes she commits as a result of that abuse. The first act opens with Lisa (Casie Platt) meeting a much older Clint (Clay Steakley) in the one room apartment she shares with her mother who is servicing a John in a curtained off makeshift bedroom. After a bit of light conversation and listening to the sounds of mom and her john only yards away they leave for a drive and the "quarry" in his pickup. They get married and have a set of twins before the next scene change — we never even hear a proposal, the ceremony or a simple "I do". The lights come up to our newlyweds, now just married couple in a motel room but there is a slight twist. A young woman has been procured for her new husband. Yes, Clint has Lisa troll the local strip malls for young female runaways who she can bring home to be raped by him and then disposed of by her. Despite this seemingly large development the entire first act drags along with extremely visual, violent sex scenes but little more plot development until the police finally show up to arrest Lisa and Clint for the grisly murders.
The second act is about Lisa's attorney (Christopher Powerman) trying to determine the underlying reasons for her murders and self incrimination. She quickly admits to murdering these young women, but the reason for her actions are vague at best. It is almost as if she cannot understand herself at all. The last scene, probably the play's best, has Lisa and her lawyer finally breaking through and Lisa learning a few notes on her little piano while the executioner awaits sometime in the not too distant future.
Casie Platt gives her character everything she has at her disposal but unfortunately for Casie and us the character is an empty glass of water. Clay Steakley has far more to work with and his Clint is a believable sexual predator that you have no problem hating. Supporting performances are uneven – I never felt the police officers achieved credibility. Christopher Powerman as Carl gives a strong performance but by the time his character makes his entrance it is too late to save the production from being anything more than "the one that got away".
Didactic Theatre is to be congratulated though for even attempting a play such as this where the only likeable character is introduced the second act. This is a play with no easy answers or any answers for that matter — what is learned though is Didactic does not shy away from difficult material and instead intends to grow from difficult choices. That is a sign of a company to watch.