Saturn Returns, White Christmas and Speed-the-Plow cast at the Drama League Luncheon
by Richard Seff
Noah Haidle, the author of Saturn Returns at the Mitzi E. Newhouse Theater, is new to me, but he's been produced in many of the nation's most prominent regional theatres, [Ed. note: Haidle's Vigils was seen in DC at Woolly Mammoth.]and a recent cycle of 12 of his plays was read at the Goodman Theatre in Chicago under the direction of Robert Falls. So there is no question he's entitled to a Lincoln Center outing. But there comes a time when a playwright must stop being 'promising' and begin to deliver.  Most of the New York critics were impressed by this memory play, but I found it consistently lacking in veracity, and its dialogue was, to my ear, consistently unreal.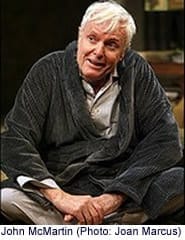 We are asked to accept that a man named Gustin, whom we meet at 88 in robust good health, must hire an expensive professional nurse to keep him company.  When she discovers that he has no real need of her, she threatens to quit, but he charmingly convinces her he needs her companionship and she agrees to stay on. Already, I'm lost. Why would a practical young aide even consider quitting a well paying job looking after an octogenarian? Why would a healthy octogenarian need to pay a comparative fortune to someone to visit each day, leaving him alone all night long when he could just as easily advertise for a housemate who would share the lovely home in Grand Rapids, Michigan in which he's lived for 60 years, and which clearly has ample room for a sizeable  family? John McMartin, as the elderly Gustin, is a resourceful actor, and he does convey the loneliness he feels without his wife and daughter. But here's the rub. His wife died in childbirth when he was 28, and his daughter died in a swimming accident before he was 60, so they've been gone a long time. I found it hard to believe that he's had no life at all since then, that he's still obsessing over these tremendous losses. For he has been a most successful surgeon, has enjoyed a distinguished career, but apparently has no one in the world to whom he can turn except a paid professional caretaker.
The conceit in this play is that three actors play Gustin at 28, 58, and 88 – but I didn't believe any of them. The young man is introduced to us in scenes with his fiancé, Loretta, whom he eventually marries. She seems somewhat dotty, incapable of finding anything meaningful to do during the days when he is becoming a doctor. Once he makes it, she seems ecstatic one minute, desperately unhappy the next. At one point she says to him: "Kiss me like we're happy."  I don't know – this did not sound to me like the kind of relationship over which one would mourn for the next 60 years. The moment Loretta delivers their daughter, she ups and dies. Next we come to daughter Zephyr, who is stuck looking after a very needy Dad Gustin until, almost 30, she leaves him abruptly, hoping he'll find happiness via a dating service.  In other words, he'd become as dependent on her as his wife had been on him. Not convincing. And there was something about "Gustin at 58" in the writing and in James Rebhorn's performance that I found cloying and cute. For example, he could never resist an opportunity to tell an unfunny joke, and that's not attractive  — perhaps that was why daughter Zephyr (an odd name for a young lady in Grand Rapids in the'70s, wouldn't you say?) dumped her dear old dad without warning on the very evening he had a blind date. I found it totally contrived that Old Gustin tells his aide that she bears an uncanny resemblance to his dead daughter, and tells his daughter the she constantly reminds him of his dead wife, all of which seems to be making the case for having the same actress play all three roles. The fact that all three women sounded alike, (differing only in the way they wore their hair and the clothes they put on their backs) didn't help.  I won't spend more time on this play, because it's in for a limited run and I don't expect it will have much afterlife. The one truly redeeming feature about it is the lovely performance of John McMartin, who last season enlivened Grey Gardens and Is He Dead? Any play that gives employment to this fine character actor has sufficient raison d'ètre. Forgive the French, but it seemed apropos. Oops, there I go again.
Saturn Returns continues at the Mitzi E. Newhouse Theater at Lincoln Center through January 4th. For tickets, click here.
__________
For our next foray along Broadway, think "nice."  If nice is enough for you, you'll have a fine time at the stage adaptation of the film White Christmas..  The movie gave Bing Crosby, Danny Kaye, Rosemary Clooney and Vera Ellen star billing in 1954 via Paramount Studios. It was really rather dull and only happened because Holiday Inn, which preceded it by 12 years, had introduced the song Irving Berlin's "White Christmas" that sold zillions of records, so Paramount decided to name a movie after it, and to fashion a story that could accommodate it.  This stage version was created to sit down in various cities for limited engagements, and it's done well in its debut runs at the St. Louis Muni, in San Francisco and elsewhere.  New York is just another stop, and it's at the Marquis Theatre for a holiday run, into January. There's nothing wrong with it, but it falls into the category of other film-to-stage adaptations of movie musicals. I'm thinking of the likes of Seven Brides for Seven Brothers, Gigi, Meet Me in St. Louis, State Fair. The flavor in all of them is pure vanilla, and again, if that's your favorite, get yourself on down to the Marquis.
The production is totally archaic, but first rate archaic.   It's designed in bright bold colors, very much like those of the 20th Century Fox technicolor musicals. Its choreography by Randy Skinner is voluminous and lively, performed by an attractive ensemble of 'boys and girls' who instantly bring to mind the choruses of the early George Abbott musicals, those invariably choreographed by Robert Alton. It features four personable and talented leads, all of whom would by now be under long term contract, probably to 20th Century Fox. Jeffrey Denman and Meredith Patterson , who play the Kaye and  Clooney roles, would be taken on to stand behind Dan Dailey and Marilyn Monroe should they misbehave, become ill, or opt out of a film. Denman is appealing, sings well, dances in the Dailey tradition, and has the bones to photograph well. Ms. Patterson is a beautiful blonde who can sing and dance, and she could easily have done Gentlemen Prefer Blondes or How to Marry a Millionaire just as Monroe took on the Betty Grable roles and Grable replaced Alice Faye as Numero Uno Blonde  at Fox.
As a rule these adaptations are earthbound, and don't bring much magic to the theatre. Oddly enough, the reverse is equally true – great stage musicals often do not make interesting films.
Certainly A Chorus Line, Annie, Hello, Dolly!, Mame, all smash hits on Broadway, were all flop movies. There is the occasional Cabaret, or more literal adaptations like My Fair Lady and Fiddler on the Roof, but on the whole the two coasts are better off working on their own self- generated material. I had a good enough time at White Christmas but its feeble humors brought only smiles and the occasional groan, its quaint staging brought a nostalgic glow to the proceedings. Big numbers often ended 'in one', so that scenery could be changed behind a curtain, and this was so old fashioned it was almost avant garde and fun to watch once again, for in the stage musicals of the early golden age, it was 'de rigeur' to make scenic changes in this manner.  Walter Bobbie, the director, chose to go the safe route with White Christmas and what he came up with is a nice show, well paced and beautifully cast. You won't rise to your feet to cheer it, but you'll have a pleasant time, and you'll be introduced to some delightful talents, from the four leads down to the character actors with small roles who will bring names like Charlotte Greenwood, Keenan Wynn  and Percy Kilbride to mind. And that's good company with which to spend an evening.
____________
A delightful sidelight to my week in New York was the Drama League Luncheon at the 3 East 51st Club just off Fifth Avenue. An annual affair, it's a benefit for the League which does much good for young directors with a program that materially helps get their careers jumpstarted. The League makes many other contributions to theatre, and its members are devotees to the core.
This year, the guests of honor were the entire cast (all 3 of them) of the hit Broadway revival of David Mamet's Speed-the-Plow plus its director, Neil Pepe. The after-lunch seminar was moderated by the inimitable Peter Filichia of Theatermania.com, and there is no one better than he at asking the tough questions, always seasoned with humor and love for theatre. No matter the number of stars on the podium; there is always one more – Peter himself. This time out he had lively respondents in Jeremy Piven of Entourage,  Elizabeth Moss of Mad Men and Ra?l Esparza whose last two Broadway outings were Company and The Homecoming. It's nice getting to know that Mr. Piven and Ms. Moss are not flash-in-the-pan current TV favorites, and that they will in all likelihood be returning to the stage with some frequency, though Mr. Piven admits it's HARD work. Mr. Esparza has proven himself a theatre baby, one who chooses carefully so that each role stretches him further. Consider Merrily We Roll Along, Chitty, Chitty, Bang Bang, Hair, Taboo, Company and The Homecoming, in all of which he was astonishingly good, and you'll be hard pressed to come up with another actor who could be so effective in leading roles in all of them. It was interesting to note that Ms. Moss, the quietest and least eccentric of the three, managed to more than hold her own with her two co-stars, much as she does onstage in the play. You don't need my opinion on this one. It's one revival not to be missed, if you like fireworks on stage, a fine writer advantaged by having a committed and understanding director and three actors who give 110% every night.
See you soon, with more holiday fare from around Gotham.
Richard Seff is author of Supporting Player: My Life Upon the Wicked Stage, celebrating his lifetime on stage and behind the scenes, available through online booksellers, including Amazon.com.
DCTS Podcasts featuring Richard Seff: