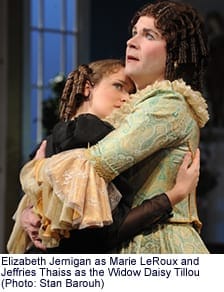 Is He Dead?
By Mark Twain
Adapted by David Ives
Directed by Halo Wines
Produced by Olney Theatre Center
Reviewed by Steven McKnight
Would Is He Dead? have received a Broadway debut in 2007 if it had not been a long lost work written a century earlier by Mark Twain?  It's a creaky and formulaic farce at best.  Yet fostered by the capable talents at Olney Theatre Center, Is He Dead? gradually gains enough irresistible comedic momentum to leave the audience smiling.
The premise underlying the play is that artists frequently gain their greatest acclaim after their death and the value of their works can skyrocket as a result.  The talented yet unrecognized French artist Jean Francoise Millet (Jeffries Thaiss) is encouraged to disappear  amidst planted reports of a fatal illness.  He is aided in this deception by his bohemian friends, Agamemnon Buckner (Eric Messner), Hans Bruckner (Carlos Bustamante), and Phelim O'Shaughnessy (David Frankenberger).  With the money he can make, Millet hopes to rescue his girlfriend Marie LeRoux (Elizabeth Jernigan) from having to save her indebted Papa (John Dow) by marrying the villainous old lecher and art dealer Bastien Andre (Richard Pilcher).
The play unfolds slowly with too much exposition and too little humor.  Just when you are tempted to look at your watch, Twain pulls out that classic comedy warhorse, a man in drag.  In order to watch over his affairs, Millet disguises himself as his widowed sister, Daisy Tillou.  Once Thaiss takes the stage in that loud pink dress, we're hooked.
Thaiss gives a wonderfully light and entertaining performance in the demanding double role.  One of the biggest laughs of the show comes from watching him tackle the simple task of learning how to sit like a lady.  More wacky complications ensue when Andre falls in love with Millet/Tillou.
The comedic drive really picks up in the second act.  Three months later, Millet and friends try to find a way to pull off a fake funeral while resolving an array of contractual and personal dilemmas.  Without spoiling any of the fun, it includes characters in disguise, lots of shuttling people from one room to the next to avoid imminent disaster, and romantic complications.  The final comedic payoff at the end is worth the wait as the Widow Tillou finds a hilarious way to dissuade Andre from his marriage plans.
While Mark Twain excelled in many artistic endeavors, playwriting was not among them.  A seriously needed revision by David Ives cut the work down from a three act work with over 50 characters to this manageable work, while still leaving in some discernible Twain humor.  (I confess to fondness for a line about a Congressman and a barrel of pork.)  While the plot is still too obvious and contains too many clunky asides to the audience, the story manages to move along at a sprightly enough pace under the capable direction of Halo Wines.
Several actors in the eleven member cast give sharp comedic performances.  Eric Messner helps propel the plot forward in the early stages as the leading architect of the deception.  Tara Giordano shines as Cecile LeRoux, Marie's sister whose crush on Messner's character leads her to undertake an amusing covert investigation of the situation.  Finally, Nick DePinto may be having the most fun of the cast while handling multiple roles, including a foppish English art consumer.
The technical elements are also superb.  Jon Savage produces two completely different sets (an artist's studio loft and a grand French home) which are both beautifully rendered.  Kathleen Geldard's period costumes are stylish and, when required, humorous consistent with the story.
Olney Theatre Company has produced better comedy when given superior material such as in its productions of Noises Off.  Still, Is He Dead? is entertaining enough to brighten a winter evening and Olney gives it a fine rendition.  When you add in the curiosity factor of seeing the first Washington area production of a work with such an interesting provenance, this play is definitely an option worth considering.
Running Time: 2:20 (one intermission)
Where: Olney Theatre Center, 2001 Olney-Sandy Spring Rd, Olney, MD
When: Through March 8th.  Wed through Sat at 8 PM, Sun evening at 7:30 PM, and matinees Sat, Sun, and some Wed at 2 PM.
Tickets: $26 – $49.   Call the box office at 301.924.3400 or