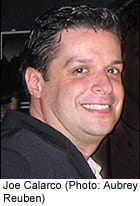 When Joe Calarco told me earlier this year that he was directing one of my favorite musicals – The Light in the Piazza – at Philadelphia Theatre Company's Suzanne Roberts Theatre, I immediately reserved November 22nd on my calendar to see it. Joe is my favorite director of musicals, so I knew I was in for a real treat, and I wasn't disappointed. Joe directs  a visually stunning and emotional production with a great cast that sang Adam Guettel's score so beautifully.
I asked the four time Helen Hayes Award winning director (Assassins, Urinetown, Side Show and Nijinsky's Last Dance, all at Signature) to enlighten us about his vision for The Light in the Piazza, his talented cast, and working with his designers.
Joel: What is it about The Light in the Piazza that made you want to direct it?
Joe: I've wanted to direct the show ever since I saw it at Lincoln Center. It was just the most romantic, lush, beautiful piece of theatre I had seen in a long time. And most importantly, it moved me. I started crying the minute the first notes were played. Just listening to the music of this show – even without lyrics – is an incredibly visceral experience. I think it is simply a show about love and beauty, and maybe most importantly it is a show about risk.
Joel: Talk about your vision for the PTC production.
Joe: It took a long time to come to the overriding concept for the production visually. Set designer Mike Fagin and I met many times going through different ideas, but we soon realized that we were just playing around with ideas that were basically a variation on a theme of the New York production which both of us really didn't want to do. Mike and I have worked together many times, and we've always prided ourselves in never copying someone else's production, and we both really enjoy finding a way for the audience to look at a show with fresh eyes. Finally one day Mike said to me, "Let's go back to square one. What is the show about?" (Mike is always very good with making me go back to the script dramaturgically and answering the basic questions.) I said, "Well, I feel like the overriding arc is that Margaret learns to see the world as her daughter sees it." That immediately got my mind whirling and I said, "I want Clara to create the world of the play during the overture." I don't want to give too much away, but the way that happens scenically is really genius on Mike's part, and I'm proud that we really play that concept through right to the very end.
Joel: In a podcast I recorded with Sherri Edelen on November 22nd, she told me that she was hesitant to play Margaret, because it's not the usual kind of role she plays, and vocally – she was unsure that she could do justice to Adam Guettel's beautiful but vocally difficult score.
Joe: I've worked with Sherri many, many, times, and she is as good as anyone I've ever worked with or ever seen. I think there is very little, if anything, that she can't do. She has that powerhouse of a voice, but on top of that, she is just a really brilliant actress. I've never seen her have a dishonest moment on stage. And she is a thrill to rehearse with – she just gives 110 percent every second of every rehearsal. I would always laugh because she hates taking breaks. She doesn't like that if something is really cooking in the rehearsal process that we have to take a break. She is very hard on herself – she always wants it to be better. She and I had talked in the past about wanting to do this show together. She wanted to audition, and I needed her to audition because I had never heard her sing a role like this, and I just didn't know how it would sit in her voice. So she came in to audition and just knocked us all out. I knew she was the perfect actress for it, but to hear her be able to use the full range and texture of her voice was a revelation – though perhaps it shouldn't have been. She never ceases to surprise or amaze me.
Joel: How did you assist her in preparing for this difficult role?
Joe: I knew she could play it and had to play because of her honesty and fearlessness as an actor. Margaret is easily one of the top five musical theatre roles that a woman can play. She's just a fully realized, truly, three dimensional character. She takes a complete journey during the show, and the way she views the world, and herself, flip flops completely which is just a great journey for an actor to take. I told Sherri that the goal in rehearsal was to find the "frame" of the character and that then she can just run around the canvas,so to speak,  because she'll know the parameters for what is acceptable behavior for the character. Margaret is such a rich character, so the frame is pretty big, and because the emotional stakes are so high in the show, it allows Sherri to actually bang against the frame and take risks. The first time we worked "Fable", Sherri was a little intimidated by it and told me and Eric Ebbenga, the music director, that we needed to let her be bad for awhile. I said to her, "Sherri, you can't be bad, and you can't make a wrong choice as long as it's honest, so just swim around in it and see where you end up. It's a gargantuan role, and I don't think there will ever be a time in such a short run when you won't discover new things to explore."
Joel: Why did you cast Matthew Scott as Fabrizio, and Whitney Bashorn as Clara?
Joe: I'd been hearing about Matt for a couple of years. Karma Camp kept raving about him when she worked with him on Ace. And then when he was rehearsing First You Dream, and I was about to do auditions for Piazza, Julia Murney called me up and said, "You HAVE to see him! He's perfect." Well, I've known both of those women for a very long time and I trust them completely, so I was very much looking forward to seeing him audition, and well, he nailed it. That voice is just so thrilling, and again, just like Sherri, the thing that makes him great is that he is such a phenomenal actor. I always say that the ideal situation is when the casting decision is made for you by the performer, when they come in and they just are so perfect that they cast themselves really. That is what happened with Matt. There was no question that he was Fabrizio.
I'd worked with Whitney before at Lincoln Center and at The O'Neill Music Theatre Conference on a new musical called Picnic at Hanging Rock, and I just adore her. Having seen her in Piazza, anyone can see that it is perfect casting, but actually before she auditioned, her playing the role certainly wasn't set in my mind because I had it in my head that I wanted to veer away from what was done at Lincoln Center, in order for me to see the show in a fresh way, and that production had a beautiful blonde as their Clara, and I was still thinking of mixing it up. Then Whitney came in and just wiped all those thoughts off the table. First of all, she has just the most stunning voice. It's just very breathtaking and haunting to listen to. But again, just as with Sherri and Matt, it was her acting that won her the role. I think Clara is the most difficult role to cast in the show. She has to have a certain luminous quality that you can't really direct someone into. Interestingly, there were moments in tech when lighting designer Lee Kennedy and I had to take down the intensity of Whitney's spotlight because she was too bright. Her spotlight was at the same level as everyone else, but because she just catches light so beautifully and because she has found such a vibrant inner life for this character, she sort of glows on her own. When we got into Act 2 is when she really impressed me—the fearlessness with which she attacks the role when Clara's world starts crumbling around her is astonishing and heartbreaking. I think she has found things in the role that no one else who has played it has.
Joel: Tell us about how you directed the relationship between Margaret and Clara.
Joe: Having worked with me before, I think they both felt very safe in the room, and they just dove in. It's a very difficult thing to do – we forget that actors have to have an instant intimacy with each other. That's scary. But they both just went for it, and I think the intimacy and chemistry they have on stage together is one of the strengths of the production – it's really the core of the whole show and the thing that gives the show its emotional depth.
Joel: What were some of your major challenges adapting the show for the Suzanne Roberts stage?
Joe: Honestly it wasn't a challenge. It was freeing. It's just a gorgeous space, and the fact that it is a proscenium house gave me and the designers more freedom to look at the show differently than what was done at Lincoln Center, which was done on a thrust stage.
Joel: How much contact did you have with Adam Guettel on this production?
Joe: You know I didn't have any, surprisingly. I could easily have reached out to him, but I think I just wanted to fumble around in the forest by myself. And I'm sure I also felt intimidated which only had to do with my own insecurities—I mean the man is a genius and the show is one I've wanted to do for the past several years. I did hear through mutual friends that he was very excited about the production and that I was doing it.
Joel: He was at the Nov 22nd performance, and you interviewed him after. Did he like it?
Joe: He was very generous and complimentary to all of us, which was thrilling.
Joel: Tell us about the musical arrangements for this "chamber" production.
Joe: These orchestrations were first done two summers ago when Adam was involved with a production up in Vermont that did it with an eight member cast. There are only five pieces in the orchestra (piano, violin, bass, cello, and harp) and the orchestrations are just gorgeous.
Joel: Please invite the DC Theatre community to come see The Light in the Piazza at PTC, and tell them what kind of theatrical performance they will see.
Joe: I'd LOVE for D.C. folks to come and see it. It's a production that I am very proud of, and they need to come and see it if only to see Sherri's revelatory performance.
Joel: What's next for you?
Joe: I'm directing a reading of a new musical called Dogfight by Peter Duchan, Benj Pasek, and Justin Paul at Lincoln Center in December, and then later in the spring I'm directing the musical The Burnt Part Boys by Mariana Elder, Chris Miller, and Nathan Tysen at Playwrights Horizons.  For more information, go to Joe's website.
The Light in the Piazza continues thru Dec 13th at Philadelphia Theatre Company, 480 S. Broad Street, Philadelphia. Call 215 985-0420 or
Related:
Podcast with actors Sherri L. Edelen and Matthew Scott about playing Margaret and Fabrizio and working with Joe Calarco.