Three golden oldies returned to brighten the season:  Hamlet for a successful run on Broadway with Jude Law as the Prince of Denmark, Girl Crazy for just five performances as part of the Encores! season at the City Center and Bye Bye Birdie for a run at the refurbished Henry Miller's Theatre on 43rd Street.
I finally caught up with Jude Law's Hamlet in the final week of its New York run, and now it's returned to England, star and company with him. I hope some of you had the opportunity to see it, for  Michael Grandage (director)  and Mr. Law made it new and exciting all over again. Out of the Donmar Warehouse in London, this uncut Hamlet strutted and fretted its three and a half hours upon the stage with great force and impact. It was a vigorous approach. Law's Danish Prince was a man of great rage, and the overriding theme of the evening was "Vengeance!".  Against the theatre's brick back wall, Neil Austin's lighting design added atmosphere, but all was geared to complete the mood of urgency.  The soliloquies were spoken most effectively, revealing a  mind that truly seemed to be probing, inquiring, ruminating, fuming, searching for answers, looking for direction. Law's approach to "to be or not to be", "oh that this too too solid flesh should melt", "oh what a rogue and peasant slave am I" and the rest made them seem fresh and spontaneous. It was a pleasure to watch this excellent film actor prove once again that he's equally at home onstage, in full command of his excellent body and mellifluous voice. He's the perfect twenty-first century Hamlet, the one who combines beautiful readings of the verse with a lithe and agile body capable of handling a rapier with deadly effect. The multiple deaths in the final scene occur rapidly one upon the other with the same effect that special effects artists scare us onscreen – only here they were live, unhelped by trickery,  wonderfully executed.
In support, I found  Ron Cook particularly effective both as Polonius and the First Gravedigger, and Geraldine James and Kevin R.McNally captured the mutual attraction and absence of conscience spot on as Gertrude and Claudius, both fanning the flame of Hamlet's  obsessive need  to bring them to justice for robbing him of the father he loved. Much as I enjoyed Peter Eyre's magnificent voice as the Ghost of Hamlet's father, it was difficult not to recognize that voice when it popped up again as the Player King.  But all in all, the company was universally on the same page, an excellent ensemble from "Member of the Court" right on up to "King Claudius and Queen Gertrude".
This play defies description. It has everything – romance, murder, incest, lust, poetry, madness, spectacle, insight, melodrama, action, the works. It's difficult to capture all of them in any one production, but this one came as close as any I've seen. It had, in Jude Law, an actor who combined the tradition of Maurice Evans, the eloquence of Richard Burton, the intelligence of Ralph Fiennes, the majesty of Lawrence Olivier, so by now you've realized that I enjoyed this Hamlet more than any of the others, all of which I've seen. I'm only sorry I came to it late in its run so I couldn't alert you that this was one you might have wanted to travel to see. Mea culpa.
————-
The Landmarks Committee has designated the front of  Henry Miller's Theatre (which now houses Bye Bye Birdie) as an architectural treasure, so it remains, but the interior has been excavated in the manner of the London theatres so the orchestra is two stories below street level. The house now contains 1050 seats, more than the 950 in the original theatre, built in 1918 for the theatre manager for whom it is named. It fell on hard times in the 1960s and slid from showing feature films to porn films until it became a discothèque. It returned to the legit with the production of Urinetown and changed its name to the Kit Kat Club to honor the Roundabout's revival of Cabaret, which was set in that den of iniquity.  But now it's back to its former full glory as Roundabout has named it its permanent third home in New York, and we'll be seeing many shows there in the seasons to come. That's good news. The ghost of Helen Hayes might be hovering about for she played hundreds of performances there in Victoria Regina and in Harriet. She might seem a bit lost, for nothing is where it was, but the address remains the same, and I'm told ghosts are adaptable.
Now as to what's on stage – well, sometimes these revivals accomplish nothing more that remind us old timers just how good the original productions were. I have a history with Birdie for in my small way I helped to finance it by bringing potential backers to its many auditions for financing back in 1959-60 for very little attention was being paid to this original musical. It was produced by Edward Padula (his first show), written by Mike Stewart, Charles Strouse and Lee Adams (their first show), directed by Gower Champion (his first time out as director), it starred Chita Rivera and Dick Van Dyke, both playing leading roles for the first time.   Its cutesy title didn't resonate well with the money men and women. When it worked, became a hit, duplicated its success in London and on screen, it became a source of joyous pride to all of us who liked it from the getgo.
The current production is wisely different in almost all aspects.  If you're going to bring these shows back within the lifetime of their authors and many who saw the original, it's a good idea to approach the material with a fresh eye. Without changing the book or the song titles, Robert Longbottom, working on a small budget to present this light hearted material, has directed and choreographed with a light touch. The scenery is suggested rather than built, the lighting and costuming help tell the story. There are lots of teenagers on stage, and their clothes are sort of grayish in New York  where the story begins, but once everyone gets to Sweet Apple, Ohio the same ensemble who played youngsters in New York become a Technicolor version of same. Gower Champion managed this too, but in a different manner, and Longbottom's approach is just as much fun. One of the highlights of the Champion production was the staging of "The Telephone Hour" on a gigantic jungle gym and it stopped the show. Here, a series of floating doors that swing high wide and handsome serve the same purpose, probably cost a lot less, and they too stop the show.
Because his leading lady is not a dancer, he has wisely eliminated the two dance numbers that featured the best dancing lady on Broadway, Chita Rivera, in the original. There is plenty of movement in what's left, and it shifts some of the focus from the two stars to the ensemble. It works. For John Stamos and Gina Gershon are charming and effective in the book scenes, and he handles his big number, "Put On A Happy Face" with aplomb, but in this instance, Longbottom has chosen to hand the number over to six youngsters rather than one in the original, perhaps because Stamos is not the original that was Van Dyke, perhaps just because he wanted to give a new spin to a moment in the show that was memorable last time out. It's ok, just less moving with the Fan Club Girls all depressed over Conrad Birdie's departure for the Army.  One long faced lass being cheered by the effervescent Van Dyke was memorable – this version is acceptable.
Bill Irwin is a genius, and geniuses must be forgiven a mistake now and then. His approach to Mr. McAfee, the father of the girl who is  going to be kissed on the Ed Sullivan Show as Conrad Birdie's last official act as a civilian, is, to put it bluntly, beyond eccentric into weird. Mouthing every syllable as though he was speaking through hot potatoes, grotesquely stepping across the stage looking somewhat spastic, he certainly doesn't seem your average Sweet Apple Dad. However, Mr. Irwin can not ever be less than interesting and occasionally his mad approach is hysterically funny. Paul Lynde was established through his performance in this role, and Bill Irwin was clearly having none of what made  that work for Lynde. Irwin is a great mime, and the sight of him flying high in the sky as his suit gets caught on a tv microphone is as big a laugh as was Lynde's monologue that ended with "Nero is back in town!"  For me, it was great fun watching a huge talent tackle an iconic role from the Golden Age from an entirely different starting point. My one suggestion, if suggestion is permitted when offered to a genius: Take some of those hot potatoes out of your mouth so we can hear the funny words you've got to offer. Many laughs were lost just because we couldn't understand.
Jayne Houdyshell however, another brilliant character actor, attacks "Mae Peterson", the leading man's mother, very much as the original Kay Medford did. That means she wraps herself around the delicious one-liners Mike Stewart gave this Mother from Hell, and though their accents are different, the effect is the same – boffo laughs all through the proceedings. Her mink coat, the one she never takes off, looks as though it's been around since the first production 48 years ago, and that's exactly how it should look.
The Adams/Strouse score remains fresh as daisies, helped by Jonathan Tunick's first class orchestrations. Birdie was the team's first hit, to be followed by Golden Boy and Applause plus a number of  flops, while Strouse with another collaborator gave us Annie and a couple of big failures as well. But clearly their promise was fulfilled, and it's lovely that both are alive and well to experience their firstborn all new and fresh and successful all over again.
Bye Bye Birdie is playing at the Henry Miller's Theatre, 124 West 43rd Street (Between Broadway and 6th Avenue), in NYC. 
————
Now here comes a real oldie, Girl Crazy, born in 1930. It's over three hundred years younger than Hamlet, but you get my meaning.   It hasn't been  around in 70 years, though Crazy for You used much of its material in 1982 with a revised book "based on material by the original authors", a completely refashioned work. The original was exactly what Encores! should be doing – for I had no idea that it contained not only the standards that showed up in the revamped version, but songs like "Bronco Buster", "Goldfarb, That's I'm",  "Sam and Delilah" all of which are great fun, and I'd never heard any of them before.
Another thing Encores! does so well, with the brilliant assistance of casting directors Jay Binder and  Sara Schatz, is bring audiences new talent like Becky Newton and Chris Diamantopoulos  along with the startling Ana Gasteyer in the role originated in 1930 by Ethel Merman, who stole the show from Ginger Rogers with it.
Gasteyer has the pipes, but she has to have a talk with William Ivey Long if this production moves on, for he has dressed her in floor length gowns, all of them alike but each in its own distinctive unflattering color. Her entrance costume is dark red, tight around the middle and behind, slightly hobble skirted down to the floor. It's broad daylight outside, but she's dressed for night time work. Evidently the look was considered right for her character "Frisco Kate Follicle", because all her gowns were shaped alike, only their color varied.  In all of them she resembled a school ma'arm gone wrong.
Trailing behind her in a late entrance for a musical theatre star was Marc Kudisch as her husband "Slick Follicle". In olden days, authors of musical books left little to the imagination – sort of like Wycherly and Congreve and the Restoration gang. You could tell right away that "Frisco Kate" and "Slick" would not be singing ballads, that "Danny Churchill" and :"Molly Gray" (Newton and Diamontopolus)  would be handling those. Mr. Kudisch justifies his time spent with his rousing rendition of "Treat Me Rough", a song that makes good use of his big baritone and his zany sense of humor.   Using Wayne Knight (Newman from "Seinfeld") in the Willie Howard role was brilliant casting too. Knight can sing! He can dance! We know he can be funny, but his take on Gieber Goldfarb has got to be his own creation. Willie Howard played the role in the original production, but their styles are totally different.
These poor guys never get much of a chance any more with musicals dealing with bi-polar moms, British coal miners striking and starving during a long English winter, black revolutionaries dancing up a storm in Nigeria and the like. Musical comedies are far and few between now and oh how refreshing to find one daring to be silly and outrageously contrived just in order to entertain us. And judging by the reception at the closing performance at City Center, it reminded me of the days of  No No Nanette, a musical in which the Maid, when asked if the Madam was at home, replied: "No, she just tap danced her way outta here."
A steady diet of these confections would be deadly, but as a treat once or twice a year, I say "hurrah!".  Jerry Zaks as director, and Rob Fisher, back on the podium as guest music director deserve equal credit for handing us this ancient gem (it's 80 years old!) on a silver platter. Warren Carlyle, too, has choreographed the Ira and George Gershwin score with verve and a great sense of abandon. From the opening moment, when four dopey cowboys ambled on from the wings letting us know they were "Bidin' my Time", we knew where we were and had an idea of what we were in for. These Encore! Productions really should be taped or digitalized or whatever the latest technique is, but alas, they are not. Some are recorded, some are moved to Broadway. This one may not have quite the substance to make it 8 times a week for an extended run, but I thank Encores! for giving us a glimpse of it. Now if only someone would record this cast doing this score so that young song writers could hear what pleasure melody, wit and a sense of humor can bring to musical theatre.   That would be a lovely present for the holiday season.
The next  Encores! production will be the 1954 musical Fanny, Feb 4 – 7, 2010.
—————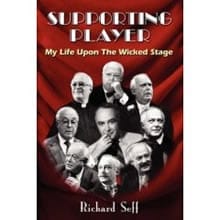 Richard Seff is author of Supporting Player: My Life Upon the Wicked Stage celebrating his lifetime on stage and behind the scenes, available through online booksellers, including Amazon.com.
Richard Seff chats with Joel Markowitz: