Dec 18, 2009 — I fell victim to the whims of my Dell PC this week, for there I was typing away at my fourth review for this article, when wham! All the words on my screen disappeared, and when I went to "Edit" and clicked "Undo typing", nothing happened. I searched all through "File" and all I could come up with was a one-page item that had, mysteriously, one syllable on it; "ling".  I didn't think that would satisfy you, so I'm going to have to give you short shrift on the first two listed above, for I've destroyed the literature that accompanied my visits to them, and I must give you a brief summary of what I recall of them.
It's not a problem with Starry Messenger, for it concluded its brief run at the Acorn on 42nd Street on December 21st, and if you've missed it, all I can tell you is keep an eye out should it appear in your neighborhood, because it's the most satisfying play Kenneth Lonergan has written. His Lobby Hero, Waverly Gallery and the play that introduced him to us, This is Our Youth, all indicated he was more than promising, but the much longer, more profound Starry Messenger takes him out of the  better-than-average to the supreme.
Not only does it move Mr. Lonergan into the Pantheon of writers like Tony Kushner, Horton Foote, Albee, Williams and others, it also served to fully return Matthew Broderick to his place up there above the title where he's always belonged despite his descent into parody of himself in his last two or three outings, particularly in the revivals of The Odd Couple and The Philanthropist, in both of which he seemed on sabbatical from first class work.  But here he is (or was) as a befuddled mildly unhappy astronomy professor, teaching kids who have no interest in him or his subject. His marriage to J. Smith-Cameron has grown stale, and he plunges into an adolescent affair with a woman who has her own very complicated inner life. It's a play about disillusionment, loneliness, compromise, and it's positively haunting. Mr. Loneregan directed the play too, and that was a less than fortuitous happening not because he didn't stage it well. He did. But it's long at almost 3 hours, and a more objective eye might have helped him prune a bit. But long or not, he's given us an early Christmas present with this intelligent and moving piece of work. Oh yes, the rest of the company, including a vital and radiant Smith-Cameron (Mrs. Lonergan offstage) is first rate. This was a play to ponder long after its final curtain, and I urge you to seek it out should it come your way.
————
The second of my reviews to vanish into thin air was that of So Help Me God! , the wacky 1929 farce by the madcap Maureen Dallas Watkins who gave us Chicago on which the smash musical was based. I'm sorry about this, for I loved this production at the tiny Mint Theatre, and I'd like to be able to mention all the talents who contributed to it. We have to thank Jonathan Banks, the artistic director of the Mint, for discovering this irreverent piece of playwriting – which died in Brooklyn on its way to Broadway in the fall of 1929, a victim of the October Wall Street crash.   And of the bright ensemble cast, I do recall Kristen Johnston  as the stage diva that began it all for stage divas (Margo Channing, Mama Rose, Auntie Mame, all came long after her). Also Anna Chlumsky (not a good name for an ingénue) playing the original sweet gal from the country who's come to New York to conquer Broadway ("Peggy Sawyer" in 42nd Street took a later train), or "Eve Harrington" in All About Eve, who only pretended to be a sweet gal from the  country. In this Watkins play, the lady is called "Kerry" and she gives Eve a run for her money. It all adds up to a wickedly funny play about show folk, but it's not wrapped in a ribbon and tied in a bow as is The Royal Family. In this one, Ms. Watkins' pen was dipped in brine, so be prepared for lots of mirth and mischief. The play uses a company of 15 actors, and at least 13 of them were top notch. Director Jonathan Banks used a firm hand on most, but one or two slipped through with over-the-top attacks on their characters, which will not deter you from having a splendid time.
————
David Mamet is writing play after play and shipping them our way as fast as he can. Last season we had a revival of his Speed-The-Plow, this season Oleanna, also in revival, fared less well. Last season his November offered Nathan Lane a vehicle in which to poke fun at the Bush administration, and now we have Race, in which playwright Mamet places two topnotch attorneys; partners, one black, one white and a black intern who's just moving up in the law firm  – into the mix with a multi-millionaire white client who's been accused of raping a black girl. His characters are amusing, eloquent, vividly drawn and played but there's not a lot of subtlety in the writing. This is one of those "you're either for me or agin me" plays in which characters are more spokespeople than folks made of more mundane material like flesh and blood.
His cast does its best to bring life to these people, and they do manage to interest us for the 90 minutes or so in which they do battle. James Spader has built on his created character "Alan Shore" from TV's The Practice and Boston Legal and fashioned, in "Jack Lawson" a controlled man of intellect and wit. He gets his laughs, and there are lots of them, but he has the equipment to dig deeper and deliver some powerful monologues about what racism means to him. As his vis-à-vis, David Alan Grier does the same kind of justice to "Henry Brown", the legal partner, delivering here a character far removed from his comical work on television's In Living Color. Kerry Washington, in her Broadway debut, is clean and clear in the role that shows up in other Mamet plays (in Speed-The-Plow she's a secretary, in this play she's a law student with plans of her own).  Richard Thomas gives conviction to "Charles Strickland", the wealthy client who's trying to achieve an acquittal to a crime which he  has clearly committed. Race is more a tv film than a major theatrical event, but as always with Mamet, it's entertaining, fast moving, and fun to watch. About as nourishing as a salad and as filling and full of resonances as a Chinese takeout dinner.
Race continues at the Barrymore Theatre, 243 W 47th St, NYC.
———-
The one thrilling project of this bundle of late 2009 entries is Ragtime, as seen through the eyes of a director new to me, Marcia Milgrim Dodge.  This lady has been staging plays and musicals in the regional theatres for decades but here she makes her Broadway debut, bringing us the production she mounted for the Kennedy Center last season. If we're lucky she'll be back in our back yard, for she brings great freshness of viewpoint to this material. Working with a greatly simplified set which consists of a three tiered skeletal steel framework, the result is that the characters (and they are nicely sketched by playwright Terrence McNally) grab us more viscerally than they did in the first Broadway production which was under the direction of Frank  Galati, and on which producer Garth Drabinsky lavished millions of dollars on spectacle which somehow diminished the power of the story and the principals. Even the score by Lynn Ahrens and Stephen Flaherty sounds more eloquent in this production than it did in the last.
Though no one could be more thrilling as Sarah and Coalhouse Walker, Jr. than Audra McDonald and Brian Stokes Mitchell were in the original, Stephanie Umoh and Quentin Earl Darrington are marvelous in the roles. Not only can they sing the blazes out of anthems like "The Wings of a Dream", "Your Daddy's Son" and "Make Them Hear You" but their work in the book is powerful and imaginative as well. Others make their mark. Christiane Noll plays "Mother", whose growth and journey through the play is fascinating to share; she has captured this interesting and arresting woman to perfection. Her first act solo, "What Kind of Woman?" introduces us to the pending change in her and the rich tones in her voice help to create mixed emotions in us."Father" is a ninny, but Ron Bohmer manages to make him appealing and by the end of the show, we've come to understand and even to like him. His younger son is played by a delightful Christopher Cox who gets huge laughs from his looseness in "What a Game!" .  And Bobby Steggert, as "Mother's Younger Brother" is attention grabbing from the start, growing from a frustrated member of a very conventional family whose mores and manners disturb him to a firebrand with the courage to act on his convictions. He doesn't have a lot to do musically, except in ensemble numbers, but all through the evening his presence is felt, and he's just one more powerful contributor to the success of the show. Another is Robert Petkoff as "Tateh", the Jewish immigrant who integrates into the "new music" and becomes one of the first movie moguls, something that could have happened only in America.
Hopefully, Ragtime, with its no-name cast,  will have the muscle to survive and succeed. I can't recommend it highly enough to you, and the audience with which I saw it was almost as exciting as the cast. All through the performance there were crackling laughs, palpable silences during dramatic moments, and rousing cheers after half a dozen of the musical numbers. The opening sequence ("Ragtime") alone, during which we were introduced to all of the principals, accomplished miracles – it did the job "Tradition" did at the opening of Fiddler on the Roof", but its task is even more arduous for it deals with the entrenched WASP residents of New Rochelle, the invading hordes of immigrants, and the beginning of life for the recently emancipated blacks of the land.  All of this against a background of the "new music", ragtime, which embraces all of them. A complicated number, brilliantly staged and choreographed by Ms.  Dodge. Hooray and Hurrah, and welcome to Broadway to her, and her very gifted band of roustabouts.
Ragtime plays thru  Jan 10, 2010 at the Neil Simon Theatre, 250 W 52nd St, NYC.
————
That's all, folks. Tomorrow I set sail for the Bahamas for a week, where I do not expect to find any "New York Theatre Buzz". So I wish you all a Merry Christmas and the happiest of New Years, with progress on all fronts, and to quote a commercial I remember from the past, "Put some fun in your life, see a Broadway show."  Or something intriguing in your own bailiwick, from which this brilliant Ragtime emerged.
'Til early next year, yr. obd. svt. RS .
—————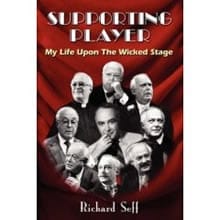 Richard Seff is author of Supporting Player: My Life Upon the Wicked Stage celebrating his lifetime on stage and behind the scenes, available through online booksellers, including Amazon.com.
Richard Seff chats with Joel Markowitz: