We owe a lot to Lynne Meadow, Barry Grove and their Manhattan Theatre Club for over the years they have remained loyal to a core of playwrights whose works may not have reached us without their  benefaction. Donald Margulies is such a playwright, and well worth our attention. In this difficult time for dramatists, he's remained steadfast and turned out Brooklyn Boy, Sight Unseen, Dinner with Friends, Collected Stories, The Loman Family Picnic and a slew of other satisfying plays. Now he comes at us with what might be his most mature work, Time Stands Still and the MTC has mounted it with a playwright's dream of a cast.
This four-hander, set in the Williamsburg section of Brooklyn at a time called "recently", in a loft occupied by James Dodd (Brian D'Arcy James) and Sarah Goodwin (Laura Linney), long time lovers – he a writer of articles dealing with world events, she a photographer who covers the same territory. An ex-lover of Sarah's comes to visit to welcome the couple home from their latest assignment in Africa; he brings with him his seemingly airbrained new girl friend, Mandy Bloom. He is Richard Ehrlich, and Eric Bogosian brings him to vivid life, Mandy is played by the delightful Alicia Silverstone, who played the role in the Geffen Theatre production of the play, and whom we first noticed in the recent revival of The Graduate.
From the first moment, D'Arcy James and Linney embrace us, intrigue us, involve us as slowly Margulies reveals the true nature of their relationship. He wants desperately to legalize their union, to start a family, she does not. When Ehrlich and his Mandy  marry in the course of the play's two acts, Margulies probes and pokes at all four characters and beautifully reveals  them to us in all their complexity. The writing is always fresh and surprising, laugh out loud funny even as it eviscerates and exposes. This gifted quartet of actors, under the expert hand of director Daniel Sullivan, delivers scene after scene that kept our packed house enthralled for two hours.
This playwright has his own voice, but shades of Lillian Hellman, Edward Albee, even Eugene O'Neill crop up now and  then – even though Margulies joins them as a worthy colleague, not a carbon copy of any of them.
I've known Brian D'Arcy James a while, having acted with him in a regional production of Lend Me A Tenor at the start of his career in 1991. In the twenty years that have passed since, he's proven again and again that he is an actor of enormous range and infinite variety. In Time Stands Still he delivers a true star turn, working with the equally gifted Laura Linney to remind us of what is meant by "star quality.". Slowly and without fanfare, D'Arcy James has played farce (Dirty Rotten Scoundrels), naturalistic drama ( Port Authority), heightened intense accented work (The Lieutenant of Inishmore), and earlier this season, there he was bringing a fine voice and a delicious sense of satire to the title role in Shrek, the Musical. When you throw in leading roles in The Apple Tree, Next To Normal (in which he created the role of the husband ), Pardon My English, The Wild Party, The Good Thief and White Christmas (in which he sang, danced and romanced in the best tradition of musical comedy leading man), you begin to see how lucky we are to have him around in this post-golden-age of American theatre.  I've seen every one of the above and all I can say is if you want to see a young star who has chosen theatre over tv and film as his bailiwick, rush on up and catch Time Stands Still, which will be with us well into March.
Ms. Linney is another example of the dedicated actor who always returns to the stage, though her credits are more spiced with tv and film appearances. No matter where she acts, we always get the best from her – whether supplying Sam Adams with a true partner in the series John Adams, in Mr. Margulies' Sight Unseen, in all three series based on Tales of the City, in The House of Mirth or a dozen other feature films. Here, playing with an actor of equal magic, I couldn't help thinking of the great teams of the past, Lunt-Fontanne and Cronyn-Tandy, who make a playwright's dialogue seem improvised,  as though they'd just thought it all up on their own. In this production, Mr. Bogosian and Ms. Silverstone are right on target as well. The results are so richly rewarding.  A winner, this – and a must for anyone who thinks live theatre is on its way out.
—————
Melissa James Gibson has written any number of plays which have  found stages all over the place. But This has brought her center stage with proof that all her years apprenticing at The Theatre Residency Program for Playwrights, the Woolly Mammoth Theatre Company, Soho Rep, the La Jolla Playhouse, the Children's Theatre Company  and a dozen others, have paid off. For, in the precociously titled This she has created a powerful full length play. Ms. Gibson seems not to favor the well plotted piece, preferring instead to give us five characters, friends, who are dependent on each other, who bring each other angst and comfort in equal measure, as is the way with most nourishing intimate relationships.
Ms. Gibson's play concerns itself with Jane, a recently widowed friend of Tom and Marrell, and we meet her at a party given by them for her, one which includes a  mutual friend from the old days at college, a gay man named Alan, and a French doctor, Jean-Pierre, who's been invited as a blind date for her. The evening begins with a game of questions, to be answered "yes" or "no" by Jane. As the plotters plot, she is sent out of the room, (to the entrance hall to the apartment, actually). When she returns her answers lead her to realize the story is about her, and she takes offense and leaves. It's not a plot play so I won't fill you in on the isolated incidents that pop in and out of Jane's apartment, Tom and Marrell's apartment, and various spots about town. Suffice it to say, the dialogue snaps and crackles, and offers insight into all of these richly drawn thirtysomethings, as they hover on the brink of middle age.
At first hearing, I thought the play meandered and needed more of a story line. But on the way home, recalling it with a companion with whom I'd seen it, we both realized Ms. Gibson knew better than we how to  flesh out and make best use of her characters. One by one we rediscovered a line here, a moment there, when layers were added to  these creations, and my final conclusion was the she'd given us a play about a group of badly scarred and occasionally irritating people that radiated truth and compassion. I felt like I wanted to go back tomorrow to find out how they were all getting along, which means she's managed to take an unappealing lot and make us feel empathy and concern for them all.  Her  facility with, and love of language makes it even more incomprehensible as to why she chose the bland pronoun "this" to represent her play, but don't let the blandness of the title put you off. I'm certain she had good reason to call it This and her work is so mature and inviting I won't presume to criticize.
A cast unknown to me could not have been better, each bringing something specific and original to his role. Julianne Nicholson's Jane is vulnerable but accepting, Eisa Davis and Darren Pettie bring us the feeling of young love going sour as Marrell and Tom. Glenn Fitzgerald bravely offers a cynical, sardonic and occasionally hurtful Alan, who's wiser than he'd like to be. And Louis Cancelmi as the French Doctor blind date, is attractive, charming, and  has a few surprises of his own that put  him in league  with this neurotic and closely knit band of playmates. Playwrights Horizons perfectly fulfills its mission with this finely wrought play and production, under the direction of Daniel Aukin, who has worked with Ms. Gibson several times, and who clearly understands her and knows how to present her work so that its many virtues are crystal clear.
This has closed.
[Editor's note:  The February print issue of American Theatre has published the full text of This.]
————
As theatre openings simmered down to virtually zero at the start of the new year, I took a night off and joined some friends to celebrate the birthday of a nephew of one of them. I'd heard of Dizzy's Club for years, but had never been there. It's the venue in the Time/Warner Building on Columbus Circle where Jazz at Lincoln Center has found a home, and on a recent Saturday night a group called The Clayton Brothers Band was in the middle of a short and successful run. The Club itself is worth mentioning;  it's a super glam room with a commodious stage and beautifully spaced tables fanning out from it, leading to a series of bar stools in the rear from which the show can be viewed easily. Drinks and dinner are available; it's pricey but the evening will still cost you less than an orchestra seat to a Broadway musical, the food is nicely served and prepared, and the jazz, at least to these untrained ears, is hot.
John Clayton and his brother Jeff are two middle aged gents, one on the base, the other on sax. John's son is  the pianist, and the family is joined by Terrell Stafford on trumpet and Obed Calvaire on tympani.  I mention these names because the aficionados who filled the room seemed to know them all, though of course to yours truly who knows little of the world of music unless it comes from a Broadway orchestra pit, they were all talented strangers. I just thought I'd pass on to any of you who are into jazz, Dizzy's is as elegant a joint as you're likely to find, and if you want a view of  Manhattan that is second to none, hie yourself up there on your next visit, sit yourself down, and gaze out on the Trump Tower and the sparkling lights of upper Fifth Avenue across Central Park while feasting on the best of the jazz groups of the day.
The Clayton Brothers have moved on, but Dizzy's Club Coca-Cola swings weekly at 33 West 60th Street, NYC.
———–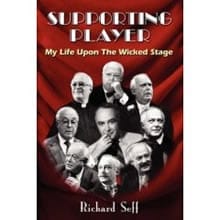 Richard Seff is author of Supporting Player: My Life Upon the Wicked Stage celebrating his lifetime on stage and behind the scenes, available through online booksellers, including Amazon.com.
Richard Seff chats with Joel Markowitz: