Top Pick! – Captivating. Stirring. Breathtaking. Lyrical. Words cannot fully describe the power of this "memory play".
I've seen no fewer than four productions of The Glass Menagerie in the last few years. Each time, I'm taken aback at just how brilliant the words of Tennessee Williams are, especially in the hands of gifted actors. Even more, how much a familiar production can become a dazzling one under the meticulous guidance of a solicitous director.
This production has the distinction of being my very favorite. I found myself listening with new ears to the poetry of the lines, seeing with new eyes the shabby elegance of the set, and with a completely open heart experienced the same heartbreak engulfing Laura.
I normally become very distracted and annoyed at audiences who talk back to the play, as if they were watching a movie alone. Instead, I found myself cheered by their very responsiveness to the performance, amused and heartened by their involvement with the actors, their connection to this family, and to this story. The buzz around me expressed their utter annoyance at Amanda's nagging "poor Tom", and how they'd like to take her aside and teach her a lesson. She was real to them, they all were, and that's one of this production's greatest strengths.
The Wingfield family is comprised of mother Amanda, daughter Laura, and son Tom. The patriarch of the family left them many years ago to fend for themselves, and Tom is the breadwinner. He's a writer, giving up his dreams to work in a warehouse to support his former debutante mother and crippled sister. Amanda keeps herself relevant by sharing her many stories of how stunning and desirable she was way back when, how she entertained gentleman callers by the scores. She wants the same for Laura, who, between her limp and her exceedingly timorous personality, doesn't have much in the way of future opportunities. Over the course of the play we see the dynamics between them all, and the heartbreaking conclusion that tears them apart. This is a play of family, of sacrifices, of resentment and need. Despite its somewhat haunting story, they are very much a reality.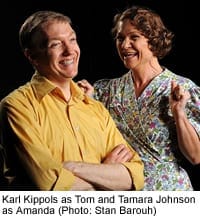 There are tiny cracks in this otherwise flawless production, and I must get them out of the way before I wax rhapsodic about the many, many positives. First…it's a unique idea to have Tom played by an older man as an older man…most Toms are in their late teens to mid 20s. Karl Kippola was made to look late 40s, gray hair and all…seemingly the grown up and weathered Tom remembering and reliving his misspent youth. Despite Kippola's wonderful performance, I couldn't get past the fact that by appearance Amanda was arguing with her husband, her contemporary, instead of her son. That Laura was relating to Tom as a father figure instead of her younger brother. It was a risky move that didn't pay off for me, but kudos for taking a chance. Tamara Johnson's spot on performance as Amanda was marred only slightly by her chosen dialect. Amanda is the quintessential Southern belle but Johnson's accent was a full out twang, low brow, grating and not quite right for her. I also felt that the play relied on a few gimmicks that were gratuitous…the black and white photographic projections on the wall above the action were superb, but there were too many of them, forcing us to tear our eyes away from the live performance. The use of the mechanical curtain dividing the living room from the dining room was unnecessary. Lastly, frequently spotlighting the notorious Mr. Wingfield's portrait was too campy as the photo was goofy and not really appropriate.
That's it…minor criticisms that only needed a mention and not more than a paragraph. On to the meat and potatoes…which was really filet mignon and garlic mash when you get right down to it … a cut above the rest and thoroughly satisfying.
Kippola was an impeccable Tom. The diction, the comedic timing, the dissatisfaction with the drudgery of his seemingly inescapable fate…all of this was delivered with a slightly sardonic edge that only served to emphasize the delicacy of his lines. I felt that I was really seeing Tennessee Williams here, the autobiographical nature of the play brought to life.
Johnson was an ideal and divine Amanda. The nagging, the neediness, the constant criticism and cloying desperation was all present, right at the surface, and it penetrated even the most relaxed listener. One keenly and instantaneously felt the oppressive atmosphere of the family home from the moment her "Rise and shine, rise and shine" cut through the scrim. Her mannerisms were so apropos of a fading beauty as well. But she is not all show…there is a depth of emotion and nuance that Johnson communicates with every lengthy and tense silence, every pursing of her lips and flash of her eyes.
Christine DeMuth was easily the most animated and expressive Laura I've ever seen, and in a good way. Too often, she is played as shy, spineless, and bland, fading into the woodwork. Here, she is shy, dreamy, lovely, fragile, amusing, and kind, with an otherworldly sense about her. In fact, her portrayal here is reminiscent of someone with a form of autism … intelligent, but just a bit out of step with the rest of the world. She employs various techniques to give us her spin on Laura, from a very believable physical disability to a unique and stilted vocalization of her lines. It's a thoroughly engrossing performance.
Brandon McCoy was an endearing Gentleman Caller. He is one part salesman, one part golden retriever, and all parts genuine. His unaffected and easygoing performance was winning, and like Laura, you couldn't help but be drawn into his world.
The scene between Laura and Jim is romantic, intimate, and very, very real. The audience held its breath when Jim first held Laura's precious glass unicorn up to the candlelight, and a deafening silence followed the collective gasp when it broke a few moments later.
The staging here is seamless. The blocking never feels forced, and while some of the pauses and silences run just a tad long, the rest of it moves. It almost feels like you're watching a classic movie instead of a play. There's always something interesting to watch, and there's a steady flow to the movement, a command of breath, a compelling reason to sit forward in your chair, hooked. Stebbins stages a crucial argument between Amanda and Tom behind a curtain, so that it is heard and not seen … but we see Laura's reaction to it. Her face conveys with eloquence that this is a never ending fight, a way of life for the Wingfields.
The entire cast (and director!) should be applauded for seeking out and building upon the wealth of humor in the play. Most people see it as a drama only. Here,  its marvelous comedy  is embraced, and the show is all the stronger for it.
The lighting (Terry Cobb) is used to great dramatic effect, and the worn but lovely set (Greggory Schraven) has an attractive attention to detail. Following careful advice from the script, sound designer Chas Marsh underscored many of the dramatic highlights of the show with poignant bars of music .  His choice of period tunes, especially that from the dance hall across the alley, were well chosen. While I didn't love the excessive projection photography (David Hobby), it still deserves a mention for the inspired, evocative beauty of the photos themselves.
There's magic in this production of a timeless classic, and it has a life of its own that needs to be lived and experienced. It would be a phenomenal introduction to a masterwork for a theatre newbie, and a completely enthralling and savory production for a diehard fan of the work. Lose yourself in this beguiling piece before it slips away.
The Glass Menagerie – TOP PICK!
By Tennessee Williams
Presented by Rep Stage
Directed by Michael Stebbins
Reviewed by McCall Noelle Doyle
The Glass Menagerie plays through March 14, 2010.
For Details, Directions and Tickets, click here.