Delightful, charming, and fun. That pretty much sums up the Washington Savoyards' lively new production of The Mikado, which opened last weekend in the Atlas Performing Arts Center's Sprenger Theatre. This classic Gilbert & Sullivan confection has been modernized and infused with fresh political jokes that cast well-deserved zingers down both sides of the aisle.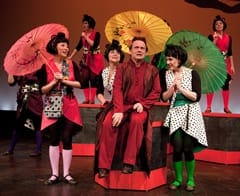 Directed by Cindy Oxberry with musical direction by Shawn Burke-Storer, the Savoyards' updated Mikado is notable for its fine soloists, 21st century fashion statements, and a giggly female chorus that seems to have emerged intact from some parallel, Technicolor manga universe.
For those new to G&S, The Mikado's silly plot whisks us away to a goofy Japan that never existed, save in the mind of the show's enduringly popular creators. Spoofing politics and serious opera alike, The Mikado makes fun of nearly every operatic convention— right down to the decidedly unserious names assigned by G&S to their ephemeral but much-beloved characters.
Similar to most tragic operas, The Mikado centers around a doomed love affair that could only end in death and destruction in Verdi. But there the resemblance ends. In the hands of Britain's dynamic 19th century duo, opera's standard plot devices are exposed as mere trivial impediments, irritating annoyances that delay a mandatory happy ending.
Here, the main characters' addiction to situation ethics trumps legalities and social niceties every time. Good politicians all, each one easily sidesteps moral and legal potholes with devilishly clever rationalizations and improv. The best solution to every dilemma ultimately proves to be the one that's most convenient.
We first encounter our hero, Nanki-Poo, as an impoverished traveling minstrel who's really not very good. That, of course, is because he's secretly a Prince, the son of the Japanese head of state known as the "Mikado."
Nanki-Poo is trying to escape his impending arranged marriage to the dreadful Katisha. While on the lam, he encounters the lovely Yum-Yum. She's in an equal pre-marital bind, in this case with Ko-Ko, the newly appointed Grand Executioner who's ironically liable to lose his own head. Aided and abetted by master politico Pooh-Bah (Fred Flintstone, anyone?) and by Ko-Ko himself, both couples make quite a mess of things in their botched attempts to escape, particularly when Katisha and the Mikado himself arrive on the scene.
Make sense? Of course not. Not too many operas do. But The Mikado is merely the delivery vehicle, a great excuse for a batch of Gilbert & Sullivan's most popular tunes and patter songs. And that's what every audience comes to hear.
Running through April 25, the success of the Savoyards' Mikado is largely due to its fine cast, all of whom are clearly devoted to the genre, its music, and its madcap conventions.
The star of this production is Jase Parker, whose effete, over-the-top Ko-Ko is mincingly, riotously funny. Attired like a perfectly coiffed cable TV fashion plate, Parker's Ko-Ko negotiates the tricky plot and patter songs with aplomb. He delivers every punch line with devastatingly perfect timing, knowing just when to add the right amount of body English to the joke, so to speak.
As the earnest Nanki-Poo, Allan Palacios Chan provides the perfect counterpoint to Ko-Ko's madcap antics. His high, limpid tenor is well suited to his role as Yum-Yum's much put-upon lover. In the acting department, his elegant manner subtly underscores his secret royal origins.
Backing up Ko-Ko and Nanki-Poo are Scott Kenison as the peripatetic Pooh-Bah and Sean Pflueger as the officious Pish-Tush. Kenison has a sensational comic touch. It's a real gift when it comes to his role as the definitive political shape-shifter. Meanwhile, in a smaller role, Pflueger adds the necessary bass-baritone heft to many ensemble numbers, contributing a surprising delicacy and elegance in the lower registers.
Wrapping up the male cast is David William. His Mikado is sort of a musical version of MSNBC's talking heads, all blather that can turn on a dime as the mood suits. In addition, like Jase Parker and Scott Kenison, he knows how to deliver a joke.
Lest the male leads get to bask in all the glory, there's plenty to like about the show's female leads as well. Laura Stuart is an enchanting Yum-Yum, easy to love but not a towering intellect. She imparts a touching innocence to her vocals, even when her character seems impossibly vapid.
Yum-Yum's gal pals, Daniele Lorio (Pitti-Sing) and Sarah Powell (Peep-Bo) help her out in the brainpower department. All three prove most agreeable in solos and ensembles alike.
Rounding out the female leads is boisterous Jennifer Randall, whose vengeful, foul-tempered Katisha is larger than life and sensationally funny. She's almost like a cartoon caricature, right down to the whip she always seems to have at hand as befits her dominatrix-oriented persona in this production. Since most of the male leads tend toward wimpiness, her intimidating presence substantially contributes to the show's hilarity.
The Savoyards' chorus sang enthusiastically and well. Nearly always on pitch, their delivery—and that of the soloists—was also notable for its extraordinary clarity of diction. In a Gilbert & Sullivan production presented without surtitles, diction is almost more important than vocal quality when it comes to making the show a success. Without attention to this key detail, many a production has descended into hopelessly unintelligible mush.
As for the music itself, the Savoyard's small, mostly string orchestra acquitted itself well, providing brisk, crisp accompaniment (including a big contribution from a very enthusiastic base drummer) and meshing perfectly with the singers nearly all of the time—no mean feat given the sometimes tricky sight-lines.
The only thing that didn't quite work in this production last Saturday evening was the series of small and large stands or platforms that served as a means to perform very fast scene changes throughout this show.
Here's the problem: the Sprenger Theatre is a black box space. It's configured, in this case, as a virtual thrust stage with rows of seats to the left, right, and center. So far, so good. But in many scenes, the platforms and singers were arrayed in such a way that only the center section had a consistently good view of the action. Perhaps in upcoming performances, the company could figure out a way to move the platforms a little further to the rear while encouraging the cast to face the right or left stands for a few more numbers.
The Mikado
by  W. S. Gilbert and Arthur Sullivan
Directed by Cindy Oxberry
Musical Direction by Shawn Burke-Storer
Produced by Washington Savoyards
Reviewed by Terry Ponick