It required some 37 producers to bring us the Headlong Theatre production of the Chichester Festival Theatre and Royal Court Theatre Productions of this play by Lucy Prebble. All I can say is when the producers outnumber a cast of nineteen or more, something is afoot. Its author is the young woman who created a British TV series called "Secret Diary of a Call Girl", now in its third season on Showtime. I've never seen one episode of the series, but I'll wager it pokes and probes its subject much as Enron pokes into the shenanigans that caused its title company to collapse and disappear.
The macho men and a woman or two who came on like gangbusters as they assaulted California's deregulated electricity market in the 1990s are all present and accounted for. They've been wildly staged with everything from marching bands, waving flags, lots of light sabers and much pomp, all serving to pump up a dirty story of abuse of power in the back rooms of this giant corporation called Enron.
Under chairman Kenneth Lay's leadership and Chief Executive Jeffrey Skilling, many cats became fat indeed. Enron shares zoomed upwards based on pie-in-the-sky assumptions about the future, meanwhile giving value to tremendous losses masquerading as profits.  To give an example of the imaginative style invoked by playwright Prebble and her director Rupert Goold, the Lehman Brothers are played as Siamese twins, stuffed together in one enormous charcoal gray suit, and Enron's Board are three blind mice. It's all very Brechtian and interesting as a study in style.
But even with a superb cast headed by Norbert Leo Butz and Marin Mazzie (effective in a non-musical role for a change), it  hit me as  a dressed up version of yesterday's news. Only recently a 90 minute documentary on the rise and fall of Enron reached a large television audience, and for months at the end of the last decade, news people salivated as they wrote blow by blow descriptions of the goings on that sent Skilling to the hoosegow and Lay to his grave.
This might have seemed fresh to the Brits when it first opened in the summer of 2009 in Chichester, and I confess it is a stunningly staged spectacle, but perhaps it's just not a subject from which I can get much nourishment. We've seen so much of this sort of corruption and abuse of power in the last few years, I do believe this sort of thing is better served in documentary form, and the one recently aired was thorough and fascinating. What with the  Royal Bank of Scotland, Goldman Sachs, Lehman Brothers and others all doing what they were never supposed to do – rise and fall as the most speculative penny stocks are wont to do – I could not rise to this occasion.
The London notices were superb, it took off at the box office, was transferred from Chichester to the Royal Court to the Noël Coward Theatre in the West End, where it is still drawing the crowds.  It's a noble attempt, but frankly it left me cold. I felt, except for its excellent and imaginative trappings, it was something I'd seen before.
———–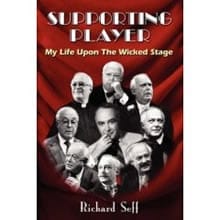 Richard Seff is author of Supporting Player: My Life Upon the Wicked Stage celebrating his lifetime on stage and behind the scenes, available through online booksellers, including Amazon.com.
Richard Seff chats with Joel Markowitz: