If you're looking for intelligent, well crafted, beautifully structured playwrighting, peppered with dialogue that rings totally true, the season should offer Donald Margulies regularly, and we'd all be nourished and satisfied. Not since Lillian Hellman has a playwright emerged with the ability to consistently tell a good story, peopled with interesting characters who involve us – we join them on their journey – we can't help ourselves.
The Manhattan Theatre Club has favored us with two of these gems this very season, the earlier one Time Stands Still now announced to return to  Broadway with Laura Linney and Brian d'Arcy-James in the fall. The current offering, a revival of Collected Stories, which served Uta Hagen well in the 1980s,  now allows Linda Lavin to give one of the richest female  performances of the season as "Ruth Steiner", the respected writer of fiction who passes on all she knows to her protegé "Lisa Morrison".  In this Margulies' play of confrontation, part of what she passes on is the  story of a relationship in Steiner's life that she shares with her disciple; when the younger woman uses it as the spine of her first novel, sparks fly, accusations are hurled about ethics, rights to one's own life, and betrayal in friendship.
All of this is fodder for a dramatist of Margulies' talent – think of what happens when Lillian Hellman's Hubbard family get together for a tug of war in The Little Foxes and you have this sort of boulevard theatre of the highest order.  It's no surprise. Margulies first got to me in the 1980s with his funny/tragic What's Wrong With This Picture?, later with The Logan Family Picnic, Sight Unseen and Dinner With Friends, which managed to turn four friends and dinner into a Pulitzer Prize play. I love this guy; he always comes through. And he certainly is blessed with Ms. Lavin, and with her co—player Sarah Paulson as her adversarial friend/companion, who brings her own conviction to the piece.
I've known Lavin's work since the beginning of her career. She had a couple of bits in John Kander's first musical, A Family Affair,  and she managed to attract the eye even with little to do.
The critic in the NY World Telegram spotted her and told his readers: "There's a lass in the ensemble   who's  got star written all over her." Later Hal Prince gave her a good role in It's a Bird – It's a Plane – It's Superman!, and another in Carol Burnett's Hollywood Arms. She's done a dozen plays and musicals and was rewarded with long runs in  The Tale of the Allergist's Wife, Broadway Bound and as replacement for Tyne Daly in the 1991 revival of Gypsy on Broadway. She's best remembered by TV audiences for her long run as "Alice" in the comedy series of that name.  But musicals and plays and series don't reveal all about her. She's got a smashing cabaret act which she trots around America between gigs and she runs a tiny  community theatre in her home town, Wilmington, North Carolina, in which she's acted and/or been  directed nine times by her husband Steve Bakunas. No kids, but a beagle/jack named Mickey, and a very good life.
From the minute we meet her in Collected Stories, struggling with a stuck window in her Greenwich Village apartment so she can throw down the key to grant entrance to a young student who's come for a tutorial,  she's found half a dozen small bits of business to help us hone in on just who her lady is.   When the young woman arrives in the person of Sarah Paulson, a relationship begins, and in six scenes that cover six years, a beautiful play evolves in which we become caught up in the arc of that relationship.  It begins as heroine-worship on the part of the young woman, grows into writer/assistant, continues on into friendship and matures into role reversal.
Margulies does not compromise his theme – that even among friends and colleagues, even after years of bonding, betrayal is possible and  shatteringly  painful. That he presents both sides of his argument is to his credit. Because he does, he cannot wrap up his play in a ribbon and send us home feeling all warm and cozy. No, he's more interested in presenting life – artfully to be sure, swiftly and powerfully. The final moment of Lavin alone onstage is memorable, but no less so than the many she's found along the bumpy road to it. Her reactions to some of Ms. Paulson's youthfully exuberant speeches, her ability to move from discomfort to irritation to rage in the course of one aria, her use of everything she's been handed, from chotchkas strewn about her apartment to the very clothes on her back, reveal an actress at the height of her powers. There's not a lot of Linda Lavin up there; she's gone away and left us alone with Ruth Steiner, a lady of infinite variety.   Ms Paulson's is a worthy adversary, and she hits all the right marks with her work too as the talented, infatuated, ultimately ambitious disciple.
But the evening is  Linda Lavin's.  She's worth a trip up here to have a look for yourselves.
Manhattan Theatre Club's production of Collected Stories plays through June 13, 2010 at the Samuel J. Friedman Theatre, 261 W. 47th St, NYC.
———–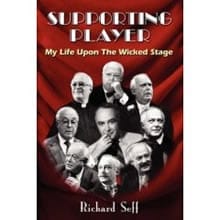 Richard Seff is author of Supporting Player: My Life Upon the Wicked Stage celebrating his lifetime on stage and behind the scenes, available through online booksellers, including Amazon.com.
Richard Seff chats with Joel Markowitz: