I'VE BEEN TO A MARVELOUS PARTY ..
Each year, in early May, the Drama League hosts the gala social event of the New York theatre season. It's a splashy affair set this May 21st in the ballroom at the Marquis Hotel in the heart of Times Square. Everybody who was anybody on and off Broadway this season was there. It was disconcerting for this theatre lover to wander through the maze of the pre-luncheon meet-and-greet to watch Angela Lansbury, Tony Shalhoub, Hugh Jackman, Liev Schreiber, Scarlett Johansson, Marin Mazzie, Nathan Lane, Rosemary Harris, Denzel Washington, Sean Hayes, Valerie Harper, Linda Lavin, Vanessa Williams, Christopher Walken, Douglas Hodge,  and about fifty others wandering as well.
What's unusual about it is there is no press, except for some League photographers who are there merely to do some head shots. I was there as a supporter of the League. There's no red carpet, and for once the stars and other featured performers are not so much on display as they are to have an opportunity to visit with each other. For the most part dressed in street clothes, they become very real people who are delighted to come together for a three hour gabfest in which, later at lunch when they are all spread out on a mile long dais, each will get up to say a word or two about anything they choose to talk about.
I was seated with a group of ten Drama League members (which means they are all 'civilians' who love theatre and support it) who get a great kick out of spending $150-$450 for lunch just so they can watch their favorites up close. The sixty or so actors on the dais are all "distinguished performance nominees" and one of them will be chosen during the event for the "Distinguished Performance of the Season" Award, which can only be won once in a lifetime. This year that award went to Alfred Molina for his work in Red, currently running at the John Golden Theatre on Broadway. Other awards for Best New Play and Best Revival, for Best New Musical and Best Revival were also bestowed upon Red and A View From the Bridge, to Sondheim on Sondheim and La Cage aux Folles. Kenny Leon was a popular win as Best Director for his work on Fences.
Nathan Lane was recognized for "Distinguished Achievement in Musical Theatre" and rocked the room with laughter in his gracious acceptance speech. He began with "This is the best Drama League Luncheon I've ever been to!"  He went on to wish everyone good luck at the Tonys, "or as they call it in my house – Passover."  Later he said "it's well known that The Addams Family (in which he is currently starring) was not received well in certain circles – like the Earth.."  Jerry Zaks, who's directed him several times, introduced him by concluding that "A real Broadway baby grew up into a real Broadway legend."
Some of the highlights from the other dozens on stage:  Vanessa Williams and Michael Lurie, just released from several seasons of "Ugly Betty" on the tube, both now appearing on stage – she in Sondheim on Sondheim, he in The Temperamentals, sang a lively "Together Wherever We Go" to start the proceedings. Katie Finneran, who's had universally sensational notices for her work in Promises, Promises, thanked her director Rob Ashford : She added, "He championed me for two years for this role."  Kelsey Grammer, who's playing a gay partner to Douglas Hodge in La Cage Aux Folles, thanked Hodge by saying "it's the best relationship I've enjoyed in my life." Later Hodge, a Brit who's astonished at the fuss being made over him over here, said "Kelsey's here. I'm going to be all right."   David Alan Grier from Race sang us a  bit of an original song called "I'm The Greatest Actor In The World" , and Sean Hayes commented "this is the 8th chicken dinner I've had today" as he races through the Awards Season.
Valerie Harper, who'd played Tallulah Bankhead this season in Looped, was  thrilled to be in such distinguished company, but cut her remarks short with: "I can't talk. My chicken breast just arrived." Judith Ivey, honored for her work in The Glass Menagerie, said "I want to thank David Alan Grier for giving voice to the song I wrote. And how marvelous all this is. I know it's difficult to get 60 actors in a room, feed them, and get them to talk about themselves." Little Leslie Jordan, who's always played small supporting roles (as he did in the series "Will and Grace") was there because he's in a one-man show now called My Ride Down The Pink Carpet. "I feel like an aging gypsy who's stepped through the looking glass."  Tony Shalhoub, (from Lend Me A Tenor) who spoke late in the speech marathon, said: "You know what I hate? I hate alphabetical order."  And Denzel Washington and Viola Davis, who play a fiercely devoted couple in Fences, sounded like they really are devoted 24/7 as they raved about each other in their individual comments.  Later Washington introduced Kenny Leon, who directed their play. Leon wrapped it all up by saying about his star: "He leaves the blood on the stage every night."
It was such a delightful way to spend a sunny afternoon in May. I knew you'd want to come along, so I hope I've given you a feeling for the joy and respect and admiration that was buzzing about the ballroom.  And I had the good fortune to be sitting next to Marcia Kaplan-Mann and Gabriel Wiesenthal, two theatre lovers who support the League, who personify and bring into focus the lovely people "out there in the dark" (as Norma Desmond once called them) who keep reminding us that we are noticed, that we have real contact with the world outside of show business. Their interest, their keen observations about some of the shows they'd seen, their appreciation of the talent on the dais, was all very communicable to me, and I thank them for adding to the joy dispensed by the dazzling array of  stars on the dais.
Recipients of the Drama League Awards:
Distinguished Performance Award — Alfred Molina, "Red"
Distinguished Production of a Musical — "Sondheim on Sondheim"
Distinguished Production of a Play — "Red"
Distinguished Revival of a Musical — "La Cage aux Folles"
Distinguished Revival of a Play — "A View from the Bridge"
Distinguished Achievement in Musical Theatre Award – Nathan Lane
Julia Hansen Award for Excellence in Directing – Kenny Leon
————-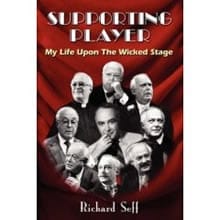 Richard Seff is author of Supporting Player: My Life Upon the Wicked Stage celebrating his lifetime on stage and behind the scenes, available through online booksellers, including Amazon.com.
Richard Seff chats with Joel Markowitz: