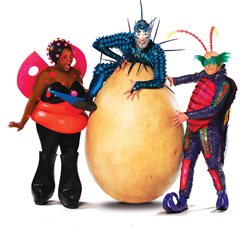 Over the years, the creative masterminds, elastic-limbed acrobats and clowns of Cirque du Soleil have given the world a look at the evolution of mankind, the music of Elvis and The Beatles, and space travel—through their kaleidoscopic lenses of otherworldly costumes, graceful airborne bodies, and imaginative set designs.
Fantasy figures cavorting in a forest is artsy in an obvious way—Cirque du Soleil has been doing this for 25 years.  Seeing the places where ants, crickets and spiders play, dig and fight as a lovely stage, not a goldmine for exterminators, requires a more deeply humane perspective.
Cirque du Soleil's new show OVO, which opens at National Harbor September 9th, is the Portuguese word for "egg," and is writer/director/choreographer Debra Colker's attempt to shed a warm and loving light on the mysterious yet vibrant world of insects, said publicist Marie-Claude Asselin.
"She came up with the idea to do a show on bugs because we've never done that before; we humans don't really understand their lives, and some of us are afraid of insects," said Asselin of Colker's vision.  We share the earth with insects, she added, and there's much in their lives that mirrors ours.
Brazilian-born Colker is an award-winning choreographer, and is the first woman to create, write and direct a Cirque du Soleil show.   The color and music of Brazil, she said, is a perfect tool to convey the rhythmic, driving life force of the insect world.    "OVO presents the world of insects with the emphasis on constant movement and color," said Colker.  "It also represents my lifelong love of music, the inspiration I draw from sport and the liveliness you can discover in every aspect of life."
In the midst of the crickets bouncing on trampolines and six trapeze-flying insects soaring 45 feet in the air, a love story emerges between the lonely, big and beautiful Ladybug (Michelle Matlock), and The Foreigner (Francois-Guillaume Leblanc), a busy, buzzing fly—the insect who brings the egg.   The chief of the insect tribe is Master Flipo (Joseph Collard)—smart and wise yet eccentric.
Known for its daring acrobatics performed by lean dancers and former Olympic gymnasts, Matlock, a graduate of the National Shakespeare Academy in New York, is a refreshing standout.  "We know ladybugs are round," said Asselin.  "Michelle was in the Big  Apple Circus in New York.  After we saw her demo tape, we knew she was the best person for the Ladybug role."
OVO, said Asselin, is a dynamic spectacle of colors — the cricket costumes alone each took 80 hours to make – rhythms and lively energy.  "When you come inside OVO's insect world, you don't think about your problems.   The music, the ambience, the noise of the crickets…it's very captivating."
If you decide to see OVO, Asselin says, you'll leave with a smile on your face, and perhaps "a different awareness of and a new relationship with every insect around you."
OVO runs Sept. 9 through Oct. 24.  Performances will take place under the Big Top at The Plateau at National Harbor. Special discounts:  Family and student tickets click here.  (Choose 'Washington (area) to see the specials.) All other tickets here. Directions and Metrobus schedules here.
Tickets are available via www.cirquedusoleil.com/ovo, or at 800-450-1480.