Pop, fizz, deliriously good. Mash up the sensibilities of Gatsby and Thoroughly Modern Millie; pour over jazz-kissed show tunes laced with interesting harmonies (John Mercurio); stir in a witty book and lyrics (Tajlei Levis) — especially dazzling when cross-talking lyrics float on the intricate score; and before you can say, "Gilded Age" or "Roaring Twenties," you have Metro Stage's ' champagne cocktail ' season opener, Glimpses of the Moon, a romantic musical comedy based on the Edith Wharton novel.
The story revolves around penniless Susy Branch (Natascia Diaz, headlining a talented cast of seven) who is having a madcap (if not care free) existence living off the largess of her socialite friends, while longing for a nest egg of her own. For pals Ellie Vanderlyn (Gia Mora) and Ursula Gillow (Lauren "Coco" Cohn), no dinner party is complete without a sprinkling of guests outside their income bracket and/or social circle to add interest and amusement. Susy is on tap to demonstrate the latest dance craze. Ursula has scholar Nick Lansing (Sam Ludwig) in tow. His specialty is antiquities, but Ursula couldn't be bothered to know her potters from her poets (providing a slight hint of Cohn's comedic gifts in the first of her three roles). Like Susy, Nick only can pursue his research on expeditions financed by wealthy dilettantes who are more interested in plundering relics than preserving them (a five thousand year old earthenware pots can be repurposed as a charming backyard bird bath).
When Susy and Nick are thrown together, they lament their common bond of dependency. All would be swell if they could each "marry up." But single girls of a certain age are often excluded from fashionable parties and the best homes, whereas married couples are asked everywhere. In a fun duet, "The Proposal," Nick suggests a marriage of convenience. Susy cozies up to the idea with glee, almost as giddy as Sweeney Todd's Mrs. Lovett when she realizes where her next meal – literally – might be coming from. It's wedding bells for Nick and Susy, and they are off on a year long quest to find wealthy mates while residing in a series of accommodations provided by their network of friends and benefactors with expenses covered by hocking the wedding presents along the way.
Several subplots are cleverly interwoven into the story as well. Ellie provides summer lodging to Susy and Nick as cover for own summer dalliance with a lover who is even more wealthy than her husband Nelson (Stephen F. Schmidt). Susy's friend Streffy (Matthew A. Anderson) is smitten with her but has limited financial resources himself, being way down the succession totem pole in the aristocratic Strefford family. Finally, Coral Hicks (another Lauren Cohn role) – a character echoing such iconic roles as Agnes Gooch and Zelda Gilroy – enters decked out in explorer gear like some demented National Geographic cover girl. She is determined to bag Nick, married or not.
Natascia Diaz's talent has graced Broadway and off-Broadway productions and garnered several regional awards (including the Helen Hayes for her performance in Metro Stage's ROOMS, a rock romance). As Susy, she is bright and beautiful, a triple threat of acting, singing and dancing talent, enchanting in the romantic scenes but equally as adept at comedy of the vintage madcap variety. Gia Mora embodies sophistication, but with enough brass beneath the class to add an interesting edge to the philandering Ellie Vanderlyn. As she sings the text of letters sent to her husband, designed to make her husband believe she actually is at their summer home by lamenting the domestic drudgery of running a household and managing the servants, she coaxes every laugh with a subtle look, gesture or turn of phrase. She's a real minx with a fox stole as well.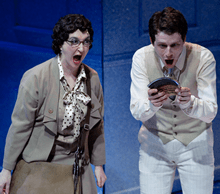 Cohn fits the bill as society matron and maid, but pulls out all the stops when playing Coral ("Take a Chance on Me") Hicks. In one scene, she tackles the song "The Glories of Greece" and wrestles it to the floor by shear determination, and manages to send the audience into roaring laughter with her rendering of the word "unearth." She's equally hilarious in a scene where she gets a makeover under the direction of Ellie, who is more than willing to show her a thing or two about stealing a husband. Unlike the classic setup where the ugly duckling removes her glasses, lets down her hair and, voilà, transforms into a swan, Coral stumbles around blind as a bat trying not to fall off her high heels.
The male trio also deliver excellent performances. Sam Ludwig makes a very dashing leading man, deftly making his way through a somewhat problematic role which has him jumping into an arranged marriage while also assuming the role of moral compass for the couple. But what is madcap comedy without the human foibles and glaring contradictions. Matthew A. Anderson as Winthrop "Streffy" Strefford turns on a dime from good-hearted buddy to stuffy upper crust when three of his relatives perish in a disastrous regatta – his ship comes in because theirs go down.  Anderson can't help flying into a joyous jig amid the mourners at the funeral to the very funny song "Terrible News." Stephen F. Schmidt as Ellie's deceived and abandoned husband, Nelson, fills the role with pathos in his standout moment of song, "Tell Her I'm Happy," serving as the evenings most poignant object lesson that money cannot buy happiness.
One last performer rounds out the cast. When the estranged couple Susy and Nick have an awkward meeting with their new attachments in a supper club, a cabaret singer suggest in song – "Right Here, Right Now" – that they patch up their differences. Glimpses was originally performed Monday nights in the Oak Room Supper Club in the Algonquin Hotel, so it's only natural to have a scene set there. Metro Stage has arranged for three divas to rotate in the role of the cabaret singer, Lori A. Williams (who brought down the house on opening night), Tracy McMullan and Roz White.
For an intimate show, the production values are wonderful. The set design (Daniel Pinha) in blue and white, complete with crystal chandelier, is the hallmark of elegance, namely simplicity. Andrew F. Griffin's lighting design complements the sets whether suggesting the warm glow of a sunset or perking up a party atmosphere. Lisa Zinni's costumes –she's assembled enough to give Neiman Marcus a run for its money – capture the glamour of the era with evening gowns,  cocktail dresses, a wedding dress, and scarves, furs and other finery, including Coral's tomb-raider ensemble and a sporty sailor suit for Susy (I can now picture Natascia Diaz as Reno Sweeney). The gents are also dressed to the nines.
Of course, there would be no beautiful music without the terrific three-piece band: Darius Smith, both musical director and conductor, on keyboard, Brent Birckhead on woodwind/reeds, and Greg Holloway on percussion. Steve Baena's sound design ensures that voice and instruments blend and fall clear as day on the audiences' ears.
If this production is any indication, Glimpses of the Moon will find its way into the repertoires of regional professional and community theatres across the country.
Glimpses of the Moon
Based on the novel by Edith Wharton
Book and lyrics by Tajlei Levis
Music by John Mercurio
Directed and choreographed by David Marquez
Music direction by Darius Smith
Produced by Metro Stage
Reviewed by Gary McMillan
Glimpses of the Moon runs thru Oct 17, 2010.
Click here for details, directions and tickets.
REVIEWS:
GLIMPSES OF THE MOON